Tamagotchi Life Cycles
Listed here are the life cycles of my Tamagotchi's. This list begins in 2020, (with exceptions where previous life cycles have been recovered from Tamatalk.com) so unfortunately, the 60 million previous lifecycles since 1997 with these few exceptions are lost. The list begins now.

---
Tammy: (Yellow/Orange Number Gen 1) - August/September 1997
My very first ever Tamagotchi birth was when I first purchased one from Argos in Lakeside in 1997. I grew so insanely attached to this first pet, that when it died, (I was with my grandad) I cried. My grandad took his dog Shandy for a walk and I went with, forgetting my Tamagotchi and leaving him on the wine cabinate in his flat, and when I returned he was dead. That pet was Tammy. He started out as a Babytchi, grew into a Marutchi then became a Tamatchi (that I nicknamed "Need You", due to my mum once telling me not to forget him because he might "need you" while he was in that stage of life when I left him on my bedroom floor upstairs when I went down to the front room). Then finally, he became a Masktchi.


---
Malod: (Black Music Star/V6) - June 2018
In 2018 I brought to life a Music star. He started out as a female Petitchi, before growing into a Hitodetchi. From these, he grew into a Ringotchi (which is awesome, because RINGO!) and then finally grew into a Sebiretchi. They formed an all girl band which I named Gotchla, and sadly, Malod then died at only age 4.

---
Dinkle: (Black Music Star/V6) - June 2018
After the death of Malod, I hatched another egg and this time Dinkle was born. He had a long, happy healthy life and I have sentimental memories of him too! He started out as a male Petitchi, before growing into toddler stage Kutchitametchi. From here, he became a Kikitchi, and finally a Mametchi. He then had a child with a Sebiretchi during a day out with me and Scarlett while we were at work in Saffron Walden. Such a wonderful day, and wonderful memories. :)


---
Harridge: (Pink Clock Japanese Gen 1) - July 2018
A very sentimental life cycle was this one here. This Tamagotchi shares some of my greatest memories of all time. He was born around the time me and Scarlett went to Harwich Fort for a paranormal night, and we didn't get home until so late that Saturday that the sun was coming up the next day. On the way home I popped into a giant bootsale on the search for more Tamagotchi's! Anyway, he was a Tarakotchi on the night and fell asleep at 11ish at which time I put his lights out in the Fort's toilets. He began as a Babytchi, then became a Marutchi before taking on the form of a Kutchitametchi and finally, a Tarakotchi. I named him "Harridge" as a memory of this wonderful night.

---
Pufla the 2nd: (Orange V4.5) - March 2020

The first recorded birth on this list starts with Pufla, the second. The first being from 2019's birth. Pufla started out as a Tsubutchi, then grew into a Hitodetchi. Then she became a Ura Young Violetchi and finally grew into a Ura Violetchi. This little fairy was a bundle of joy and left behind a little baby when she moved on. That little baby would become Sindy. Pufla the second was fed mostly on sushi and noodles.


---
Sindy: (Orange V4.5) - March 2020
Sindy was the child of Pufla the second. She became quite sentimental to me very quickly because she reminded me of Scarlett (someone very special to me in real life). She started out as a Tsubutchi, then became a Hitodetchi. After this she became a lovely little Ura Young Morotchi, before growing into a Ura Zukyutchi. A true bundle of joy. Fed mostly on burgers and cakes.


---
Venus: (Transparent Yellow V3) - March 2020
Venus was the first to be born on my newly aquired special Transparent Yellow V3. I brought him to life while I was with Scarlett and she named him Venus. We didn't realise he was a boy until after but it didn't matter. Venus started out as a Kuroteletchi and became a Tamatchi in toddler stage. He then grew into an Obotchi (with a little curl of hair like Scarlett!) before finally growing into a Megatchi. I fed him on mostly noodles and sushi and I feel this impacted his growth cycle. He died at 8yrs and weighing 99lbs.


---
SummerDusk: (Silver 1997 Gen 2) - March/April 2020
SummerDusk was first named Equinox, which quickly became his nickname. He was born as a Shirobabitchi, before changing into a Tonmaruchi and then growing into a Hashitamatchi. Finally, he grew into a Kusatchi, which was nice, but sadly he didn't live as long as he could have. He brought much joy over these hard times. He seemed to suffer health issues a lot, and needed 3 medines each time instead of the usual two. Either way, he left home today on Saturday, the 04-04-2020.


---
Plink: (Transparent Yellow V3) - March/April 2020
Plink was the child of Venus, and the father of Wirly. Like his dad, he grew up in the exact same life cycle, becoming a Megatchi that died at 8yrs and weighing 99lbs. He was not played with a lot and was fed mostly on burgers and sweet snacks for happiness.


---
Seaglass: (Pink Mr. Dino) - March/April 2020
Seglass was a wonderful little vpet that lived a for about 18-20 days. (Exact amount is to be determined.) He started out as a little tadpole/seahorse creature but then grew into a a dinosaur. Interestingly, his life cycle went to be expected until he reached a stage where he became a Stegosaurus for only a single day before becoming a big nosed dino. The stegosaurus stage almost seemed like a mitake, since the life cycle would make more sense without it, plus, it means he went through 5 stages of life instead of the expected 4. Very interesting. Seaglass shared a lot of lovely memories, most of them being in the garden with me and Scarlett and the mother for hot cross buns, cakes, lemon tea and grapes.

---
Wirly: (Transparent Yellow V3) - April 2020
He is the child of Plink, so the third in a generation of my Yellow V3 since owning it. (This excludes whoever owned it previously.) Wirly was named on 15th April, on the day he was born in Scarletts front garden. He was named Wirly because when thinking what to name him, Scarlett said she felt Wirly to the mother and that was immediately the name I adopted for him. He began life as a little Kuroteletchi before growing into a Tamatchi and then into a Hashitamatchi which I was delighted by. After a few days however, he grew into something I really didn't expect. He grew into a Sekitoritchi. This was a very unusual but lovely surprise. He is still alive and kicking now at 5 years old, and we will see how his life goes.

---
Twirly: (Orange V4.5) - May 2020
Twirly was born on the first of May, 2020 and he was a little boy. He began his life as a Tsubutchi before growing into a healthy Tamatchi. It was after this that he became something quite special. My first ever Daiyatchi, sparkling like a little gem (though I initially thought he was a drum!) He later grew into a little chubby Ura Togetchi, before meeting with the matchmaker, and having a baby Tsubutchi with a Matsuritchi. He left at age 10, leaving his baby Tsubutchi behind for me to take care of. This Tsubutchi would become "Yelow".

---
Silk-Cotton (White & Blue Mothra) - May, 2020
Silk-Cotton, named by the lovely Scarlett, was my first ever Mothra. He arrived from Scarlett's Ebay account on the 9th May and I brought him to life the same day at her house. He began his life as a Baby Mothra (as Scarlett called him a "little worm" <3.), before growing a little while later into a Mothra Larva. Later on in the week he grew into a Batora Grub, before eventually growing into a Makora, or as Scarlett called him, an ant. :p This was special because I trod on an ant a few days earlier and I have felt bad about it ever since, so I saw this as the ant's soul coming back to me through my mothra gotchi. He died on the 19th May, making him 10 years old in Gotchi years.

---
Yelow - (Orange V4.5) - May 2020
Yelow, named by Scarlett was born on 11th May and began his life as a little Tsubutchi, and grew into a Hitodetchi. After this, he grew into my very first ever Crackertchi, and finally int a Matsuritchi (which Scarlett called a little "Tweetypie"). <3. As a Crackertchi, he seemed to have a lot of good luck, always getting money in the post and just general happiness. But as a Matsuritchi, his luck seemed to drop a little. He got a few poo's in the post. :o

---
Candy - (Pink V1 With Flower Characters) - 20th May, 2021
Candy was birthed on 20th May, 2021. They were brought to life at Scarlett's, a recurring theme! And we were in her bedroom at the time with cups of fruit and herbal teas. They started out life as a Babytchi, which grew into a Marutchi shortly after. From here, he would later grow into an Ichigotchi and finally, a Masktchi. On the 28th May, Candy met a girlfriend (A Mimitchi) and had a baby (A Shirobabitchi). Unfortunately, the date they passed away has been lost.

---
Raven - (Flowery Generation 2 Re-release) - 24th August, 2021
Raven is a pretty sad tale. I bought this new Flower patterened GEN2 in The Entertainer. Previously I had bought the same one as a gift for The Mother, but I wanted one of my own I could open. I bought it in the Entertainer in Romford Brewery on my way to Scarlett by bus. I brought him to life with Scarlett and we filmed it in the back garden! We were clearing up brances that had been cut down to make space for Scarlett's new summer house. So it had a sentimental meaning behind it. Unfortunately, he didn't make it past toddler stage, dying suddenly on the 26th of August 2021.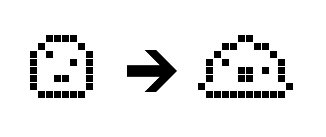 ---
Kippa - (Yellow With Red Arrows V1) - 2nd November 2021
Kippa was born on the 2nd of November along with three other V1's - (Bible, Ejyil and Flip, all of which interacted with each other to play games together). He lived only for 3 years, making it to the 6th of November, the same day I am posting this entry. I wasn't sure why he died so young but it did say he was ridiculously overweight, weighing 99g and probably over. This was sad because I expected him to live the longest of the four. He began as a Babytchi, before growing into a Marutchi and finally ending his days as a Ichigotchi.

---
Olaf - (Blue Gem Tamagotchi Friends) - 24th October 2021
Olaf was born on the 24th October. This particular blue gem Friends was found in the kitchen of the mother, so this was not my usual blue gem Friends (I have two it seems.) Was worried at first as the screen seemed kinda fucked but it seemed to sort itself out over night after being brought to life. I was delighted to see the baby that was born was an Aokumotchi, my favourite baby stage especially due to the cute memories. Scarlett named him Olaf, most probably because she was bombarded by the kids watching Frozen. So Olaf he would be. He grew into a Mitsumarutchi them into a Maimaitchi. Finally, he became a Knighttchi. He stuck around a fairly long time too. He celebrated Halloween as a Knighttchi as well, so that was pretty special. He left home on the 10th November.

---
Shitbag - (Rainbow Gen 1 Reissue) - 2nd November 2021
This one was The Mothers. She named him Shitbag. He was born as a Babytchi, grew into a Marutchi and then became a Tamatchi (a little legs / need you). Much to surprise. He finally grew into a Nyorotchi. This was considered weird though, because Tamatchi's don't really do that in the originals. It's assumed the reissues work differently in this growth chart. Nyorotchi's never really live long lives though, and he died at 8 years on the 9th November, 2021.

---
Guy [Tropicana] - (Silver Gen 2) - 5th November 2021
Guy was named by Scarlett in reference to Guy Fawkes, because of the date he was born. He was named a day or so later though. (I think). He began as a Shirobabytchi, before growing into a Tonmarutchi. He then became a Hashitamashi and finally, to my joy, he grew into a Takotchi. Scarlett saw him and called him a Tropicana. So therefore, he adopted the name Tropicana as well as his original name Guy. He was a lovely pet and he made it to 8 years and left for his home planet on the 13th Novemeber, 2021.

---
Snapper - (Flowery Gen 2 Reissue) - 5th November 2011
Snapper shared his birth with Guy, and they grew up together. They left for home almost the same time too. Snapper wasn't actually named until he reached adulthood. He began his life as a Shirobabytchi, to a Donmarutchi, then a Hashitamashi, and finally, a Kusatchi. (Someone on Twitter was very happy to see him grow into a Kusatchi!) He left at 8 years old on 12th November, 2021. Most amazing was this was the first time this particular Tamagotchi made it to adult hood since I bought him in September, and the fact he became a flower in a flowery design shell? Magickal.

---