A place to document all Tamagotchi and other Virtual Pets over the years. If you're looking for more Tamagotchi stuff, please check out Tamagotchi Creatures. If you are looking for Growth Charts, click HERE. If you want to view my personal Tamagotchi Life Cycle Log, click HERE. If you want more on Digimon, please visit Digital Monsters.

Tamagotchi: Generation 1 - 1996/1997
This is the original Tamagotchi. The one that started it all. The greatest thing to be born from nothing. The first Tamagotchi was truly fantastic, originally released in 1996 in Japan and 1997 everywhere else. This craze took the world by storm being banned in all schools (strangely, except mine, who allowed us to keep them on our desks as long as we weren't too distracted!) They featured a left and right guessing game and needle for medicine, which was later removed due to children being afraid of it.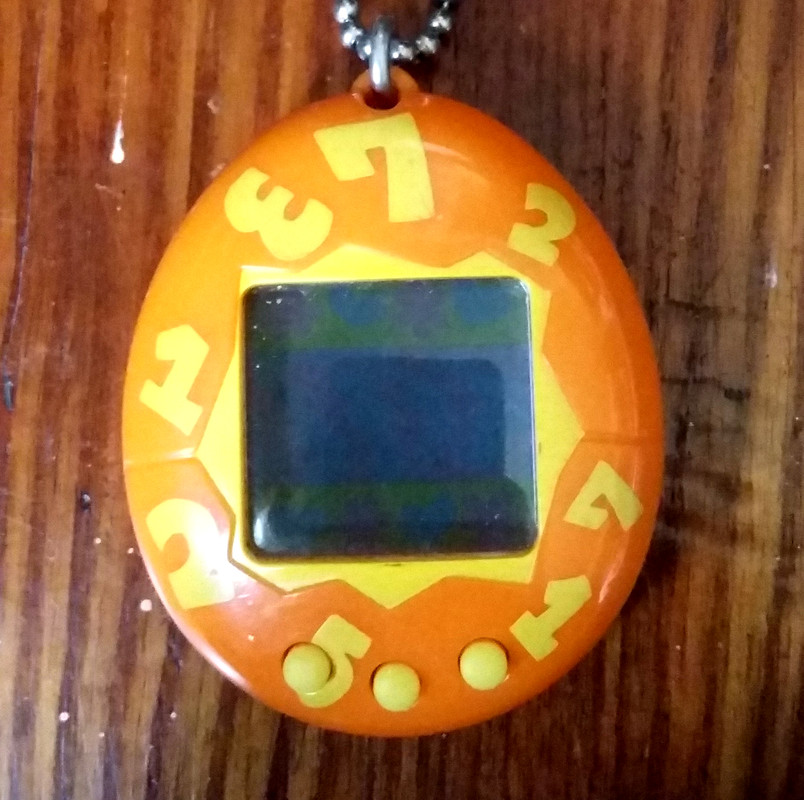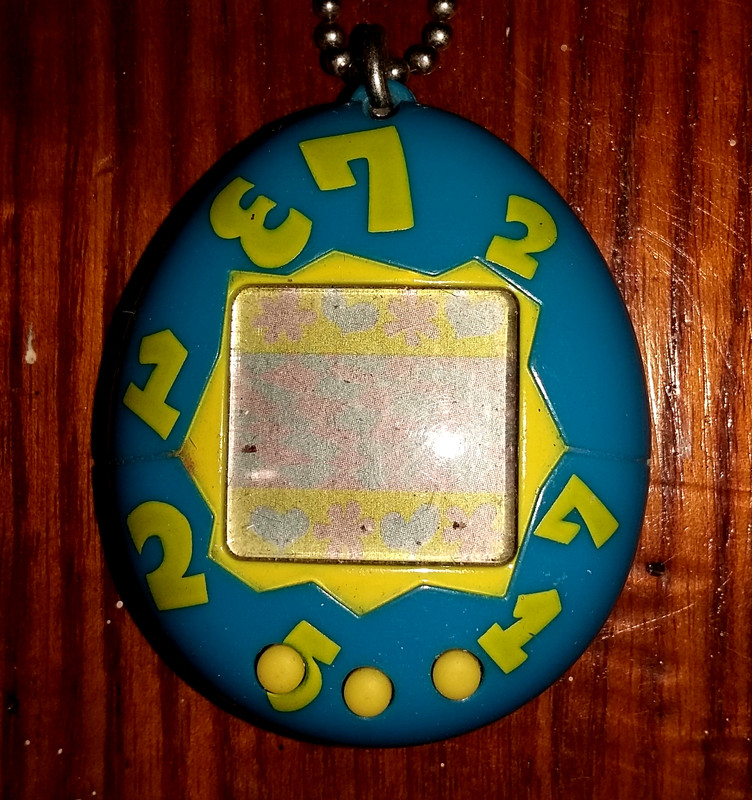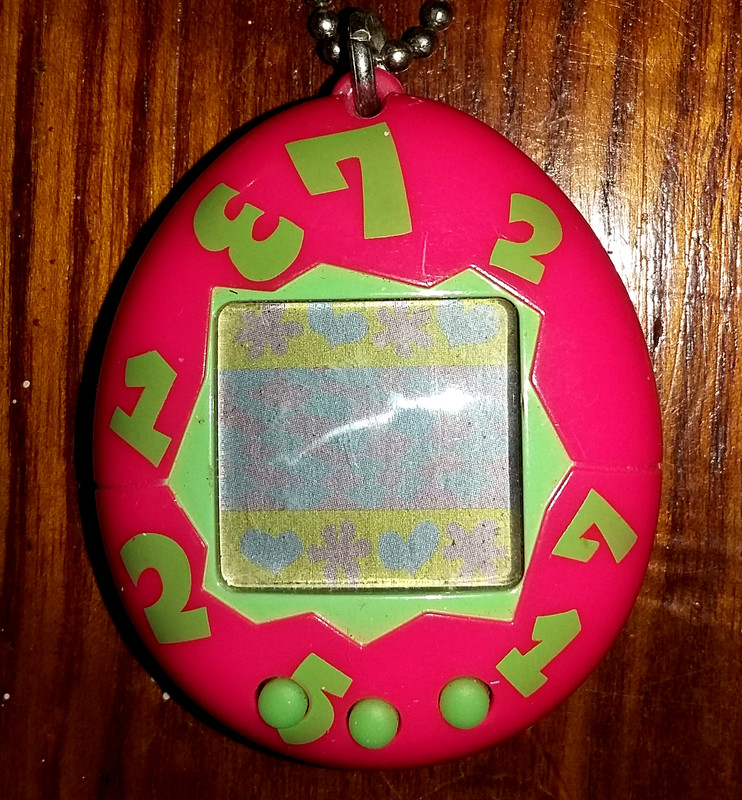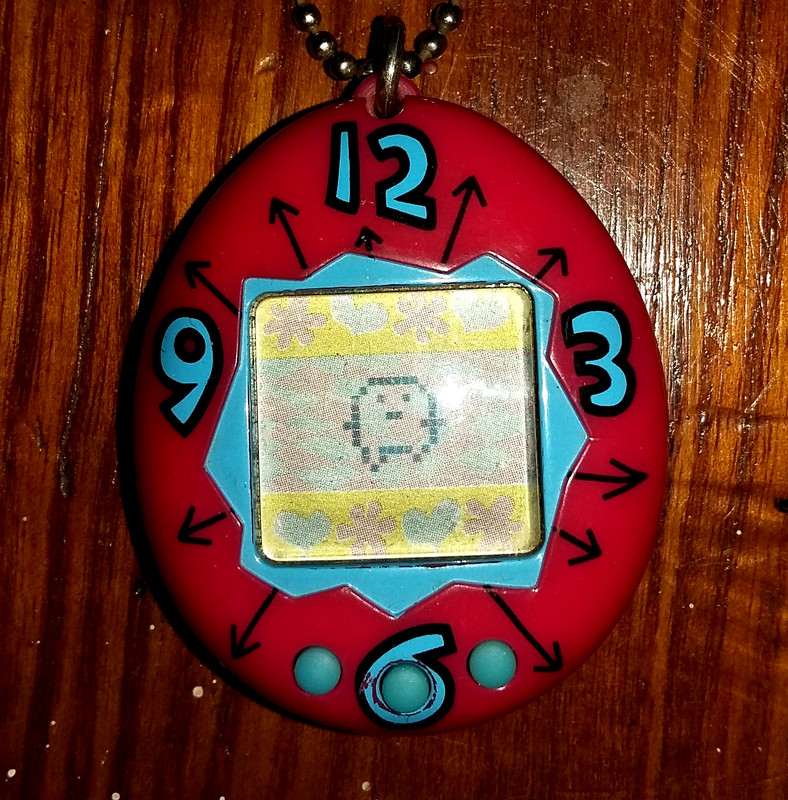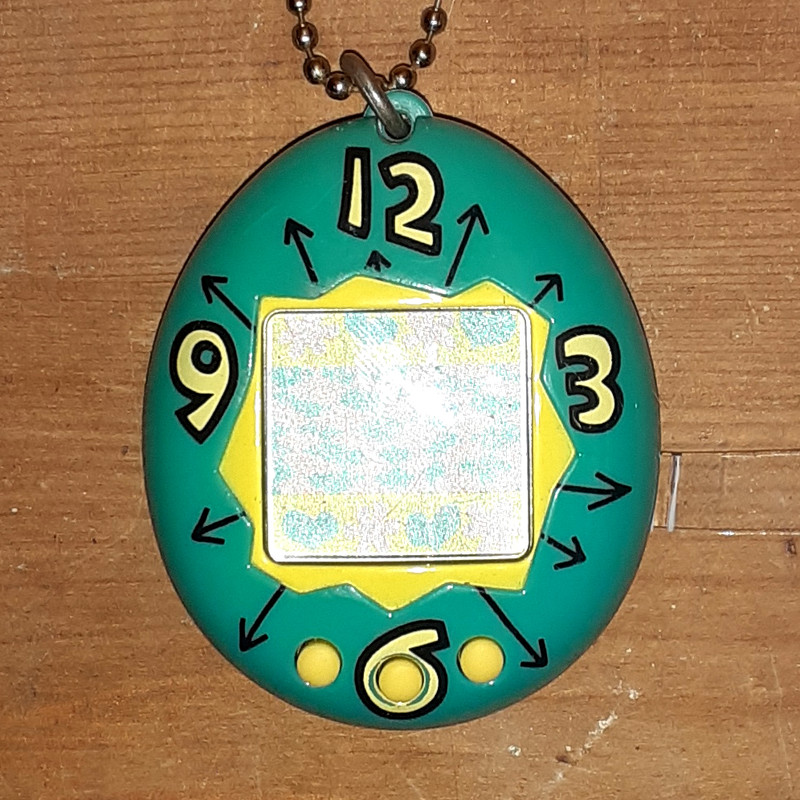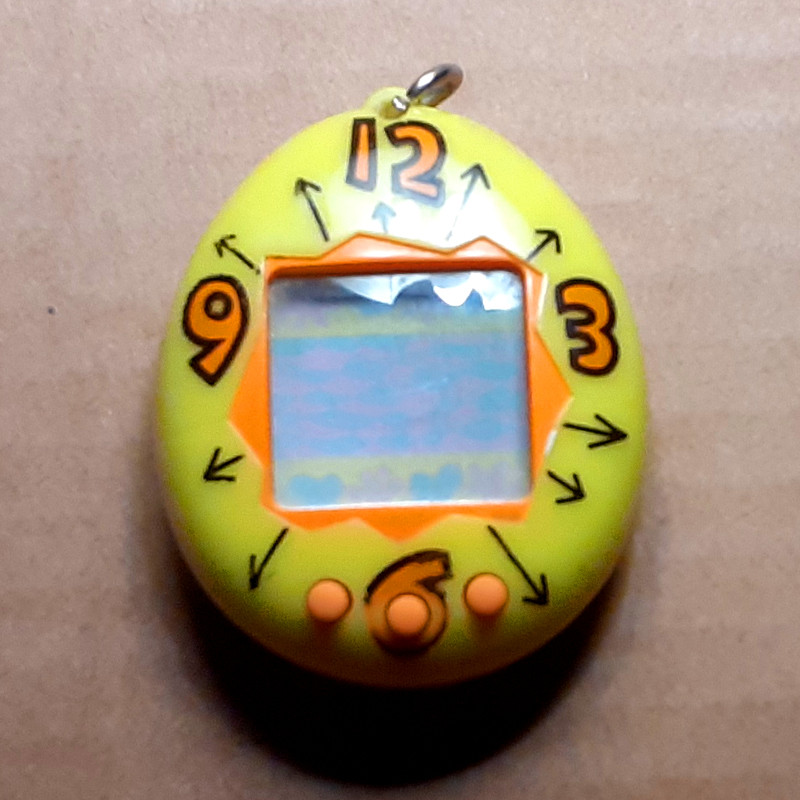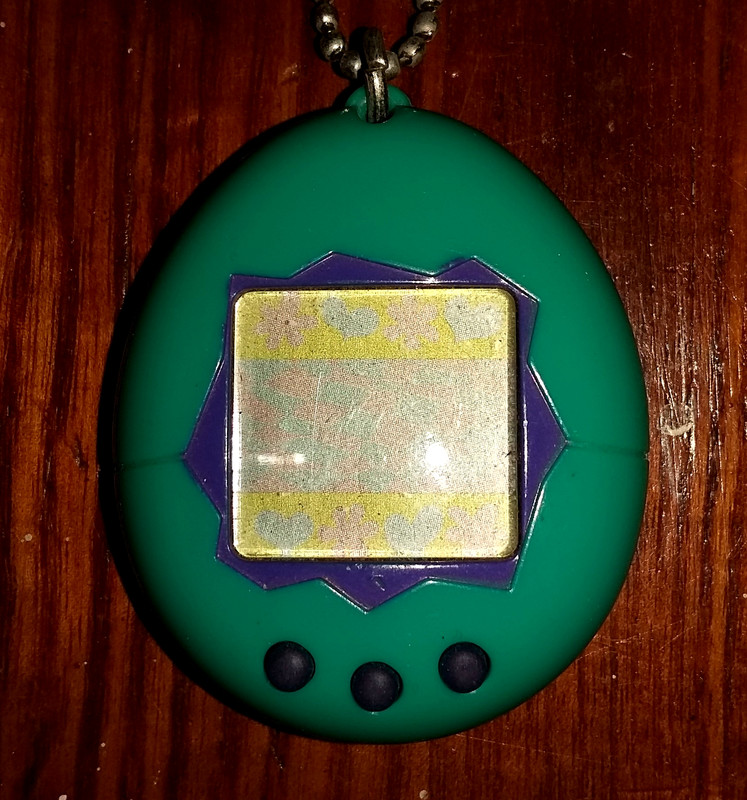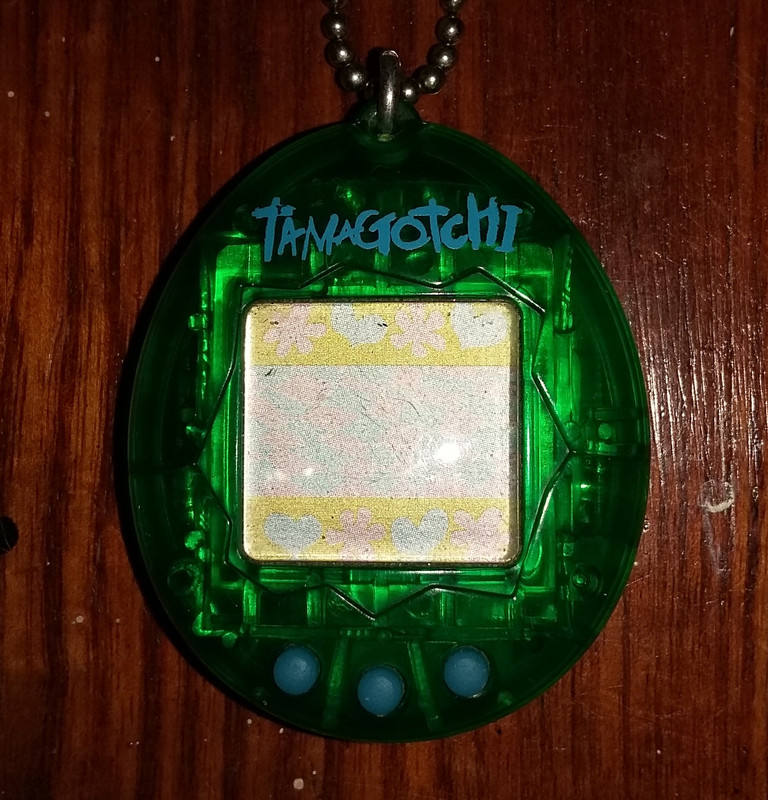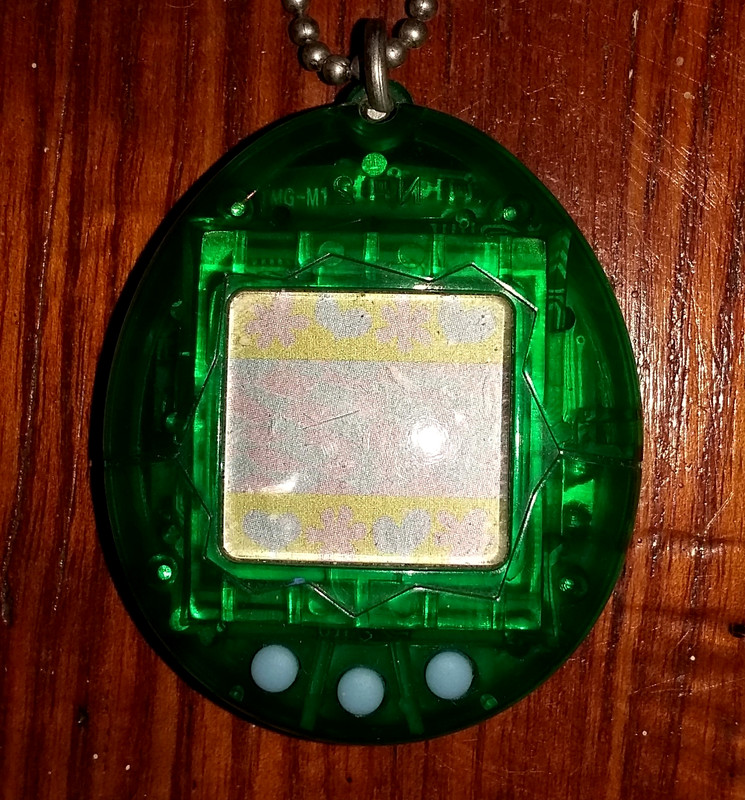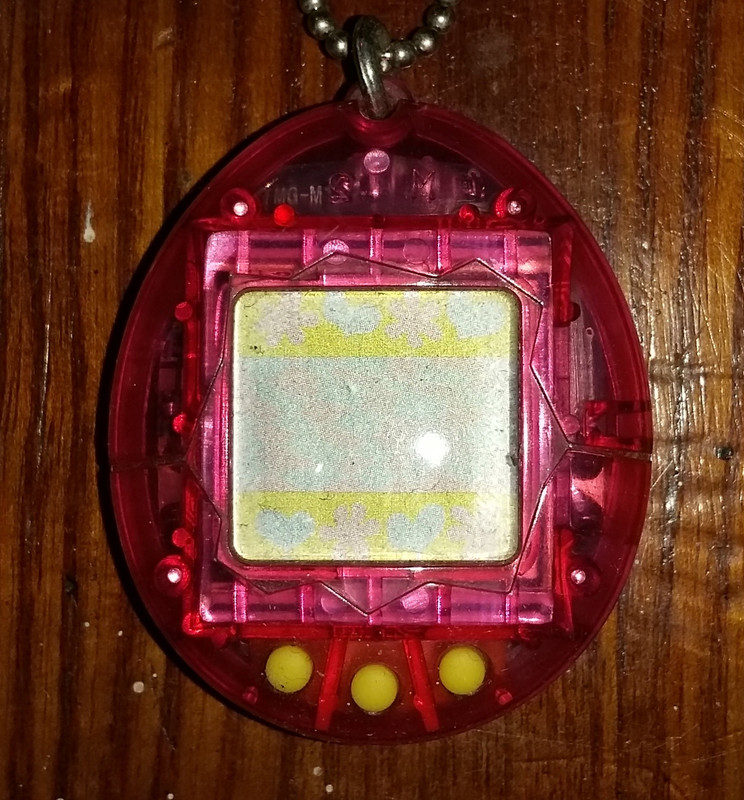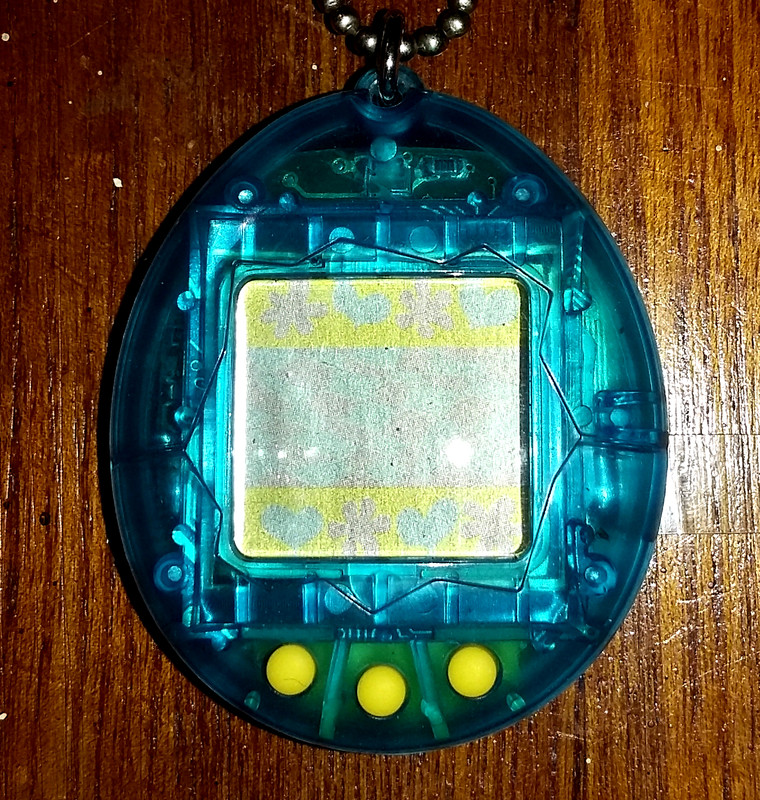 Tamagotchi: Generation 2 - 1997
It wasn't too long after the release of the original Tamagotchi that a second generation was released with all new creatures inside it. They were equally as successfuly and fantastic as the originals, and although were almost identical, featured a new number guessing game instead of the previous versions "left" and "right" game. The needles was replaced now with a bottle and spoon from this point on.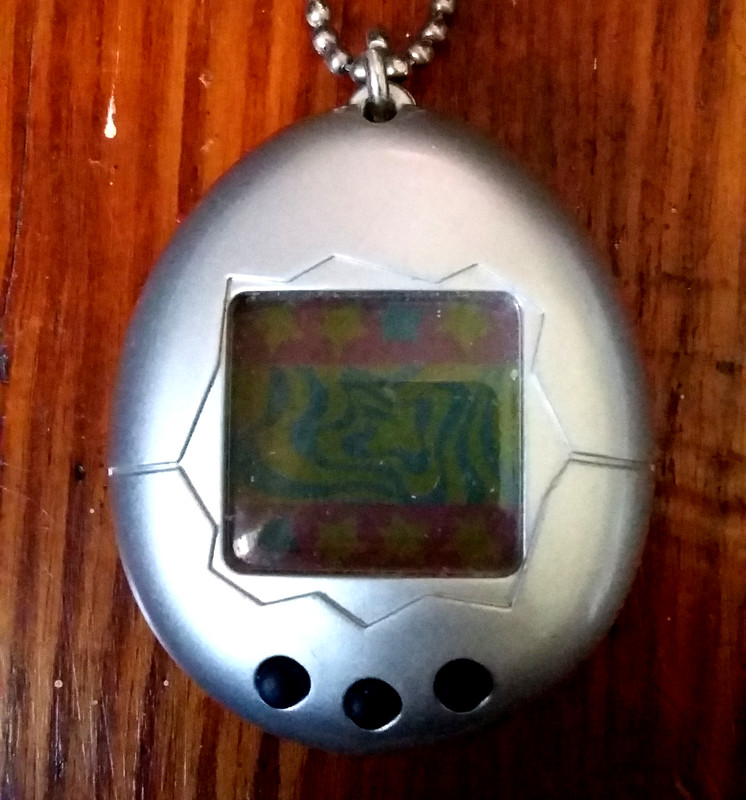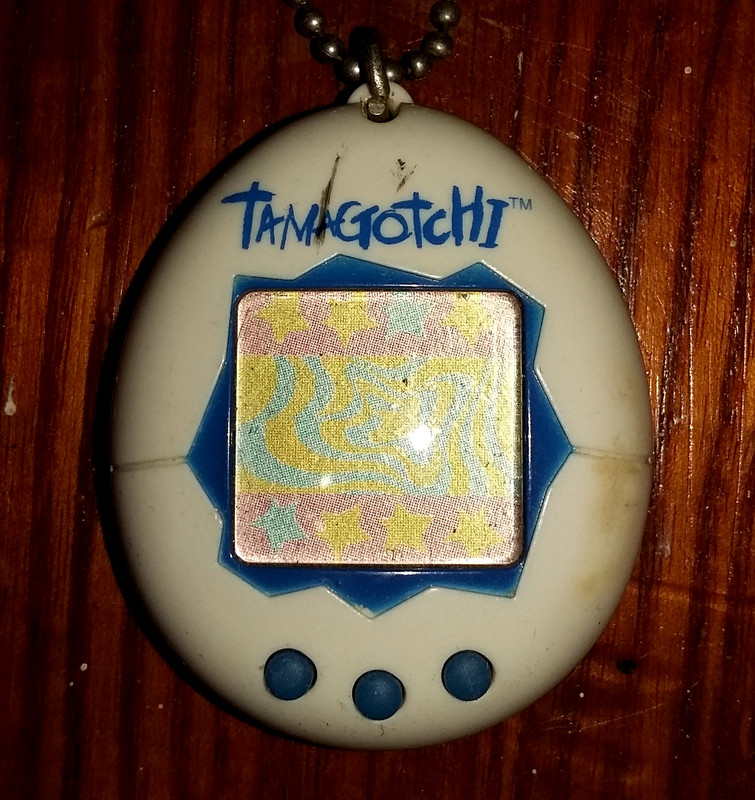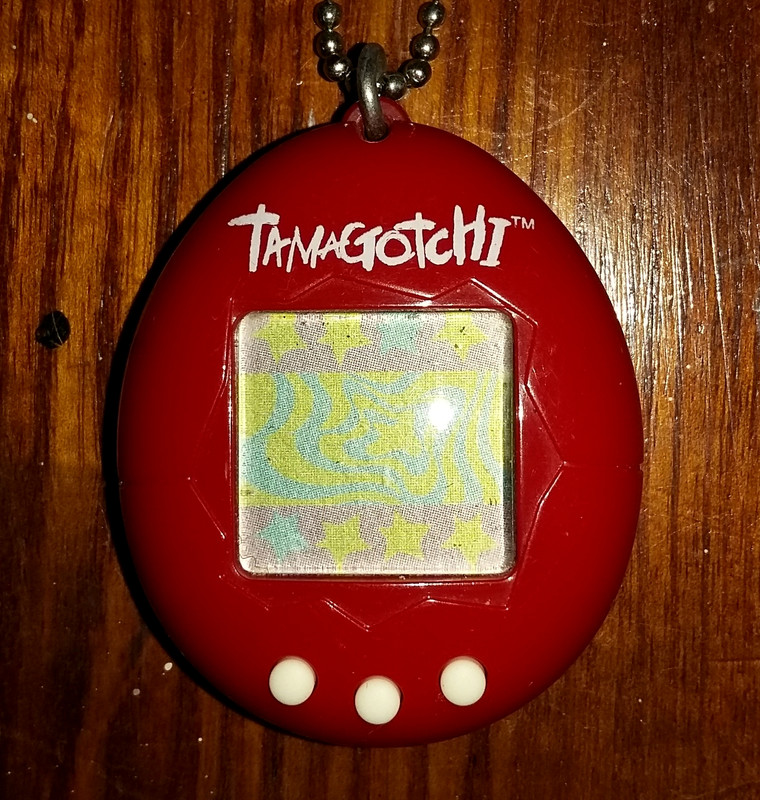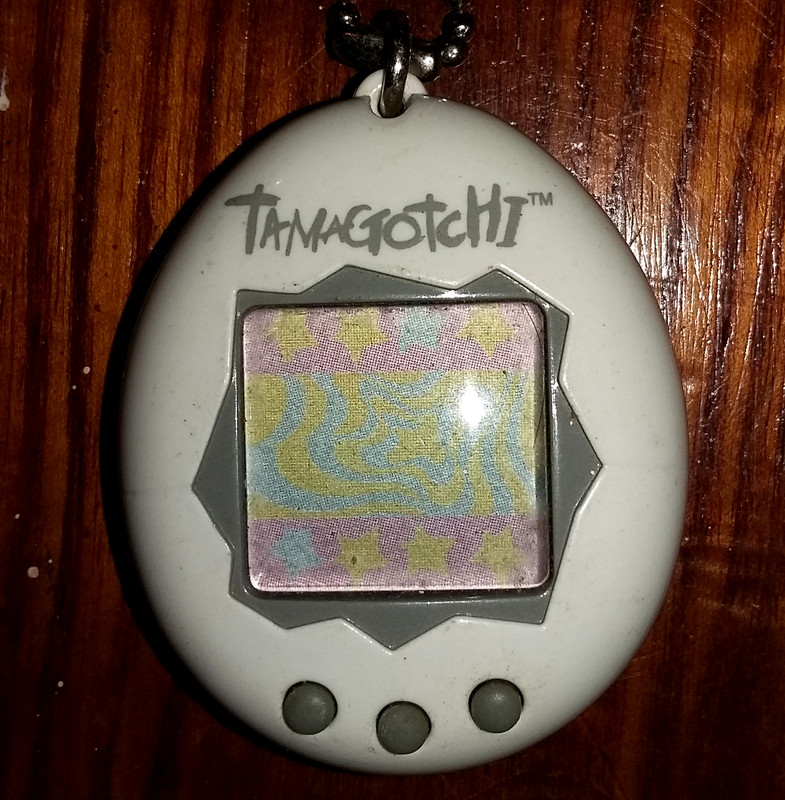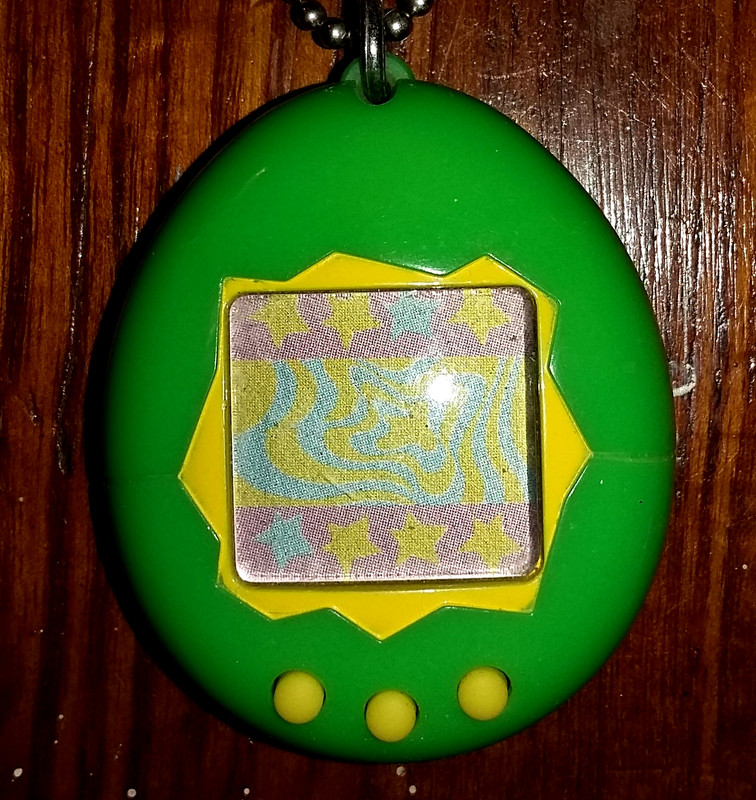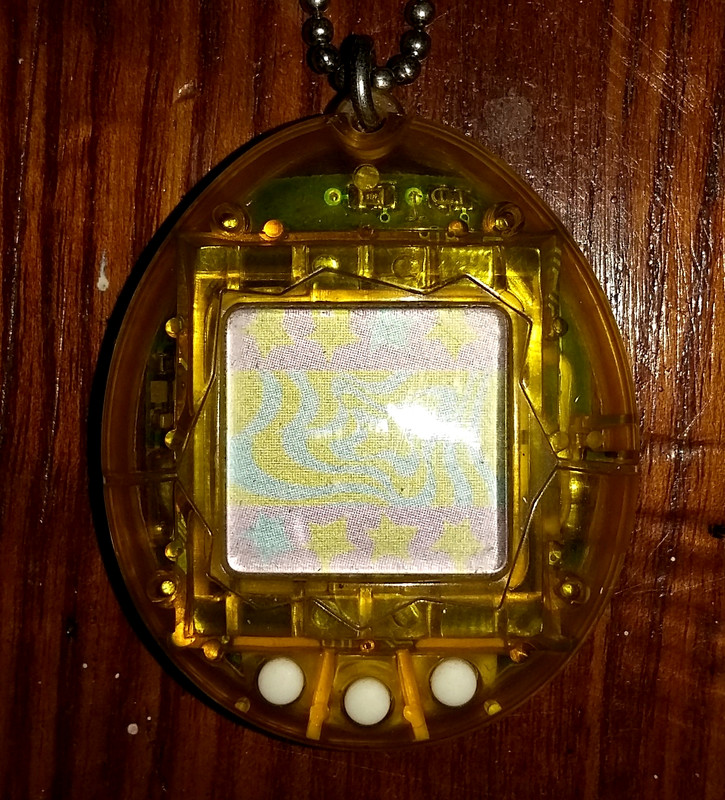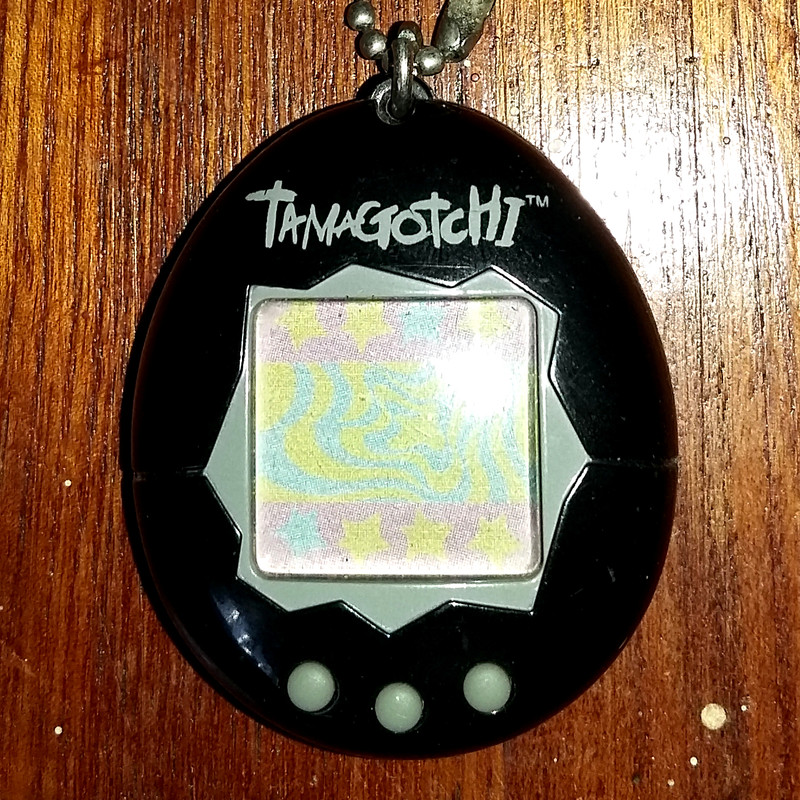 Tamagotchi Mothra - July, 1997
The Mothra Tamagotchi is essentially a classic Gen 1 and 2 in the broad sense ... but it does have its own unique details. For one thing, the buttons are more responsive and the game is unique. The obvious difference is that you get to raise a Godzilla monster with multiple different outcomes. What's not to love? These are rare and expensive these days.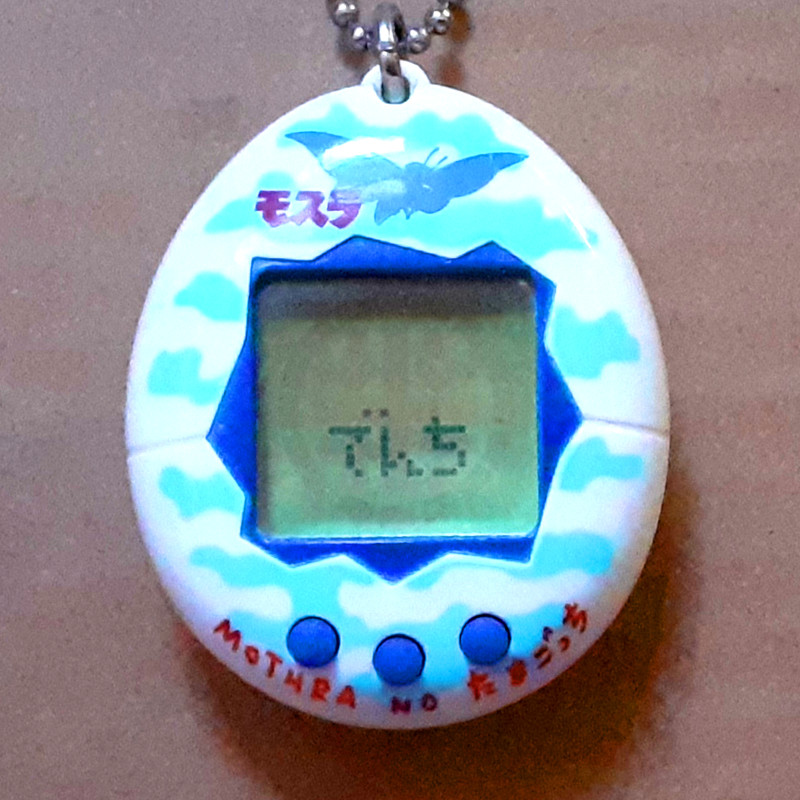 Bobby/BB Dinosaur - 1997
Bobby was released in 1997 as an answer to Bandai's Tamagotchi. It is one of the earliest knock-offs and was very good in comparison to many others. It was a dinosaur and could play a game of Scissors, Paper, Stone. Bobby has had alternate variants, most notably: Akachan 1. These are also known as BB Dinosaur, but the packaging on these usually only says Dinosaur. Not BB.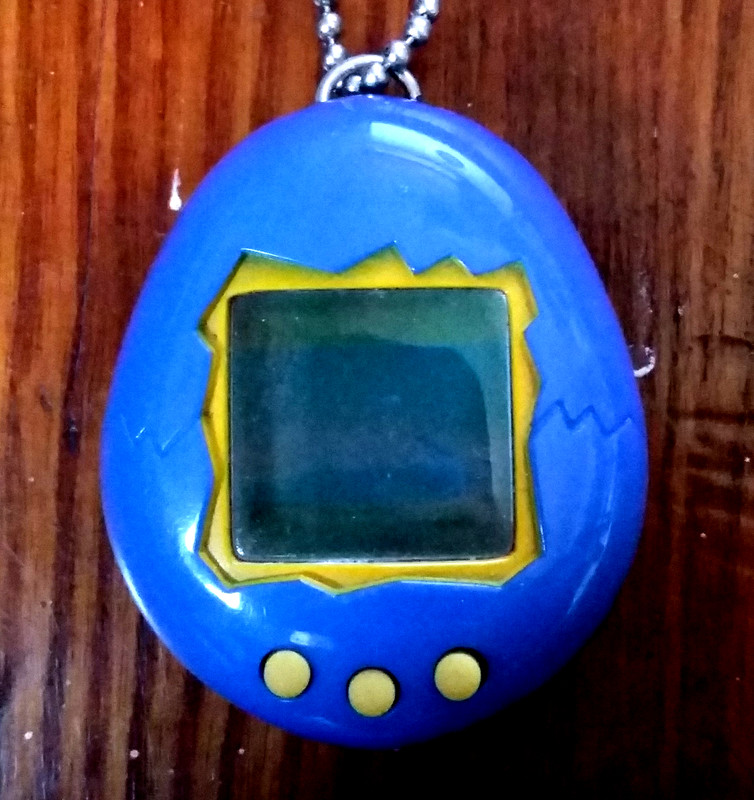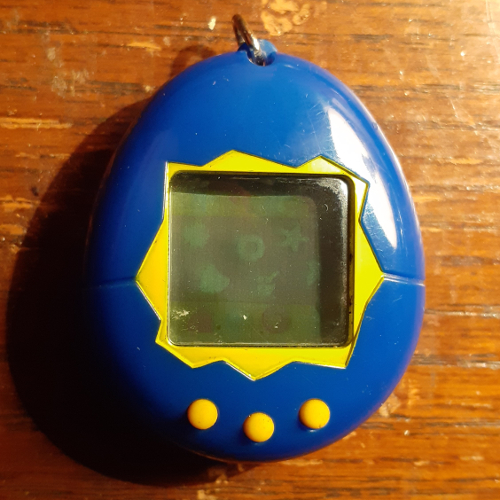 Bobby 2 - 1997
It's pretty insane but Bobby didn't stop at one version. There is a generation 2 version of Bobby, using the same logo as the original but with completely different characters and growth chart. This was one my favourite as a child, I absolutely loved and adored it. It has become incredibly hard to find, especially since Bobby's of the first kind share its shell design sometimes. I actually thought this was a Bobby 1, going by memory alone because it didn't work so I couldn't test. But I repaired it recently and discovered this was my missing Bobby 2, a childhood pet I adored. It seems, according to research, it was also released as Petogotchi Dinosaur and sometimes inside a RakuRaku Dinokun (Dinkie Dino) shell. This makes them harder to find, which is a shame, because I am determined to buy tons of these.... somehow.... someway. Bobby 2 is not an official name. Technically, these are still just listed as "Bobby". But it is a gen 2 variant. Unlike the original Bobby, Gen 2's had 4 food options and 2 games. They could eat a bowl of rice/mash potato, a sweet, a glass of drink and a pineapple. They could also play Left and Right game (same as Tamagotchi Gen 1's) and a fruit machine (as used by the Petogotchi Chicken/Smart Chicks... which were also variants on Bobby by FuTech.)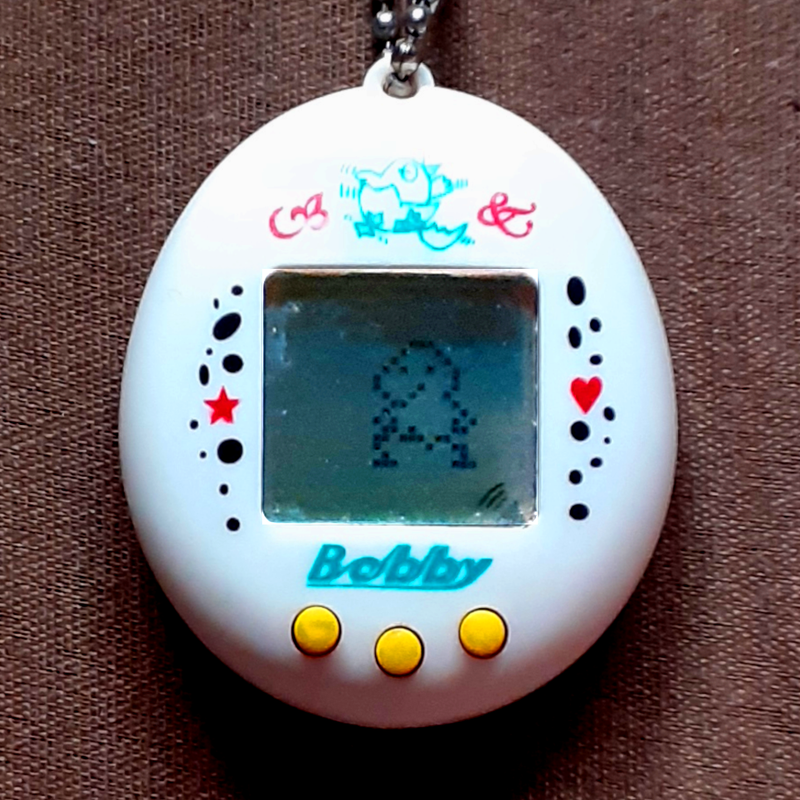 E.ET - 1997
This rather obscure vpet is an alien that steals some graphics from the original Tamagotchi and some other vpets. It seems to run on a similar programming to the Dragotti/Smart Chick/Bobby.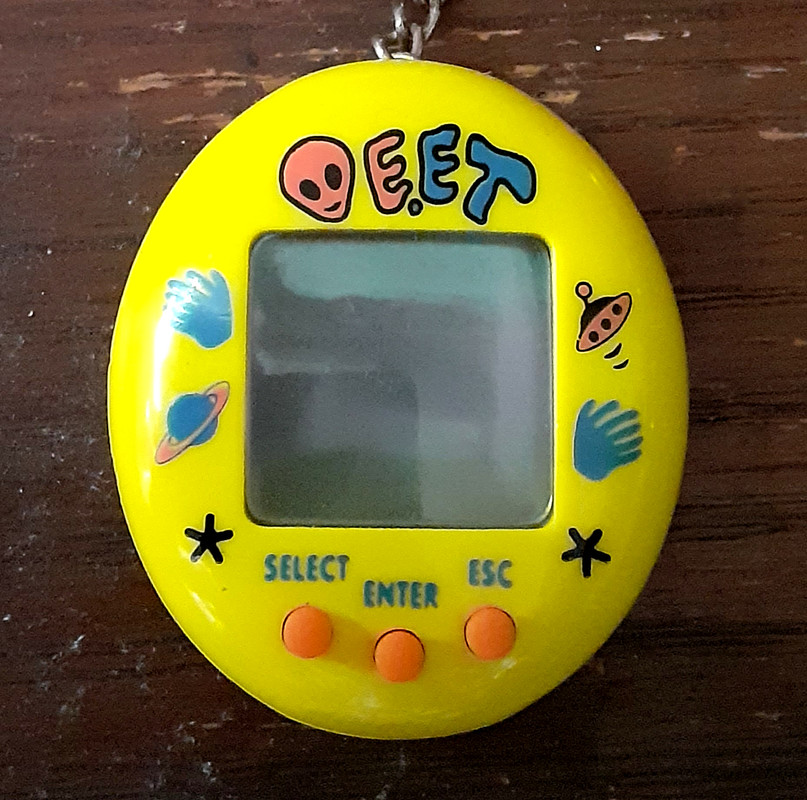 Akachan (Akachan 1) - 1997
Akachan was a very interesting virtual pet as its inner-working were identical to Bobby. This is funny, because it uses its attention icon as a picture of "Bob" from Bubble Bobble. Not sure if that's a deliberate pun or not? Either way, this is another alternative to Bobby, and a slightly more available version.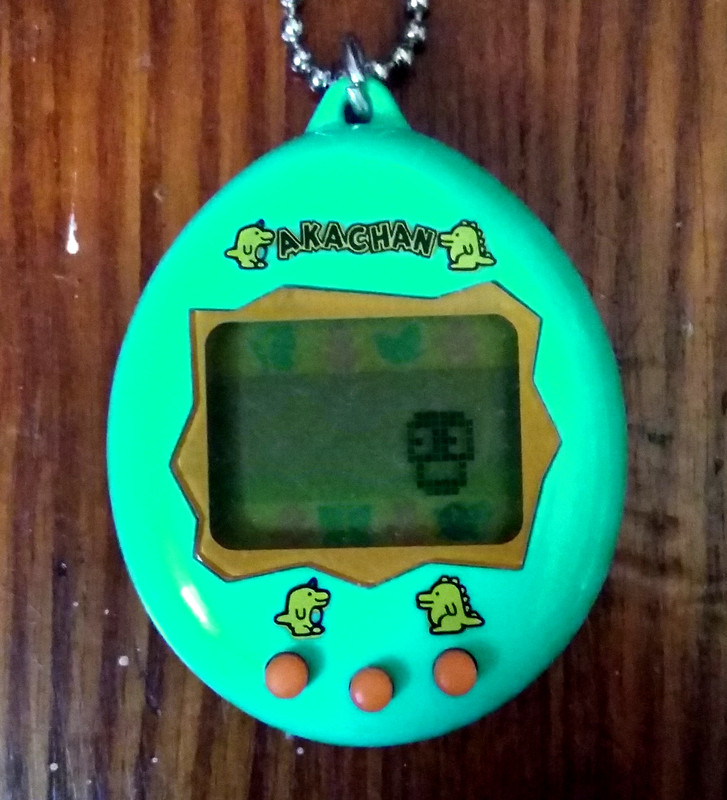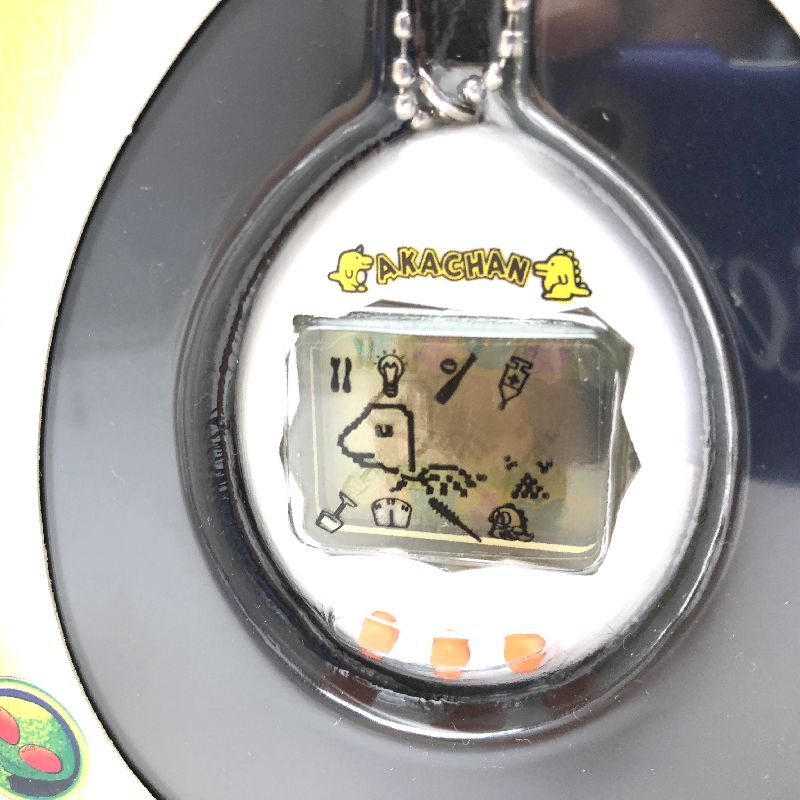 Akachan II - 1997
Akachan II was nothing like its predecesor. Instead of sharing working with "Bobby", this one mostly rips off the workings of the Nano Pets dino. It has four buttons instead of the previous versions three, and has a whole new style to it also. The only thing the two versions share is the shell design, it seems.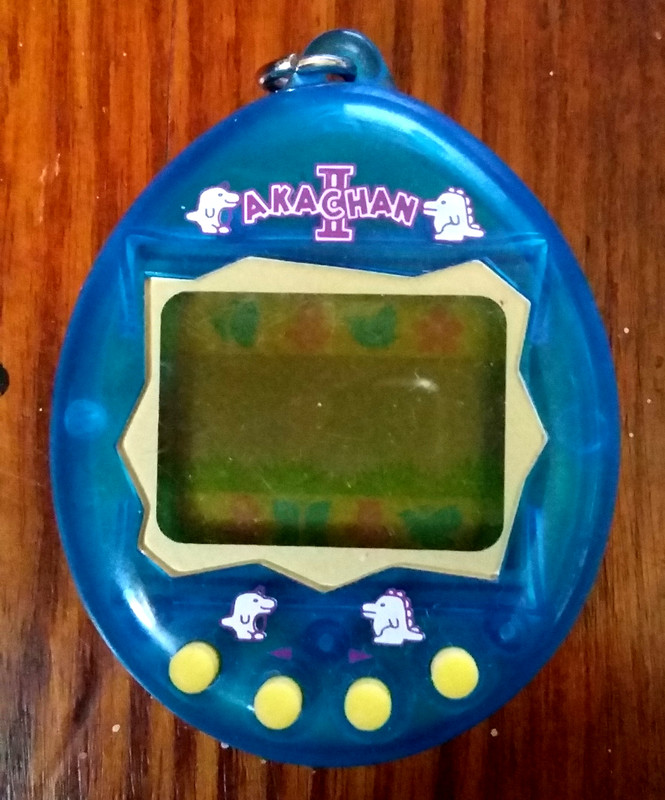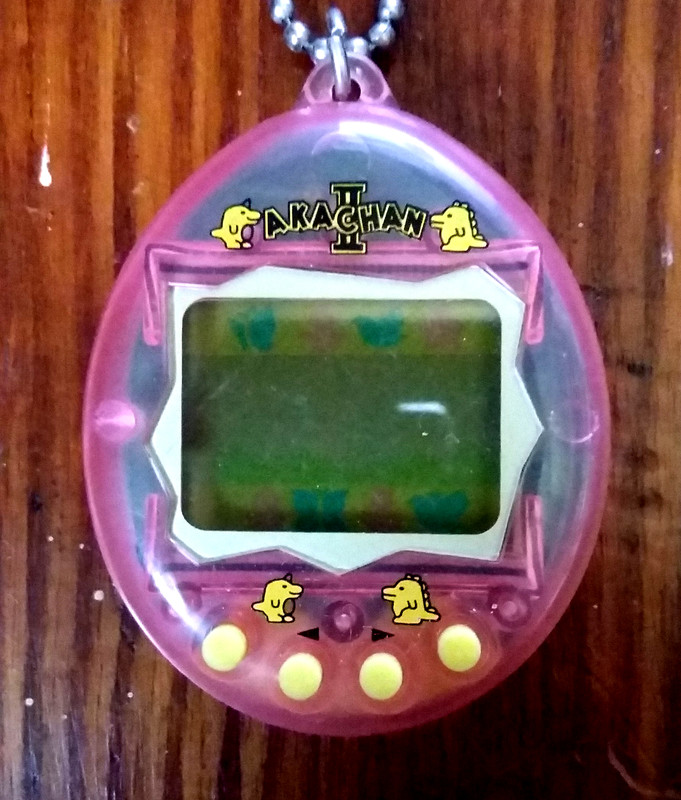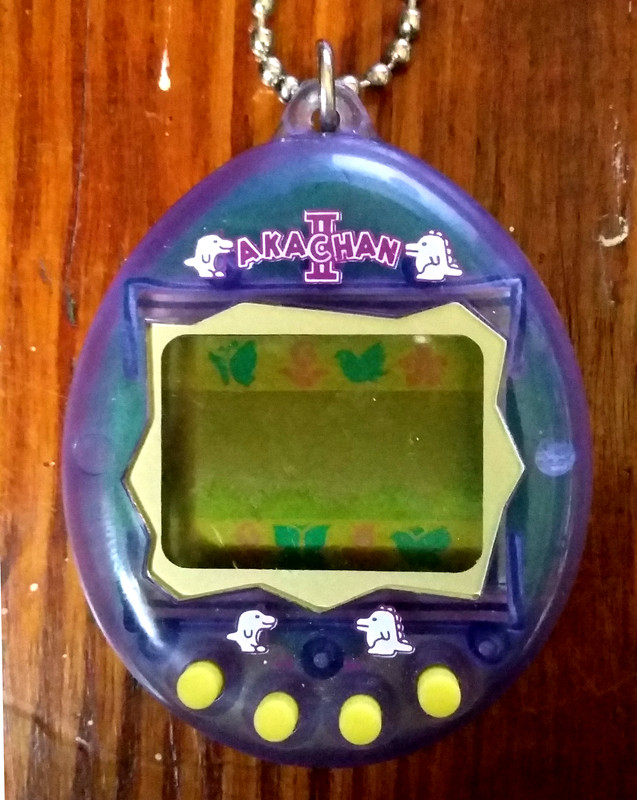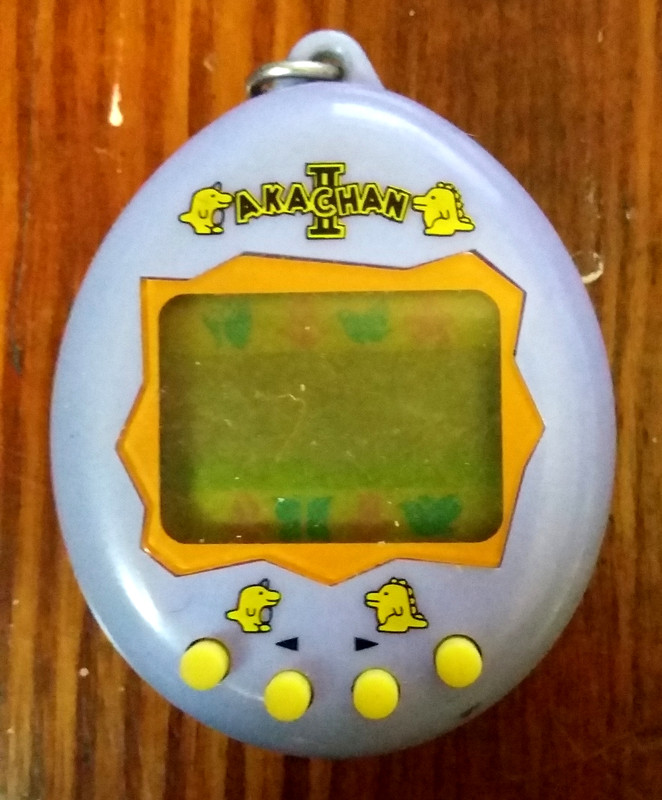 Petogotchi: Chicken/Smart Chick - 1997
Unbranded and un-named, for the most part, these are virtual pets that run on the same chip as Bobby/Akachan 1. However, there is a massive difference. Instead of a baby dinosaur, you are looking after a baby chicken. But not just any chicken. This pet actually contains the creatures from the official Tamagotchi and have a very strange growth chart. They can switch between adult characters depending on their dicipline levels.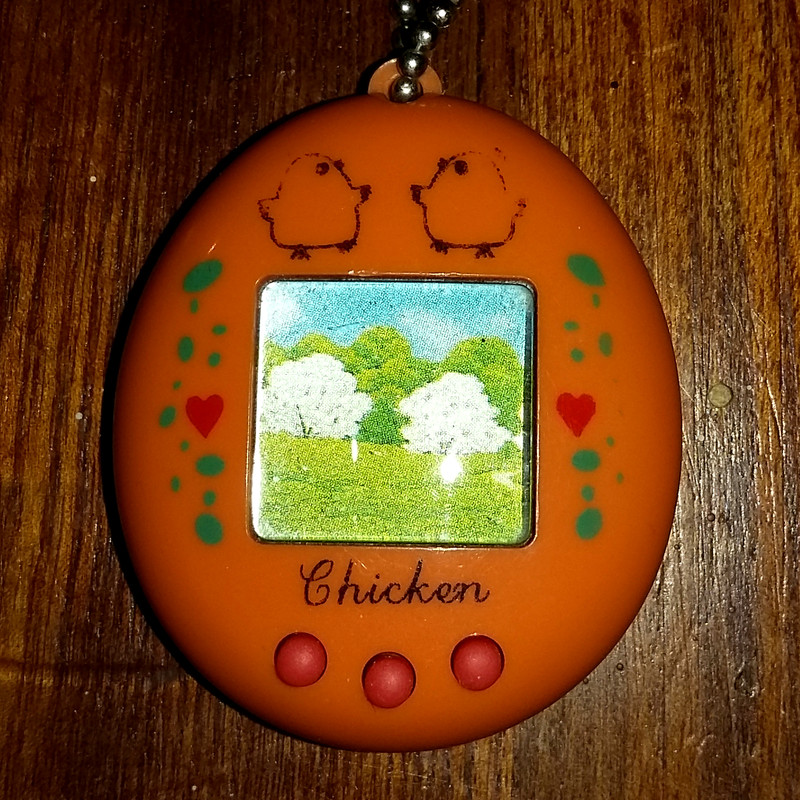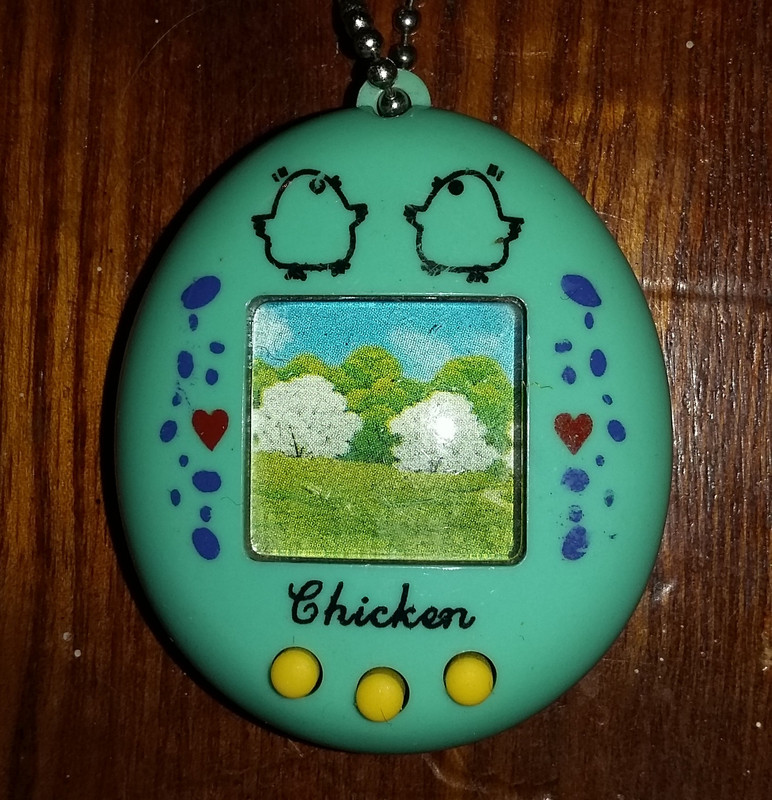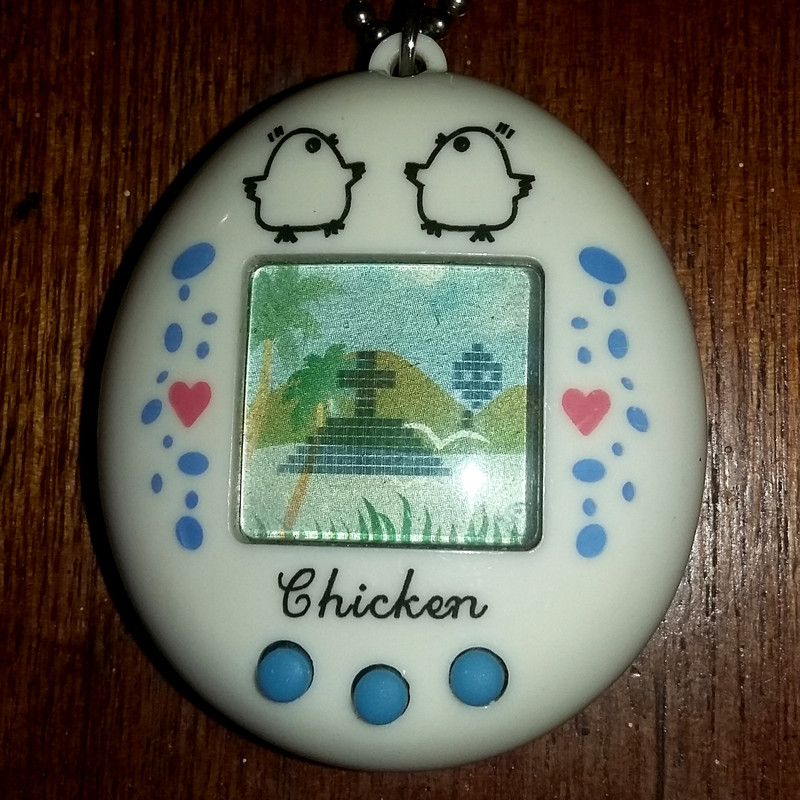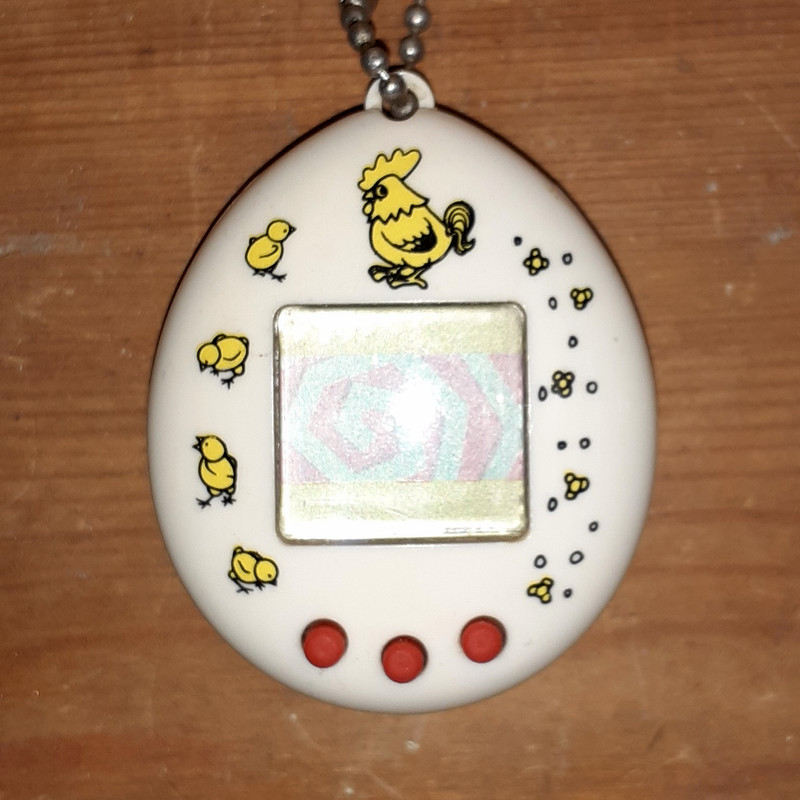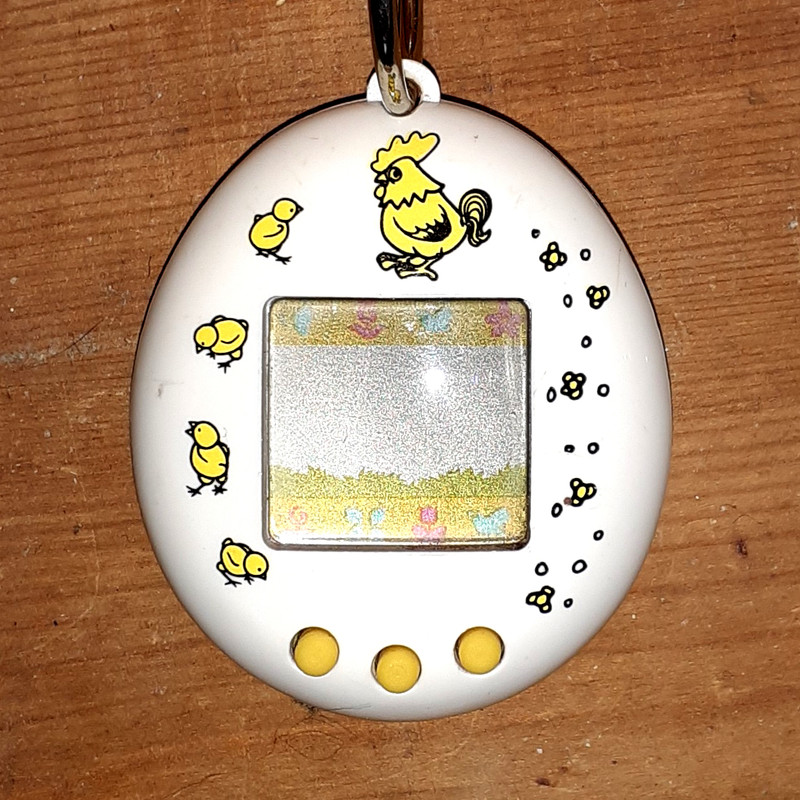 Smart Chick - 1997
Smart Chick is possibly the best virtual pet of 1997 for those with short attention spans. He is not very needy at all, and they can be put to bed anytime you choose meaning you can easily do that when you have things you have to do. The Smart Chick does actually have a sleep meter, so it's not without purpose either. Putting them to bed will fill the meter up. They have 2 game types, one being the classic left and right guessing game and the other is a heart size game (same as Cute Chicken and Funny Monkey etc.) but the weird thing is that both games are on seperate icons, not even beside each other. The pet does have a strange icon layout. The chicken grows up to take different forms depending on how he's looked after, much like the original Tamagotchi.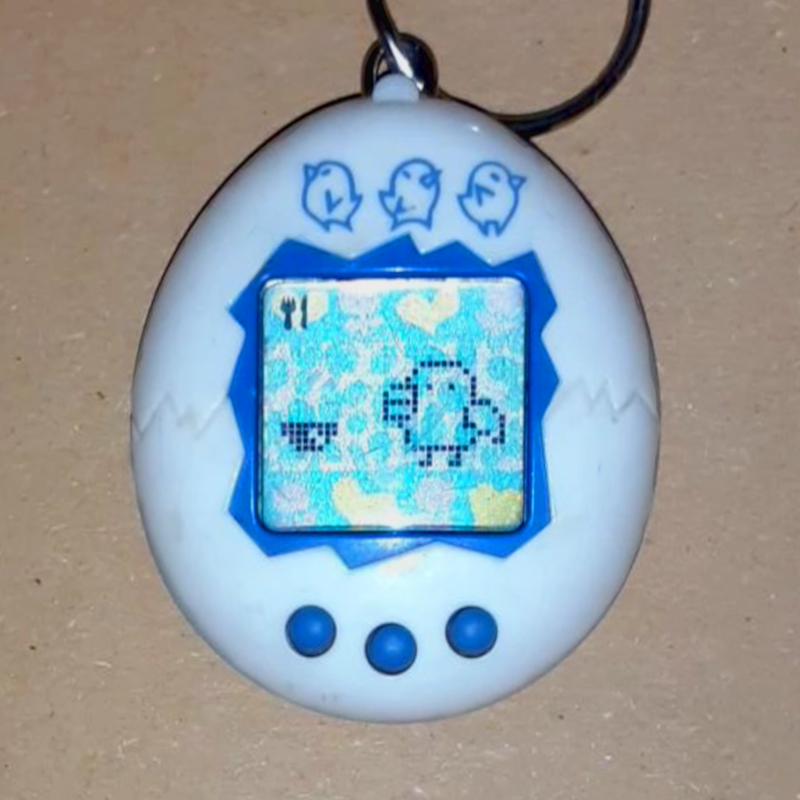 Petgotchi: Kitten - 1997
Petogotchi's were released in many different forms n the late 90's, and this one is the "kitten" version.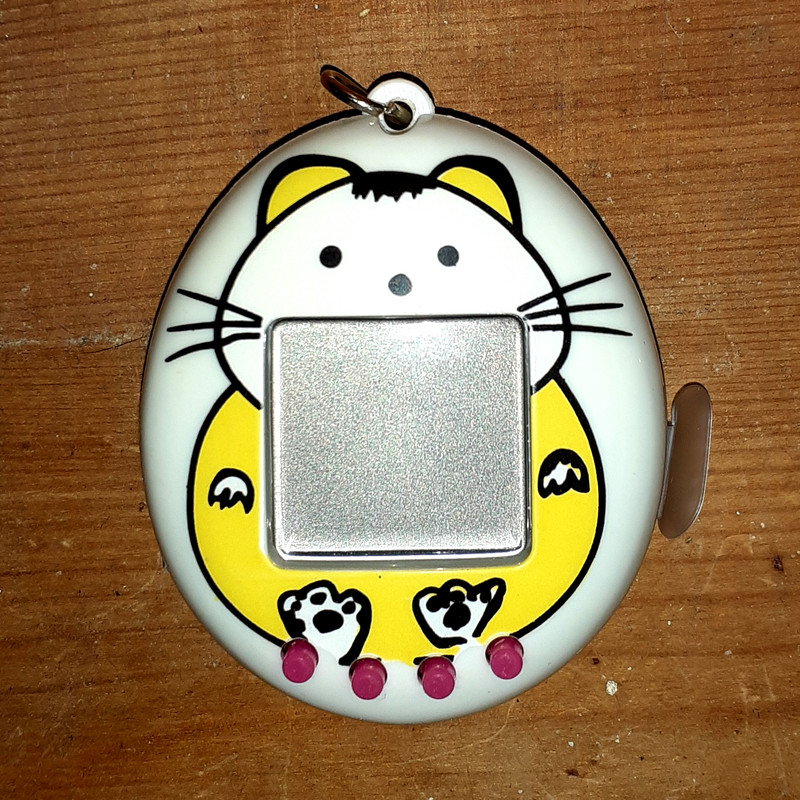 Mr. Dino - 1997
Mr. Dino is one of the best original Tamagotchi clones of the late 90's. It functions and controls almost exactly the same as an original Gen 1 and Gen 2, but you get dino's instead of aliens. The Mr. Dino came in many different shells, most of which had three buttons instead of four, but ones that came with four used the fourth button as a sound on and off button.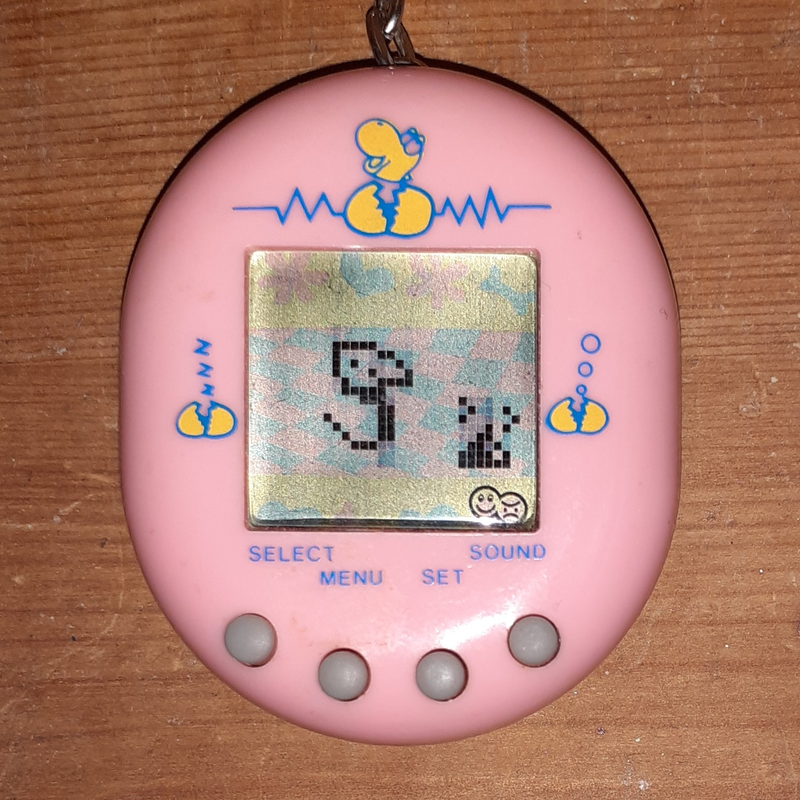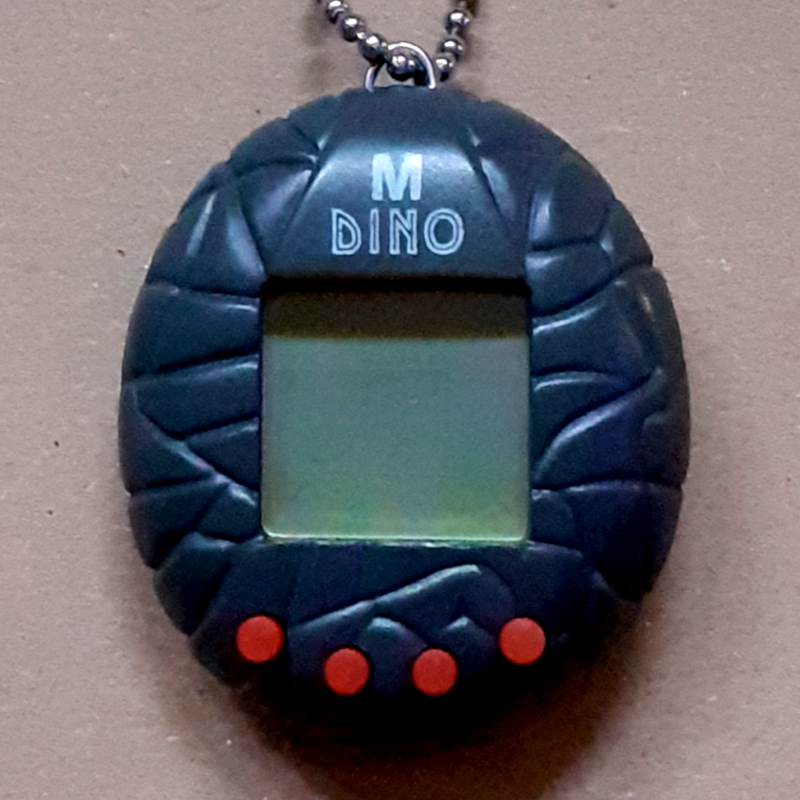 Space Monster - 1997
A pretty obscure one here, the Space Monster allows you to bring up a baby alien. He has two games to choose from including a left and right guessing game similar to that of the Tamagotchi Generation 1.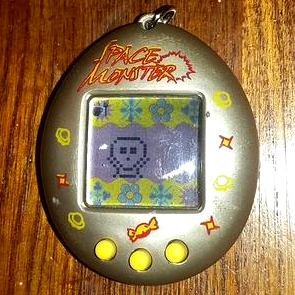 Dinkie Dino (Raku Raku Dinokun) - 1997

The Dinkie pets were very good and there was a large variation of them not included various shells. The Dinkie Dino had unique features such as temperature and petting as well as the standard games and feeding and cleaning.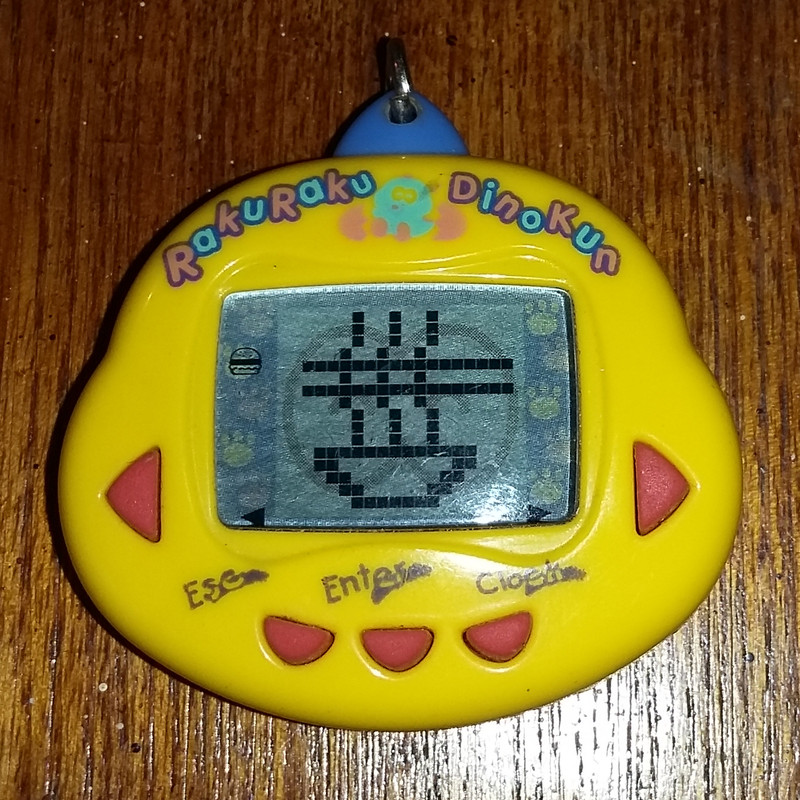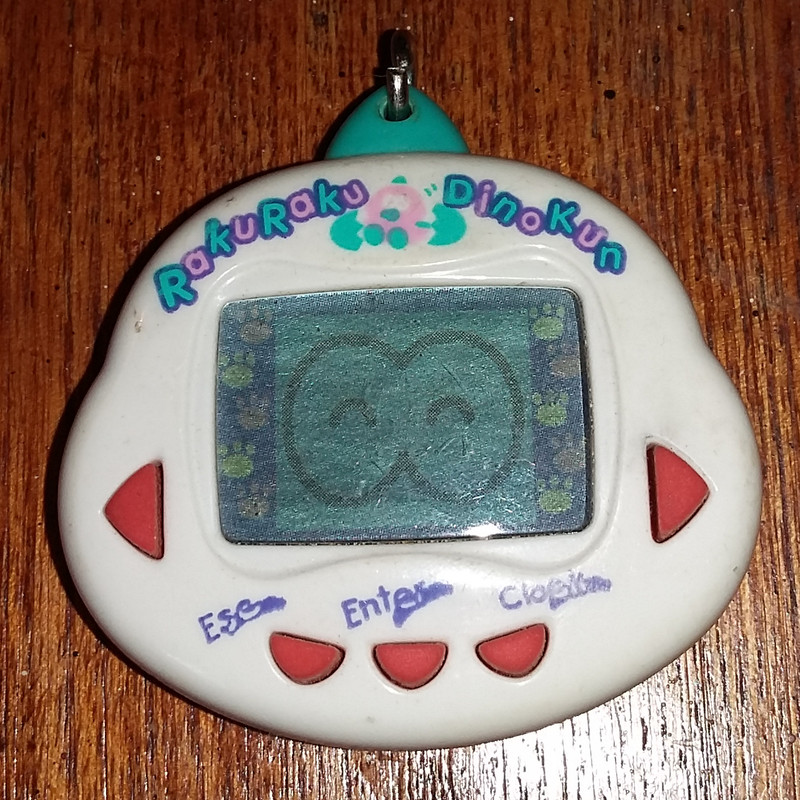 Hitorikko - 1997
It was very good for what it was but memory doesn't serve well. This will be updated later.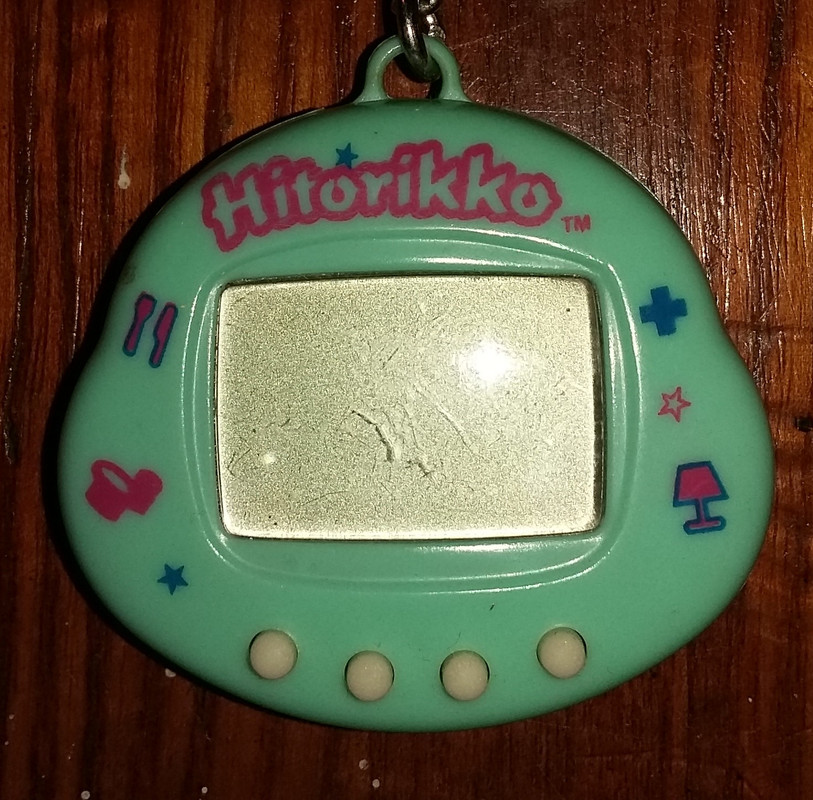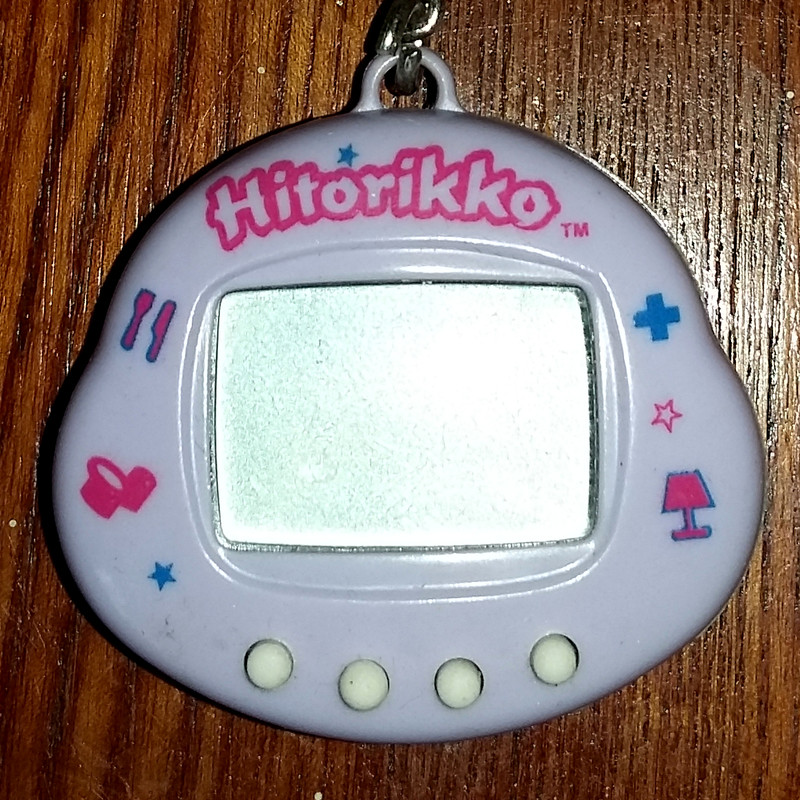 Toyowachi - 1997
It's basically a bootleg Hitorikko chicken. Finding it under the name Toyowachi is very very rare indeed.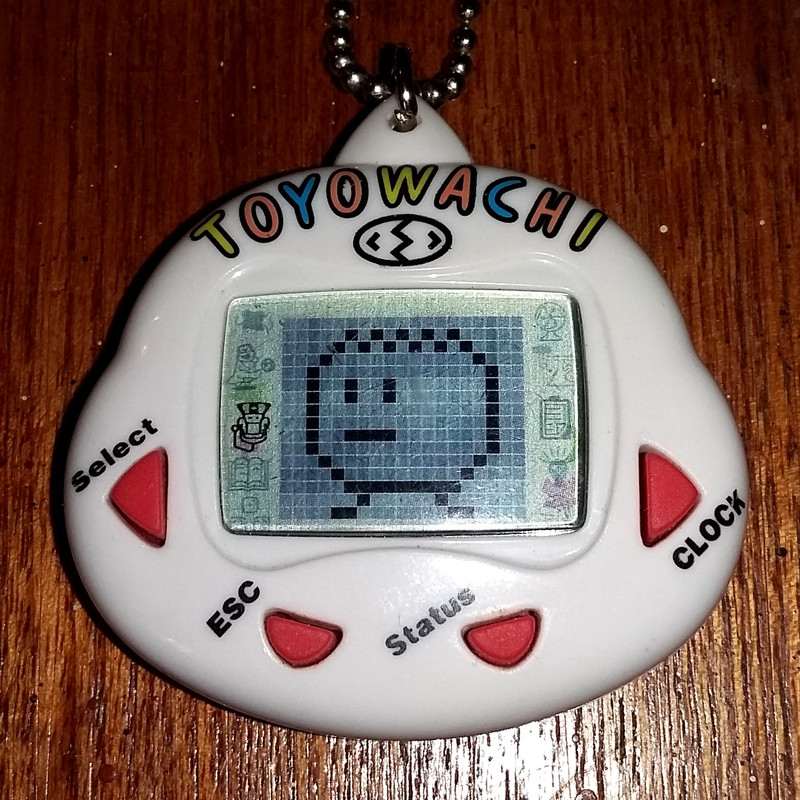 Tako Seijin / Space Creature - 1997
Not much is known about this one except that it takes a lot of inspiration from the original Tamagotchi Generation 2 secret character "Zatchi" as inspiration for its aliens. It does feature many interactions used by the Dinkie Dino, including heat levels and showers.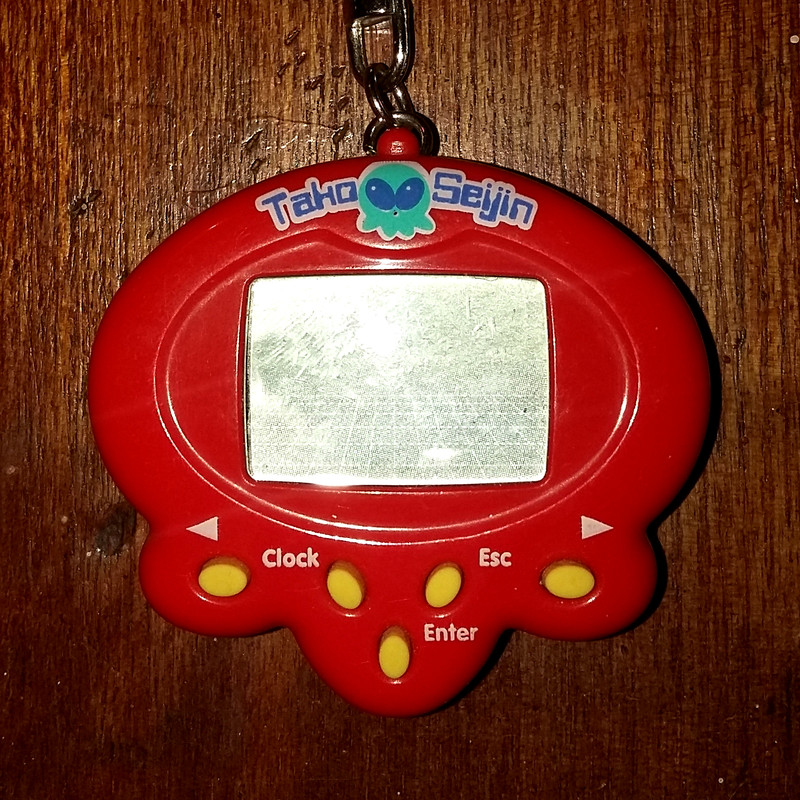 The Dino - 1997
The Dino is an obscure VPet from the late 90's. You are to bring up a pet dinosaur named Pinky. More info coming soon.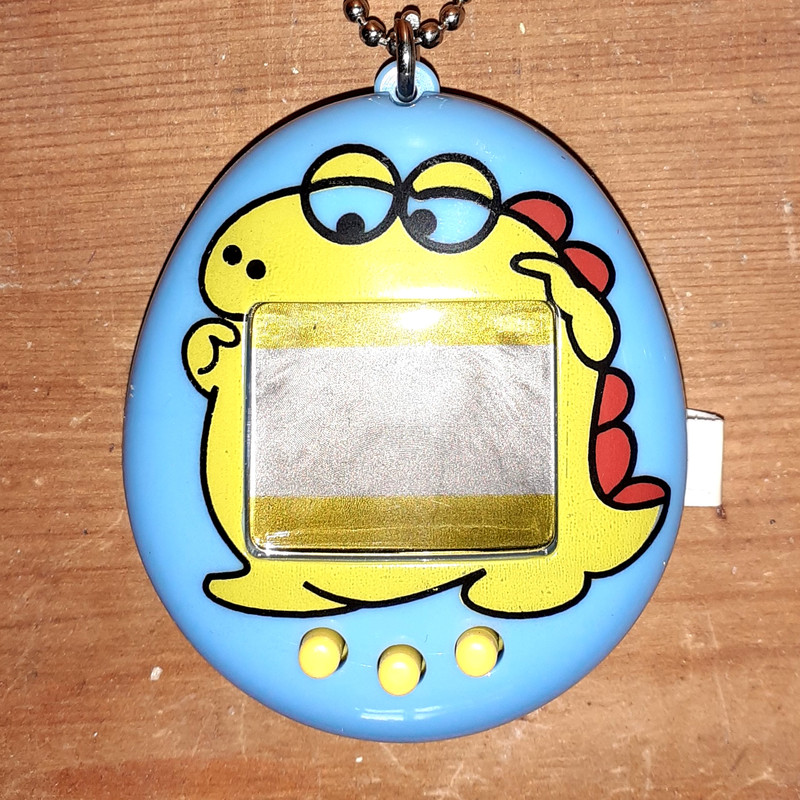 Dinosaur Pet (UNKNOWN NAME) - 1997
This one need to be identified before we can update the site. We had one since 1997, a yellow one, but we cannot remember what it was branded at. Please contact us on Twitter @GotchiTreasure if you have this information.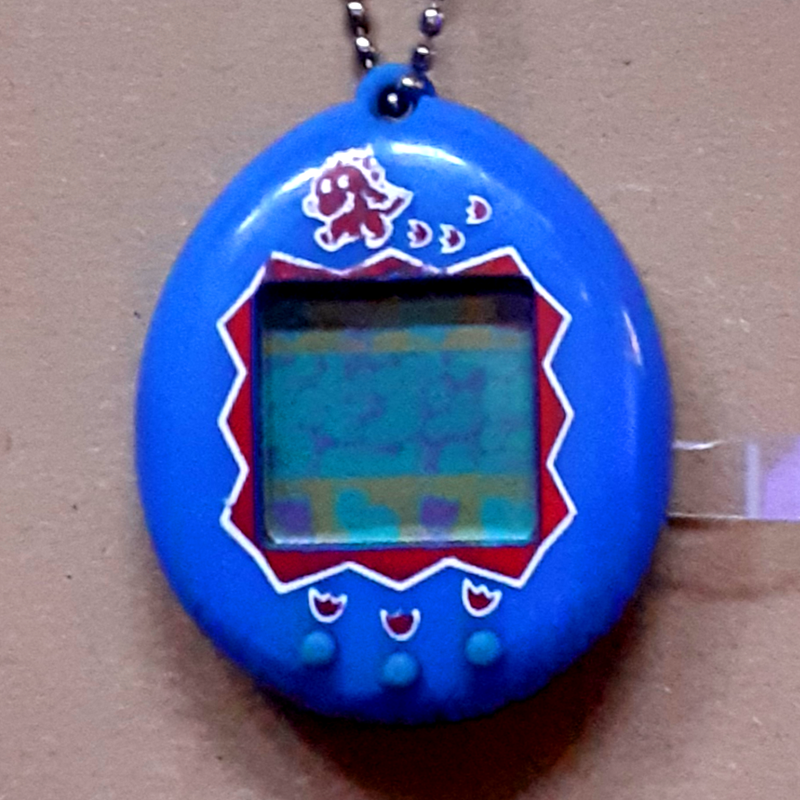 Giga Pets: Compu Kitty - 1997
Compu Kitty was one of Giga Pets most iconic virtual pets. It allowed you to raise a little baby kitten into a fully grown cat and he could be fat or thin and healthy or sick. It was all up to you. And he ate fish bones.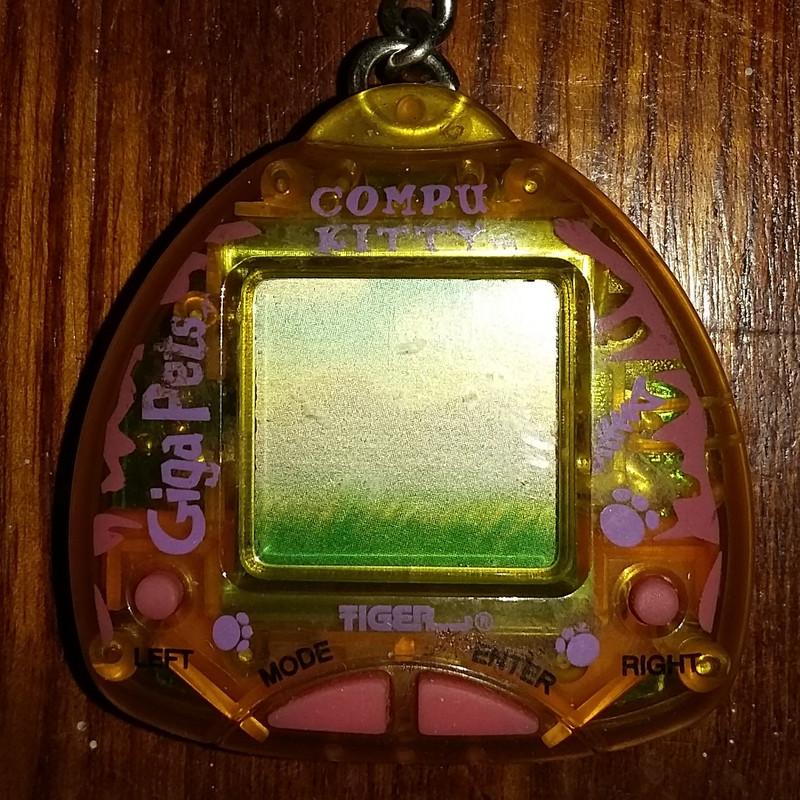 Giga Pets: Digital Doggie - 1997
Not a cat person? Prefer dogs? Giga Pets had you covered there too. Digital Doggy is almost identical to the Compu Kitty except its a dog. Instead of catching a butterfly game, its a catch a ball game and to be honest, the only thing different between these two is the animal.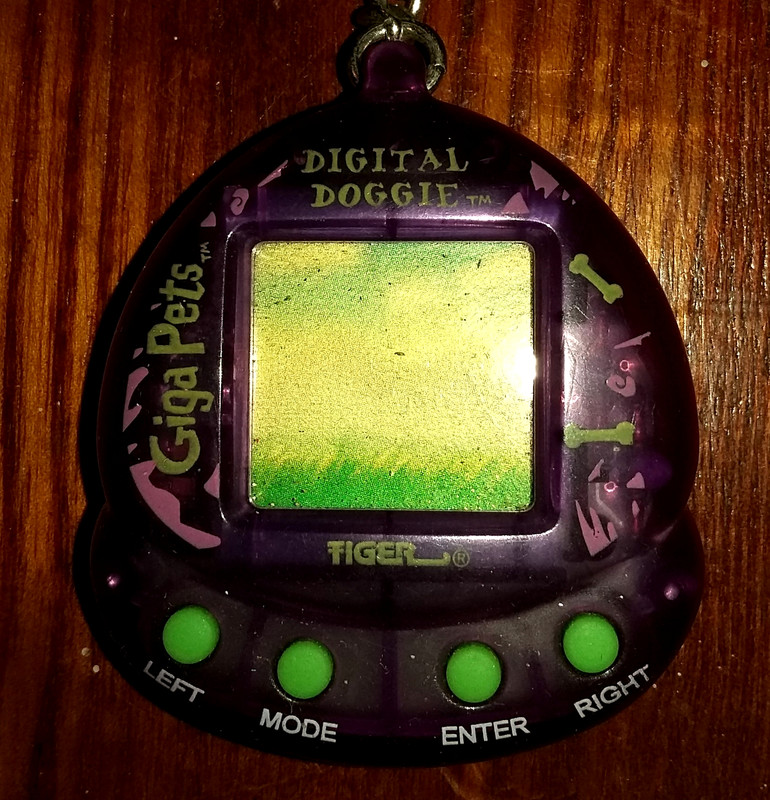 Giga Pets: Komputer Koala - 1997
This one I have a sore memory of. As a child, I imitated a game it has where it climbs up a tree. I did this with a pole or something and smacked myself right in the eye. Gotta love it. Again, it's a Giga Pet so it's very much the same kind of deal but with a Koala instead.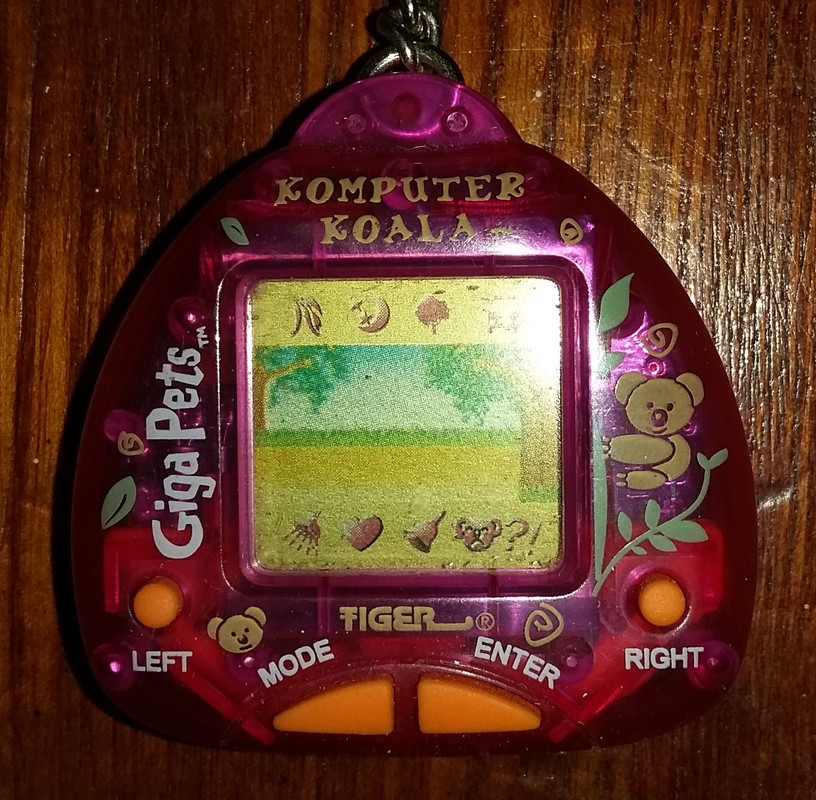 Giga Pets: Microchimp - 1997
Another one by Giga Pets here, this one is fairly rare. Not many of these about and very rarely spoken of in Tamagotchi Collector circles. Worth picking one up if you are lucky enough to find it.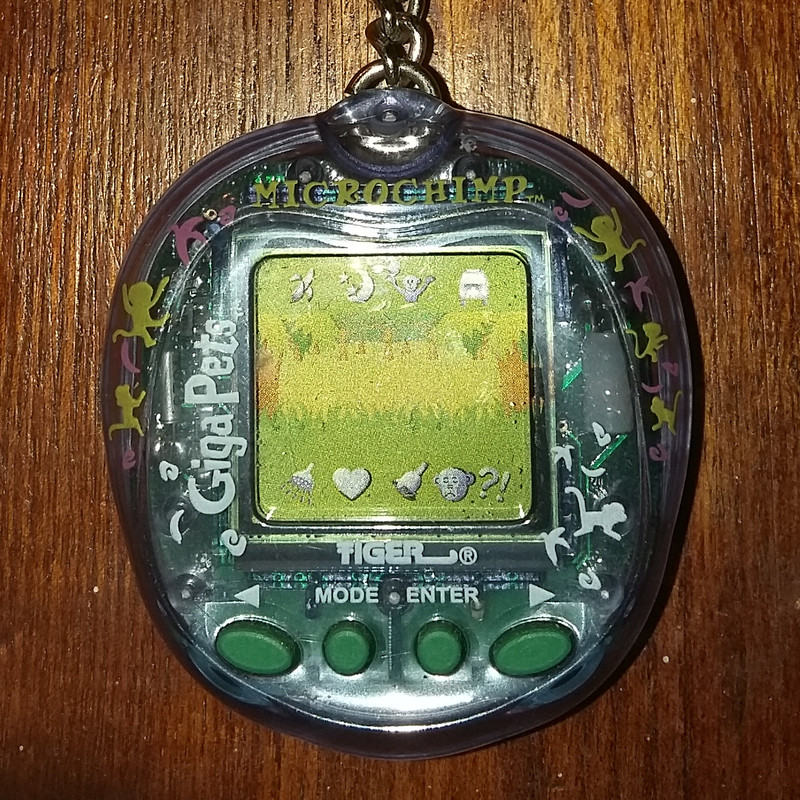 Giga Pets: Baby T-Rex - 1997
Giga Pets were one of the "good quality" producers of Cyber Pets back in the late 90's. They were unique and had many of their own traits and features rather than just being another Tamagotchi clone. Baby T-Rex allowed you to raise a baby dinosaur and was mostly the same in style as their other pets.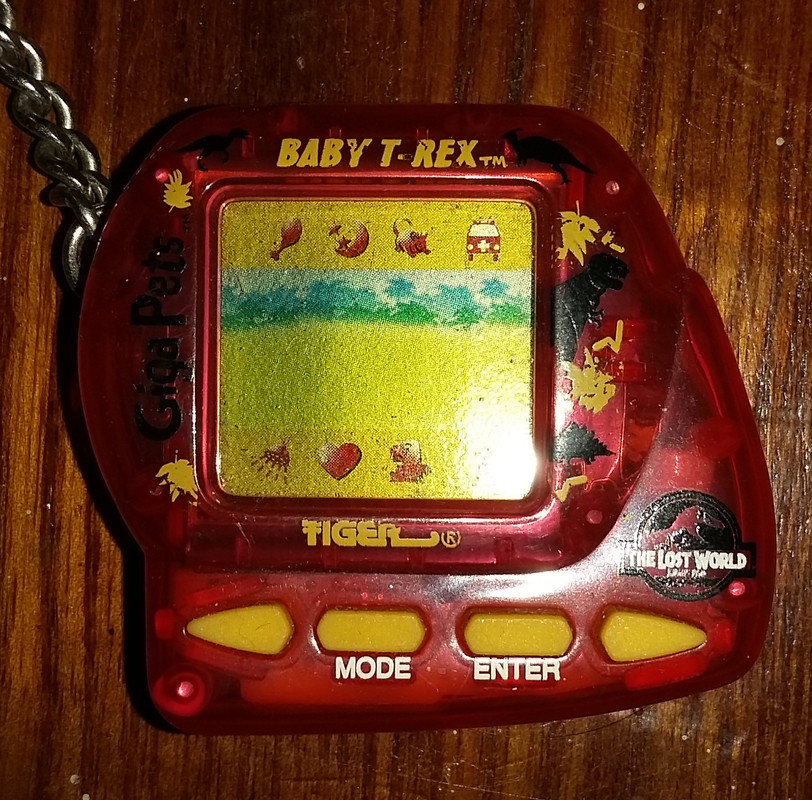 Giga Pets: The Little Mermaid - 1997
This one is a little different. It was licensed by Disney as an extension of sorts to their movie The Little Mermaid. In this one you look after Ariel and do all kinds of mermaid things.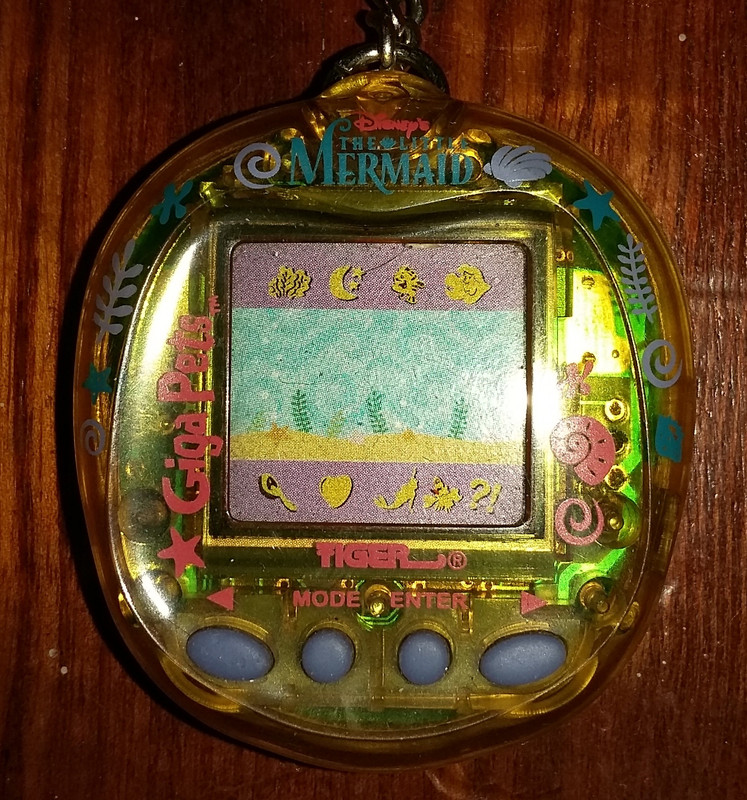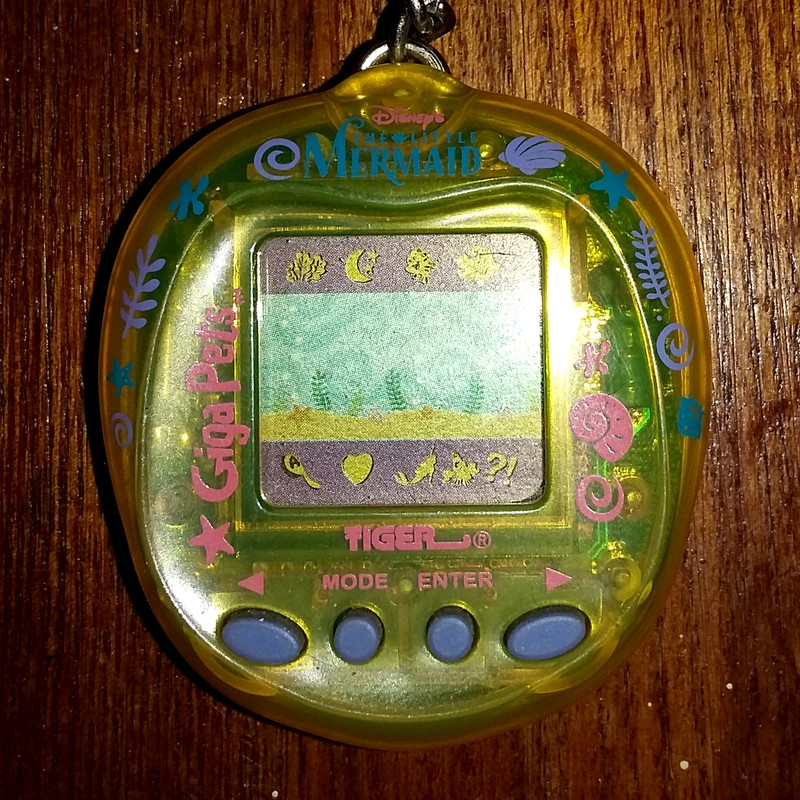 Giga Pets: 101 Dalmations - 1997
Another VPET based on the Disney movies by Giga Pets here. As always it uses the standard Giga Pet formula, except now you're taking care of a puppy from 101 Dalmations.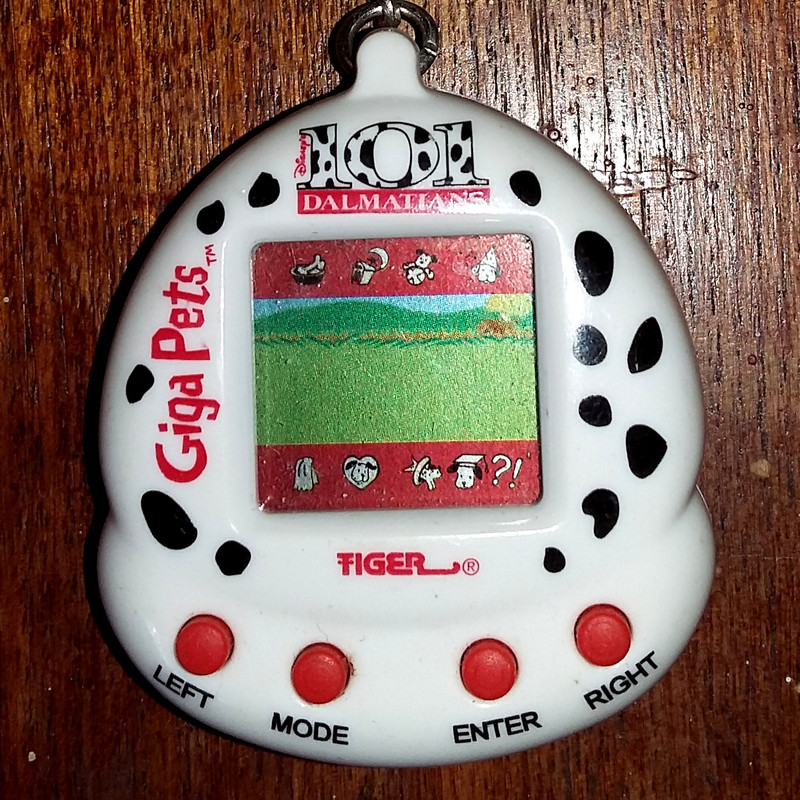 Giga Pets: Star Wars (Yoda) - 1997
One of the many Giga Pets based on popular culture, and one of several Star Wars themed ones, Yoda is a nice addition to any cyberpet collector or even Star Wars memoribilia.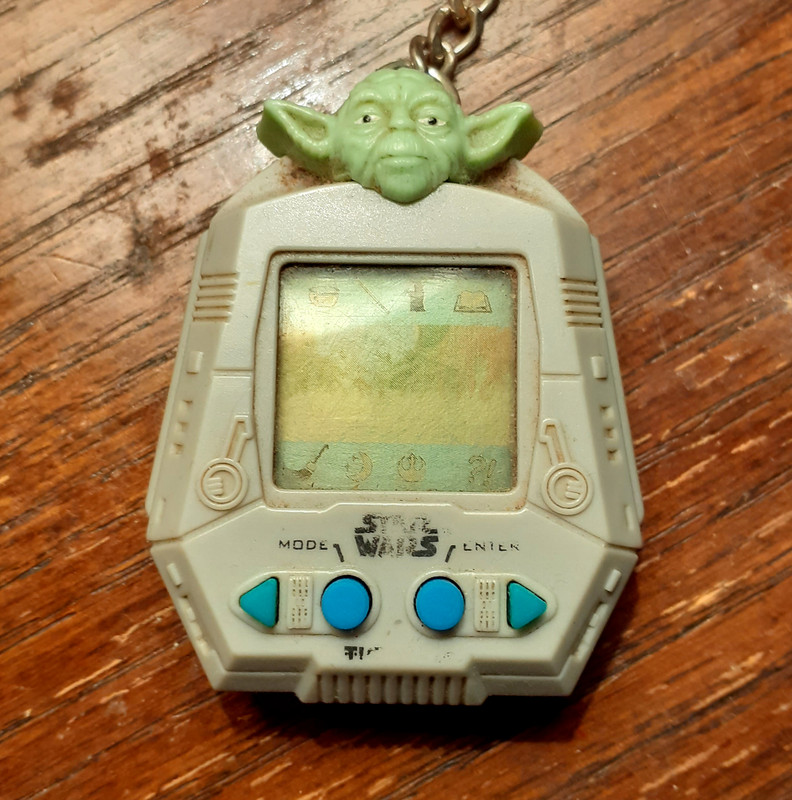 Pocket Pet: Little Puppy - 1997
We believe this uses the same programming as the Nano Puppy, thanks to info given to us from SuperSoftLight on Youtube (THANKS!). We believe this to be true, if memory serves correct, but we have no way to test it as we do not know how to get the batteries out. We still aren't sure what it was branded as. UPDATE: Confirmed this is a bootleg Nano Puppy. It was branded as Pocket Pet: Little Puppy and came in packaging with a wristwatch strap.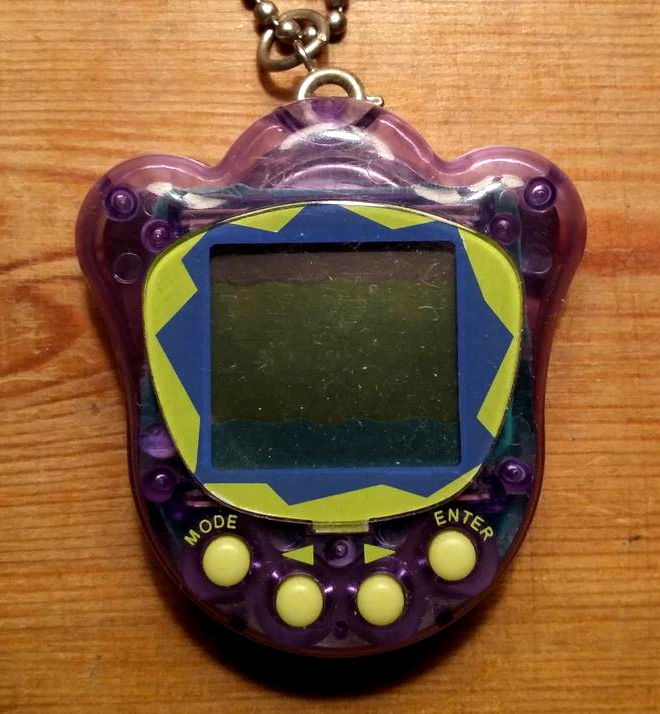 My Pet - 1997
My Pet is a puppy that steals its insides from the Nano Puppy pets. Despite it using the same chip inside, the shell design is very nice and very unique and is a lovely addition to any vpet collection. This pet was purchased in the year 1997 new, but fortunately its name is located on its shell.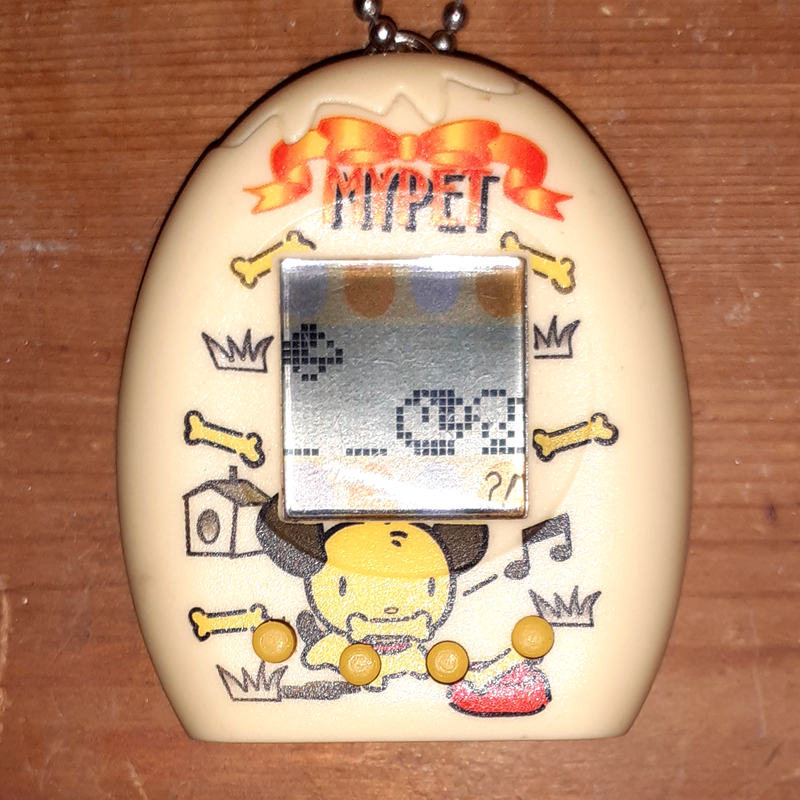 Nano Pets: Nano Baby - 1997
Nano Pets were another of the leading cyberpet producers in the late 90's along with Tamagotchi, Dinkie Pets and Giga Pets.This one was a human (except not, because it's digital) baby that you raise to be a boy.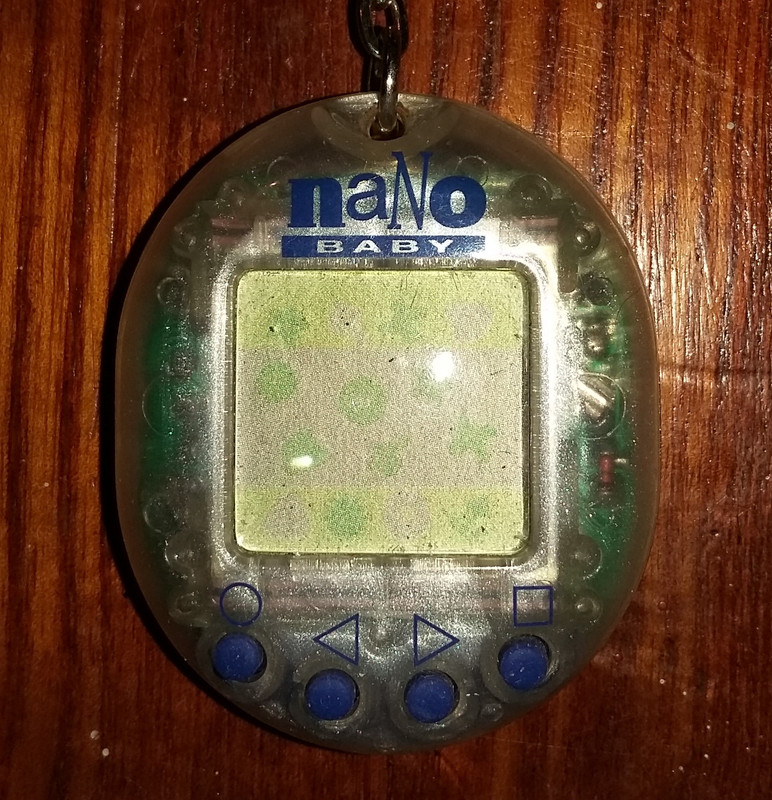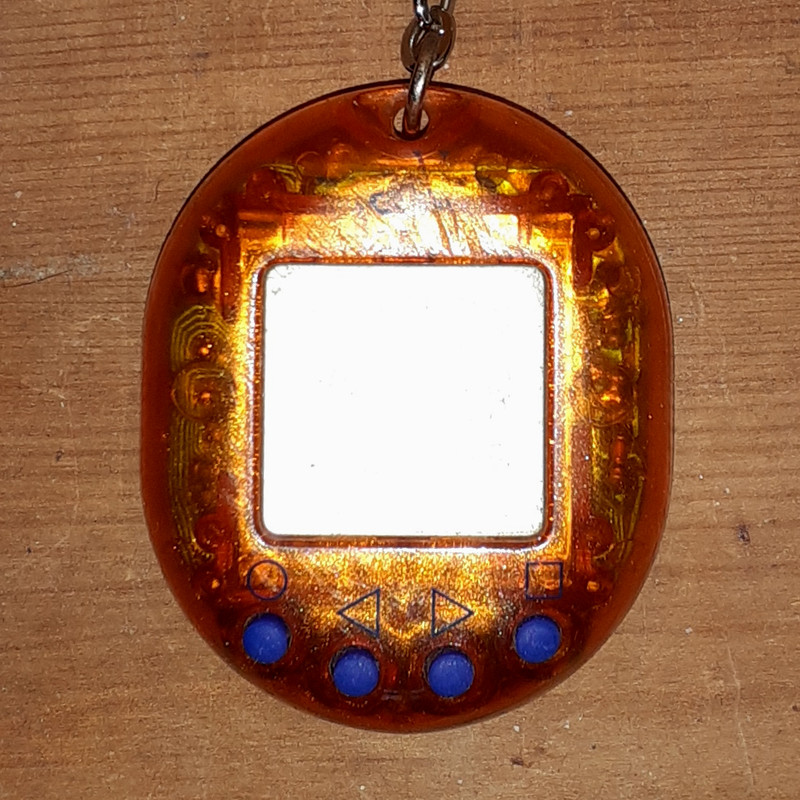 Nano Pets: Nano Puppy - 1997
Very similar to the baby, the Nano Puppy lets you take care of a little digital dog. These function pretty much the same as each other, Nano Pet's had a formula that worked and so they didn't really change it.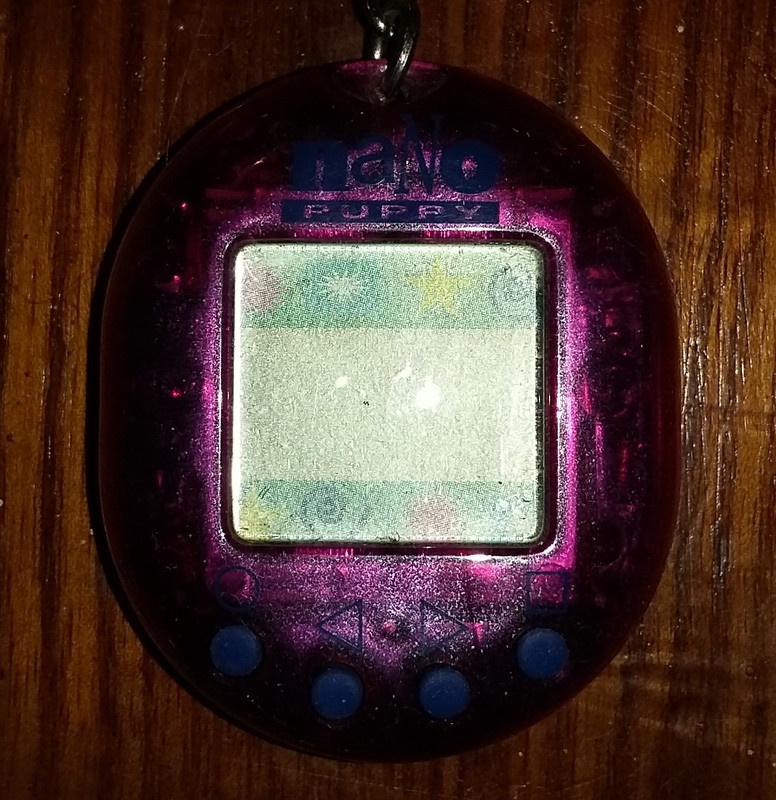 Cute Kitty - 1997
Not much is known about this one except that it was (at least we believe) an exclusive to Argos in the UK in the late 90's. Its shell clearly represents a clone of the Nano PETS, and the pet inside was most likely the same (this will be updated with actual info on that soon.) They also appear to have been sold on Media Magic, a Japanese Tamagotchi website from the 90's.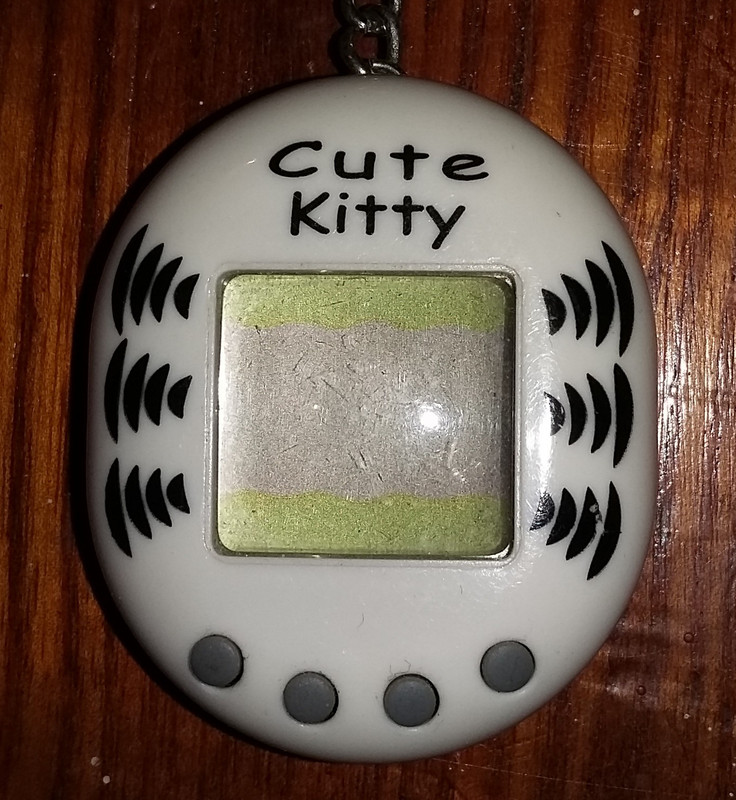 My Kitty - 1997
There is very little information on this one and I cannot remember where I got it from when it was new. This will be added later. It clearly resembles the Nano Kitty and most likely was a bootleg of such.One small bit of info unearthed was that a version labeled "My Little Kitty" was released by Dreamy Pals Pets in the 90's. Whether or not these two are the same exact release is uncertain however.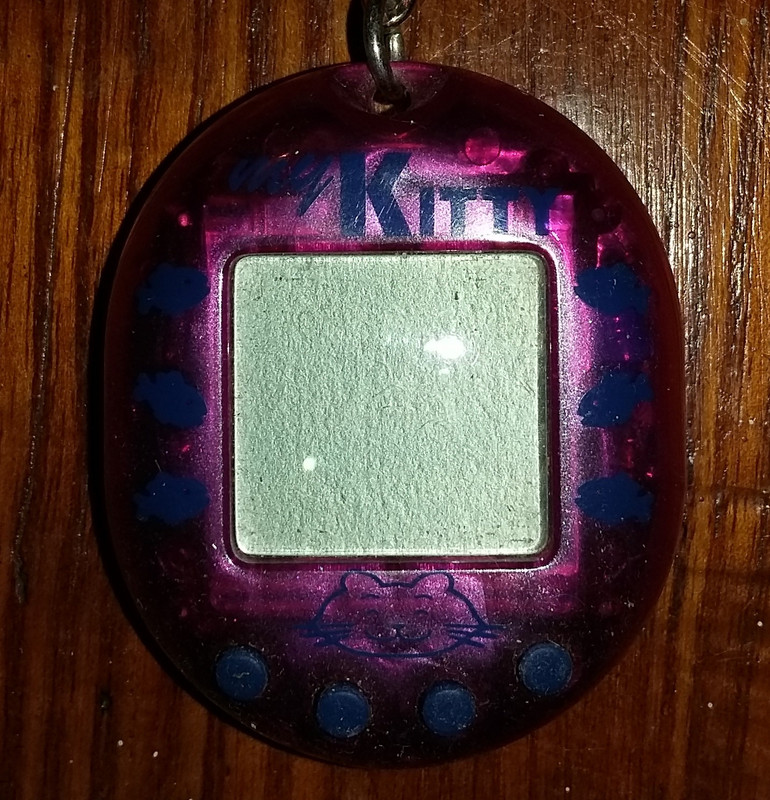 Funny Monkey - 1997
This one is interesting. It basically basis its design on the Nano Pets but with a Tamagotchi Generation 1 background. The actual chip it uses is the same one as the Eggy/Cute Pet. Like the original Eggy/Cute Pet, they tend to die a lot and require a lot of care. That being said, they are very nice pets.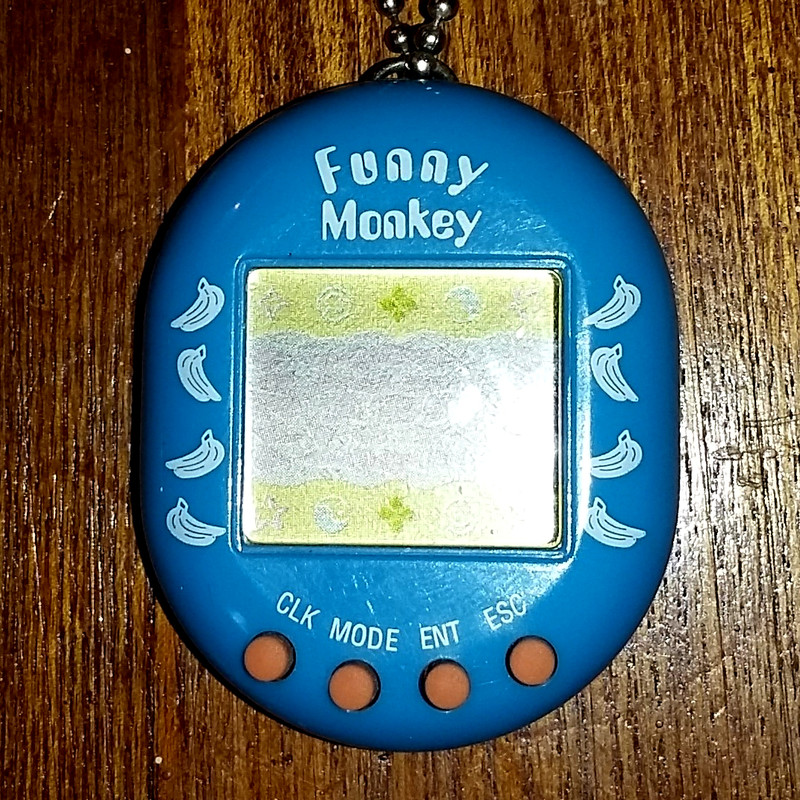 BoBo Electronic Pet / Cyber Baby - 1997
Bobo was also released under the name Cyber Baby and shared the same chip as the Eggy/Cute Pet. These versions came in house shaped shells. They had training and a left and right game. They were surprisingly good pets thought they did seem to require quite a lot of care, and tended to die. A lot.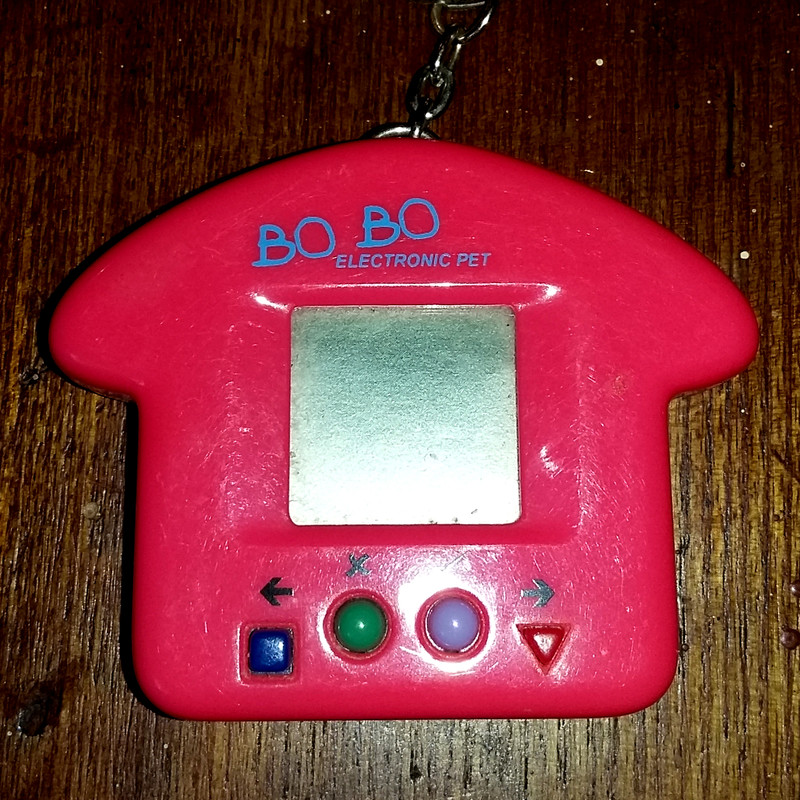 Pocket Pal - 1997

Another obscure one here. Info will be added at a later date.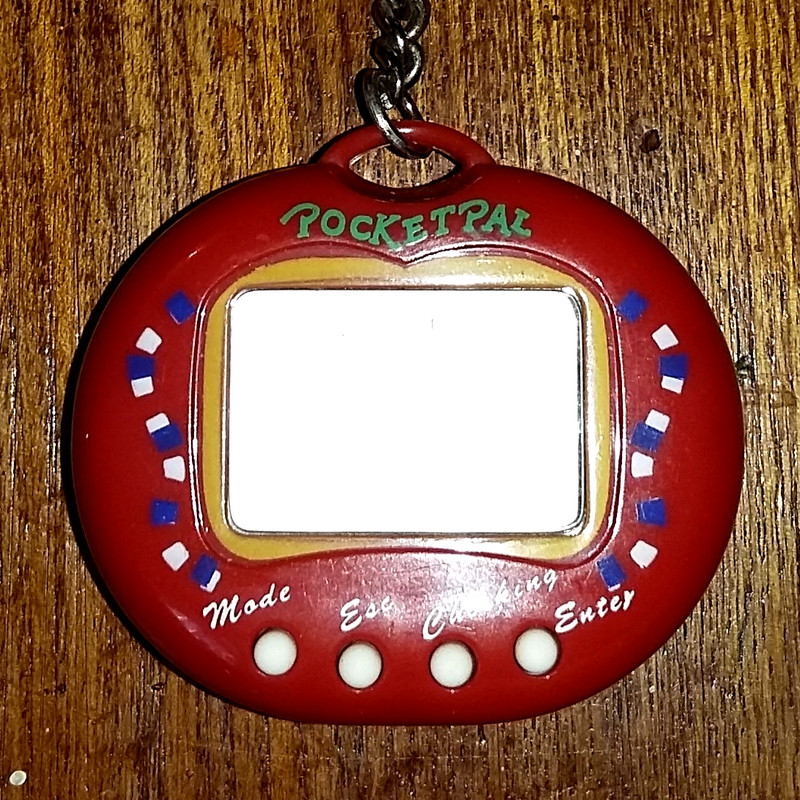 Virtual Footix - 1998
The 1997 World Cup in UK was such a big deal, and it fell right on the peak of the Tamagotchi craze. 1997! So they made something absolutely fantastic... Virtual Footix! A Tamagotchi in which you raise the '97 mascot to be the best footballer you can and help him win the World Cup!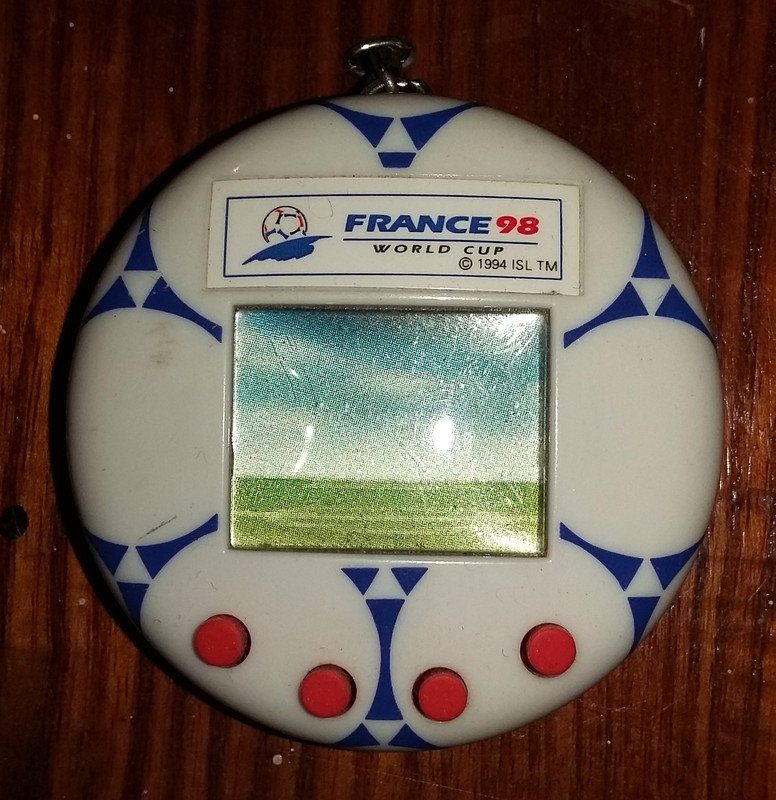 Digimon: V1 - 1998
The Digimon series of Tamagotchi's ended up becoming their own thing, but they were at the time fantastic versions of the Tamagotchi that could connect and fight! This was done by connecting the pins at the top with another of the same kind and then seperating them to watch the battle unfold.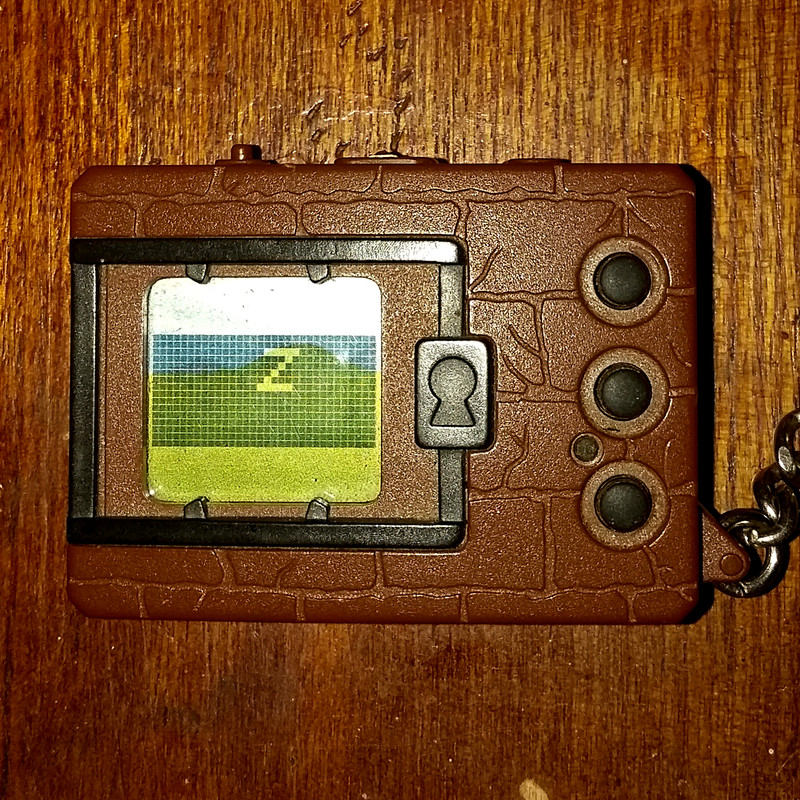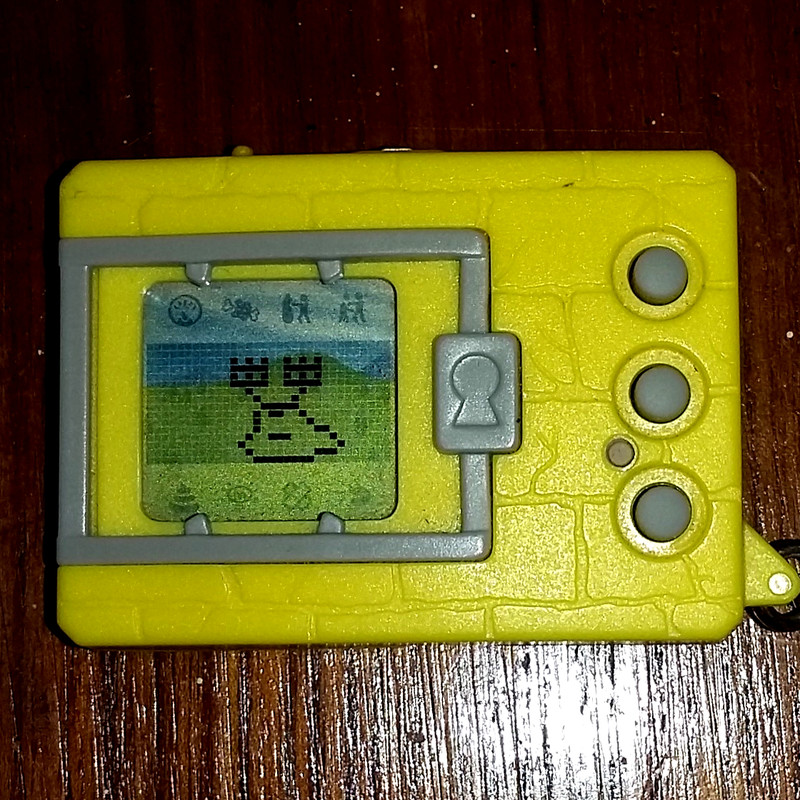 Digimon: V3 - 1998
Much like previous versions, the Digimon V3 keeps the same basic layout and setup as the previous ones but adds a new training game in which you must tap the a or b buttons to power up before timer runs out in order to break a wall.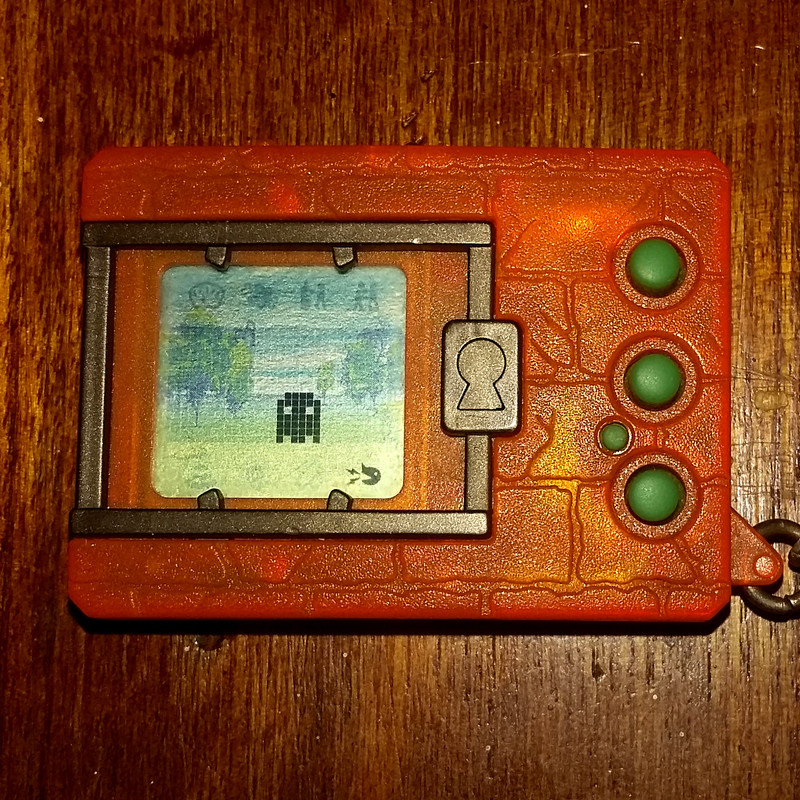 Tamagotchi: Mesutchi & Osutchi - 1997
The first true "connecting Tamagotchi" that was not a Digimon, was the Mesutchi and Osutchi. One is male and one is female and they can connect in the same manner as the original Digimon V1 to mate.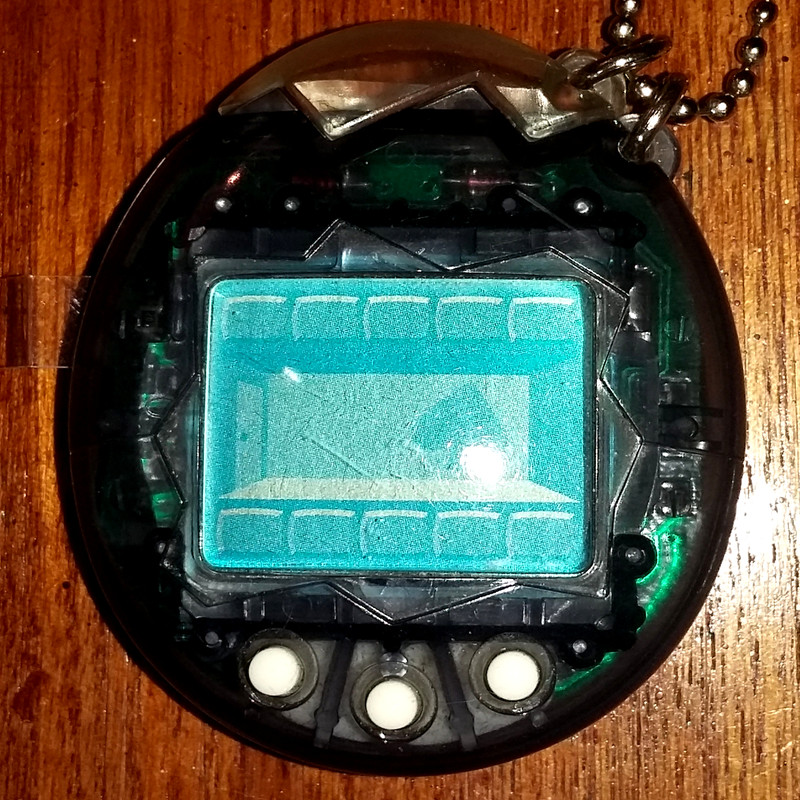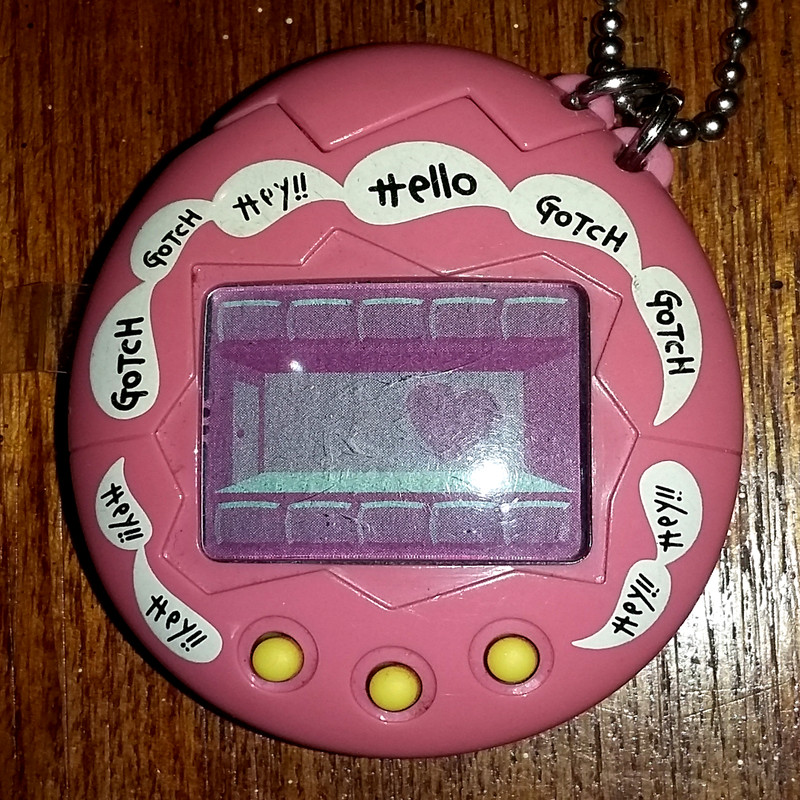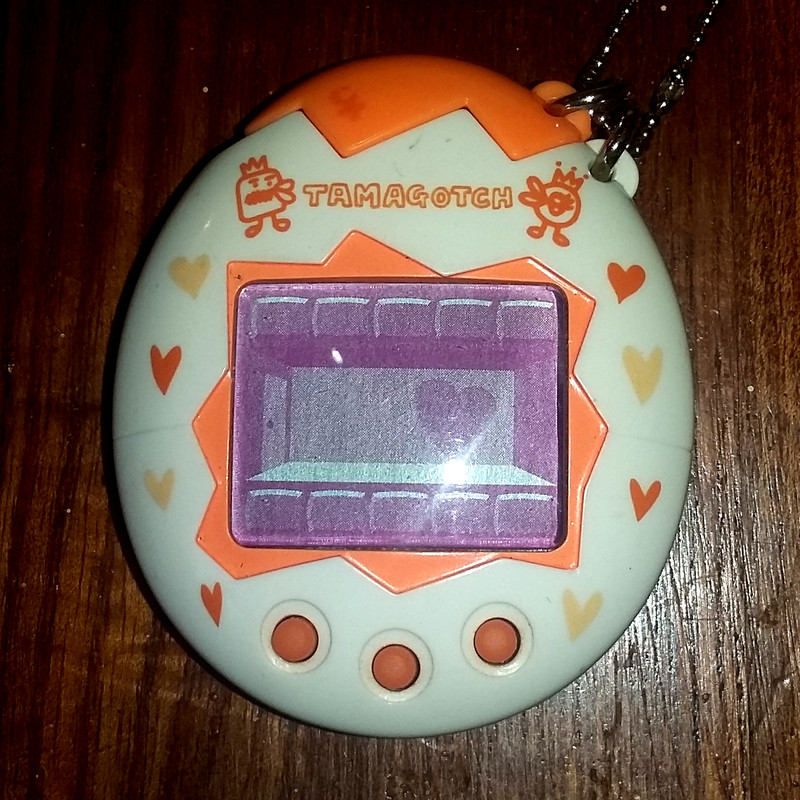 Tamagotchi Angel - 1997/1998

The Tamagotchi Angel was a very nice release. It basically carried on the life of your Generation 1 or Generation 2 Tamagotchi's after they pass away and/or return to their home planet. You get to bring up a baby angel and see how they turn out in the afterlife this time around.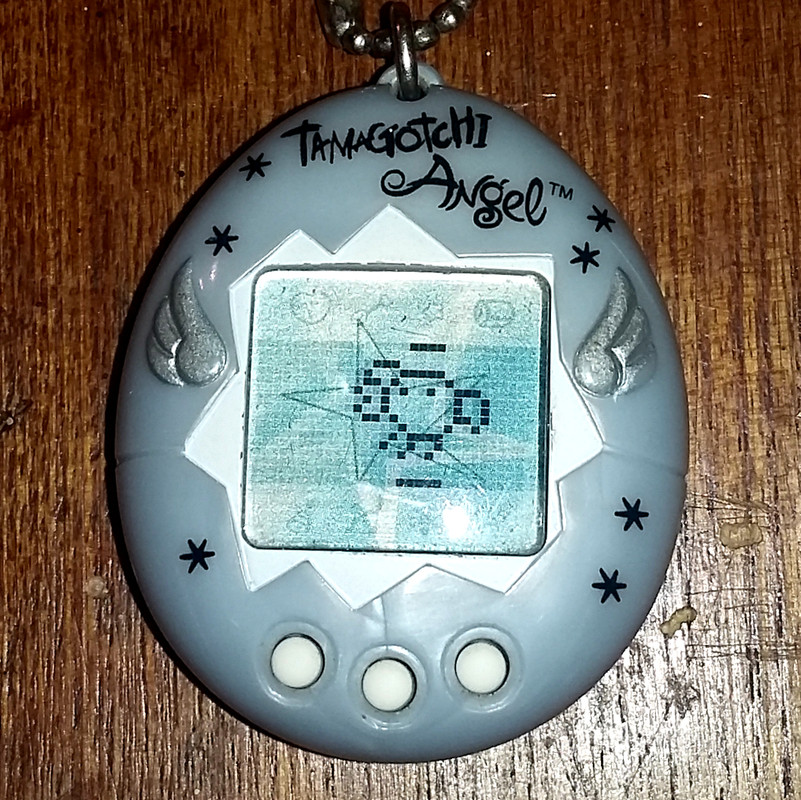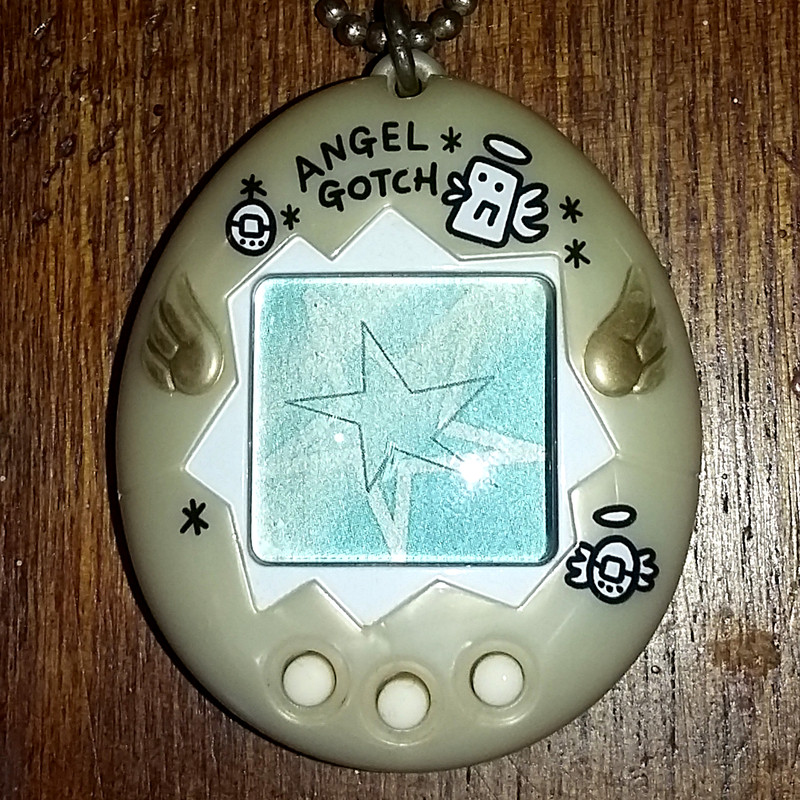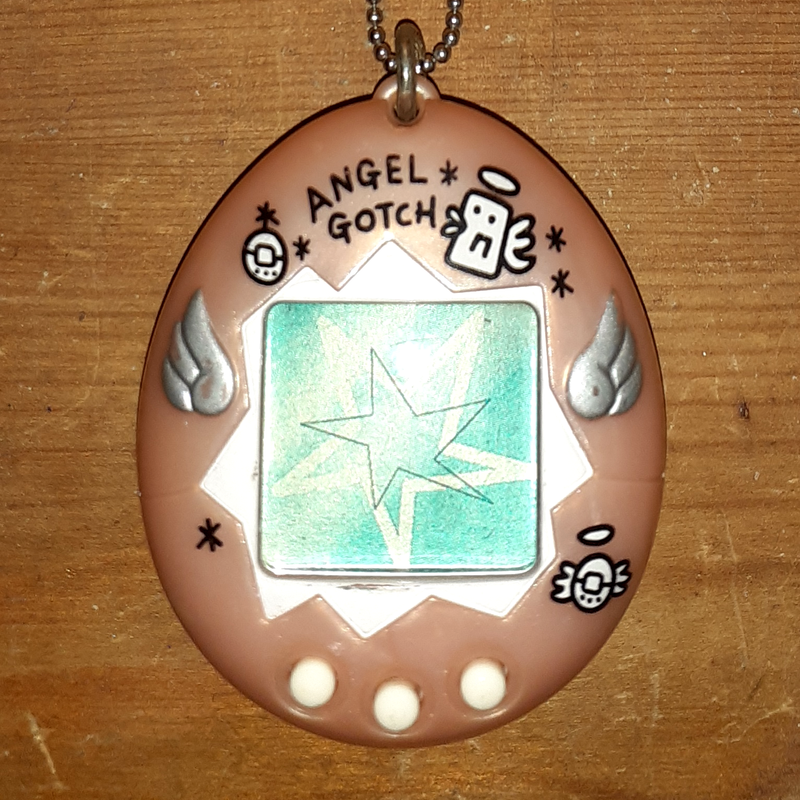 Tamakaci - 2000(?)
The Tamakaci appears to have been released in 2000 according to its description, but this is uncertain. In this pet you raise an egg that comes from "the lost world of millions and millions of years ago". It varies which creature you'll actually get though. It could be a duck, or it could be a dinosaur. Looking after the pet on Earth, as its new master, "the Tamakaci will experience life through the year 2000 with you." It has 2 different left and right games, and various food and drinks. This changes depended on what creature you get, and the creature requires a lot of specific care. It must drink 15 waters a day, no more than 15 snacks a day and various other care. It comes in packaging with a matching wrist watch strap and clip, so you can wear him with you when you go out. A very unique pet indeed.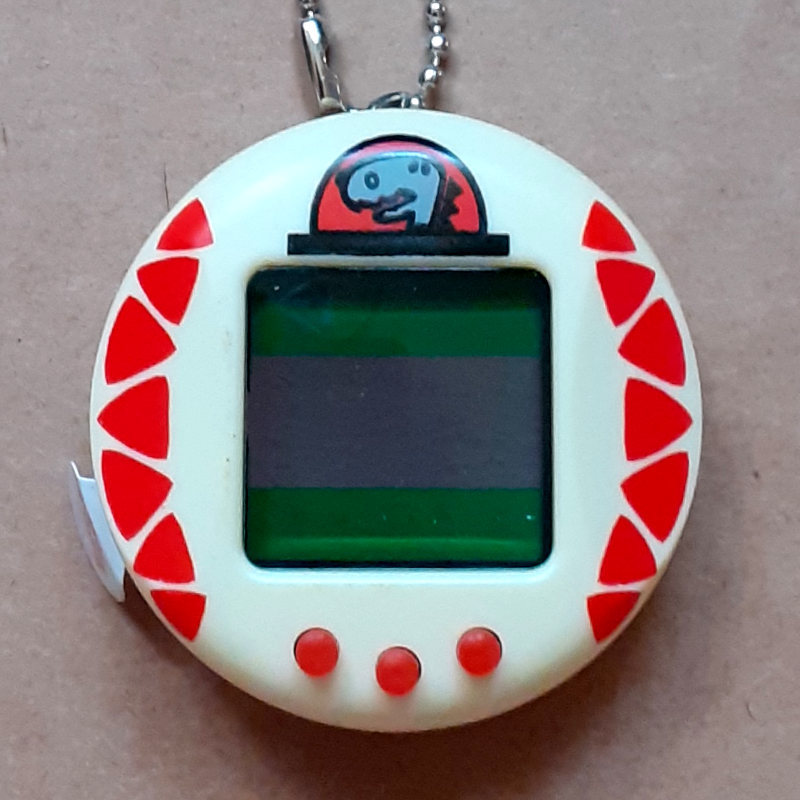 Tamagotchi Connection/Connexion: V1 - 2004

This is basically where the Mesutchi and Osutchi was heading. The V1 is the first in the official "connection" series of Tamagotchi's, and proved to be one of the most popular.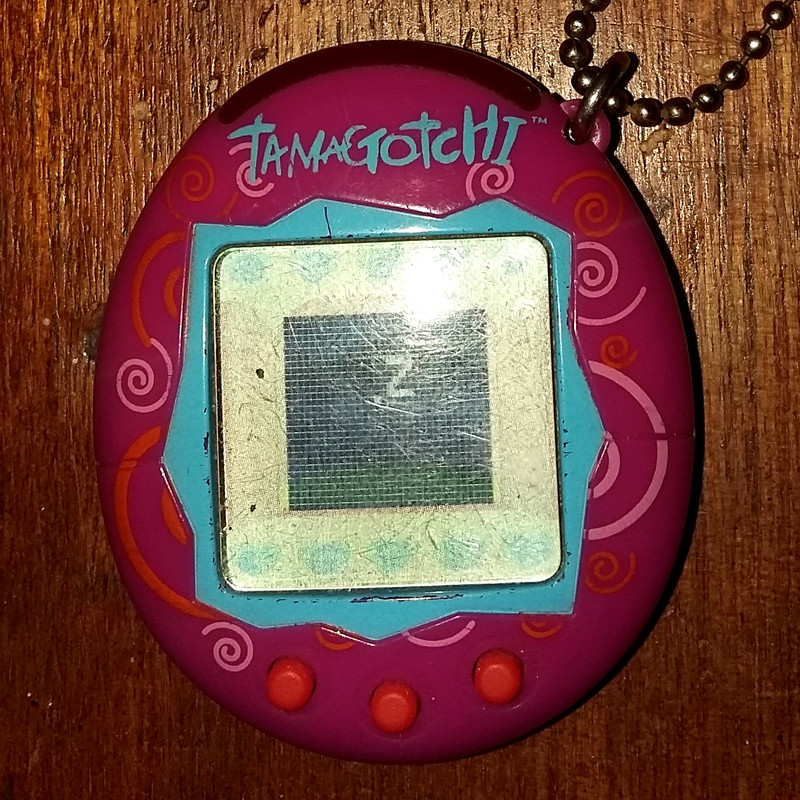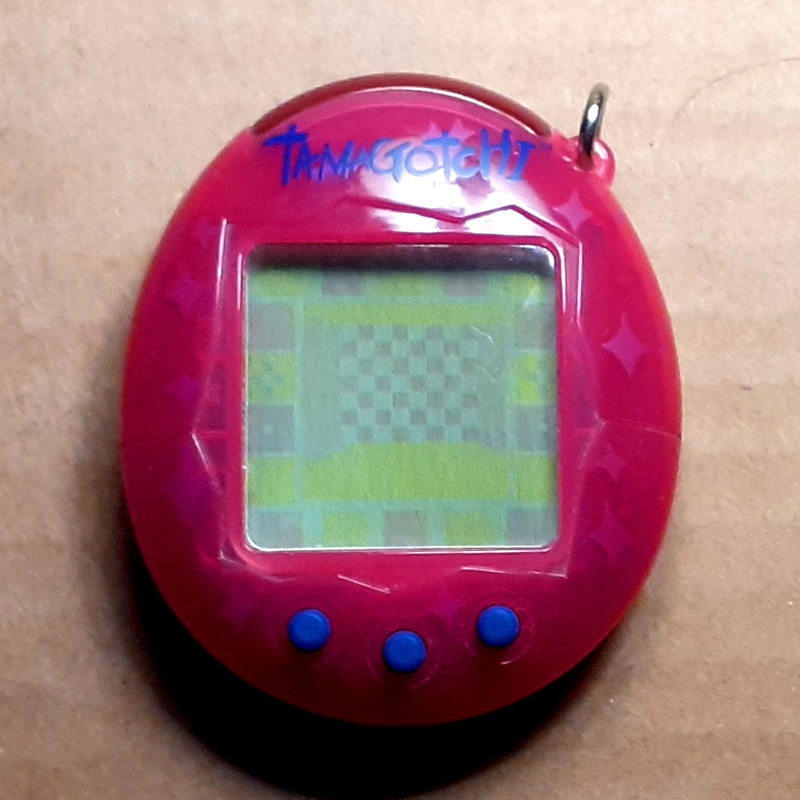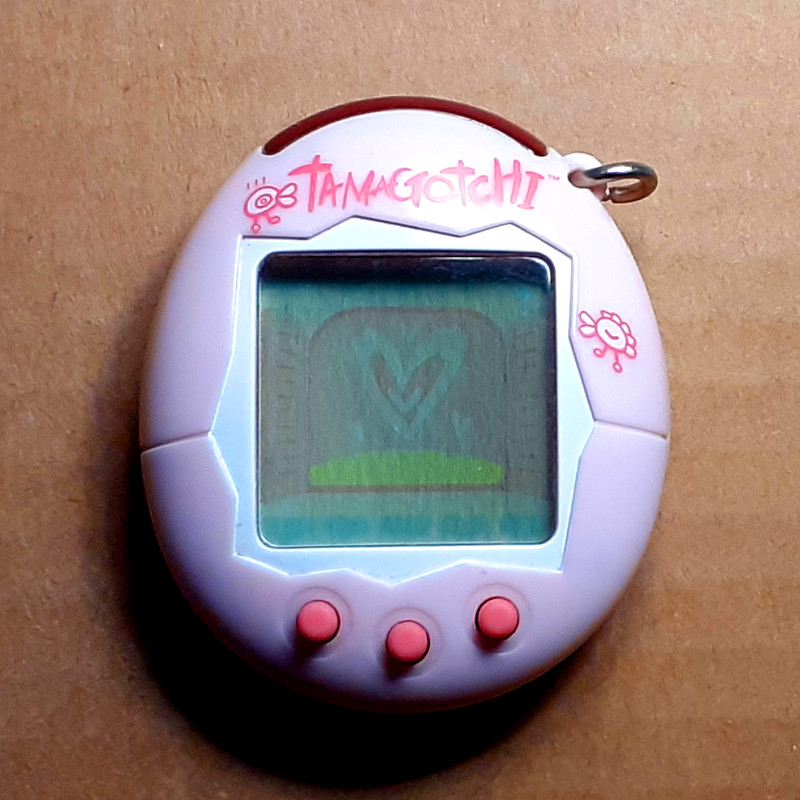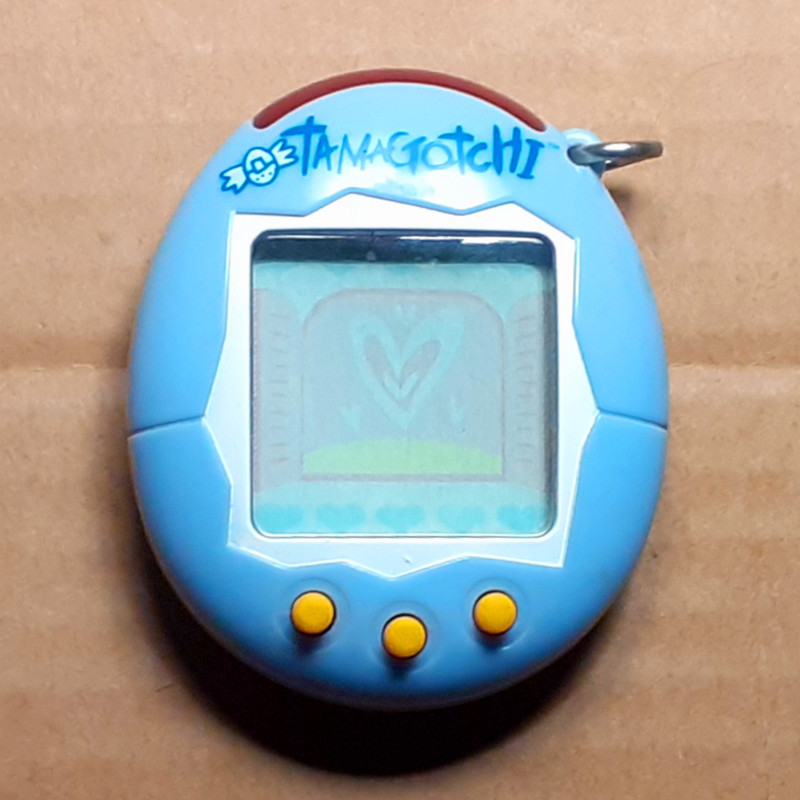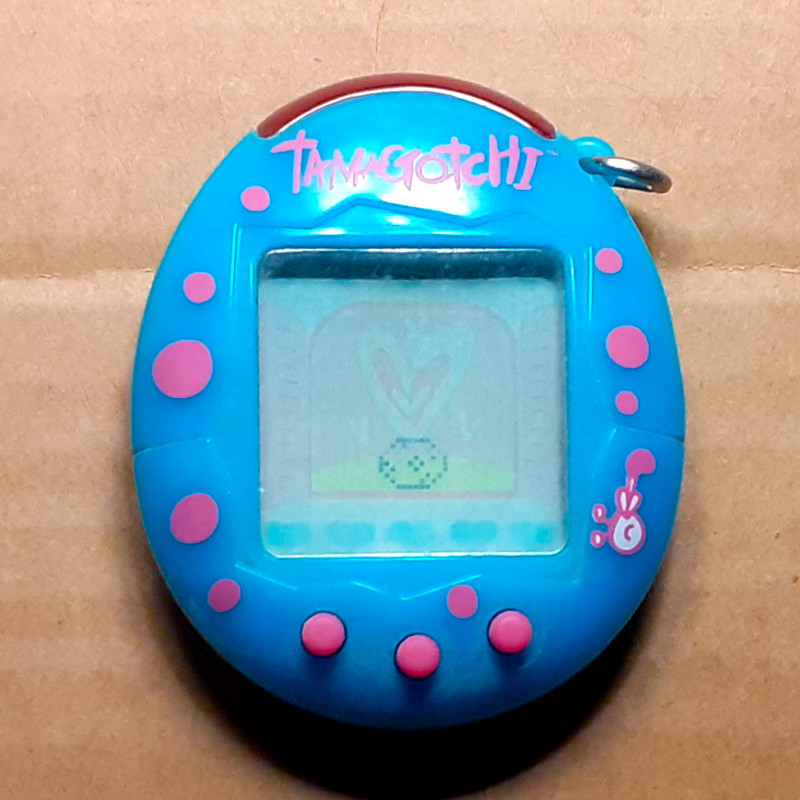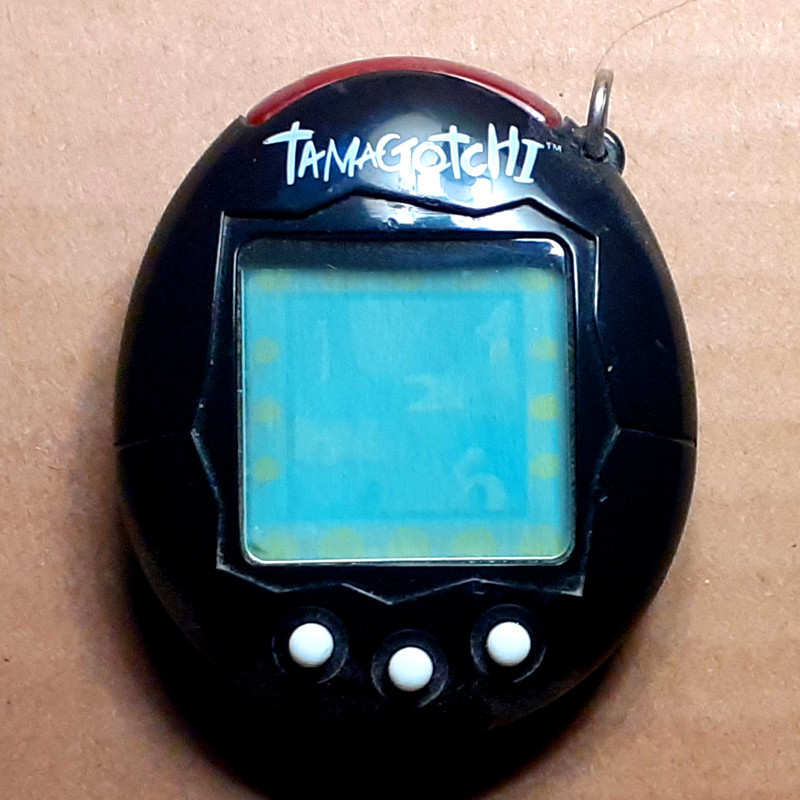 Fake Tamagotchi Connection V1/V2(?) - 2004
When it comes to fake Tamagotchi connections, there are so many variants under so many different brands it's a little hard to differentiate between them... so it's no guarantee we have this listing in the right place. If anyone knows different, contact us at Twitter @GotchiTreasure and we will update the site. This is a fake V1 or V2, and we believe it was probably made by TS or JD. It has no hungry or happy meters, it just stops eating when it is full. It has a dance game from the V1, and has real Tamagotchi characters mixed with unique ones inside it. It seems to change form depending on how it was treated. The more it eats for example, the form changes to a different character. This one actually also has the ability to connect to other Tamagotchi's, but it doesn't seem to work with a V3. We have heard it may connect ok with a V2. We are yet to test it.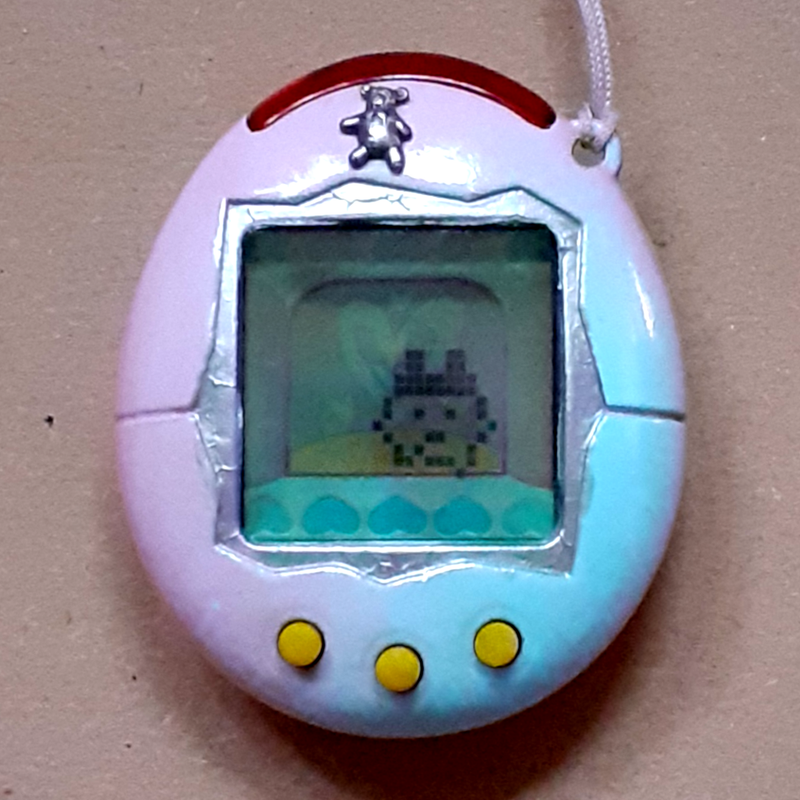 Tamagotchi Connection/Connexion: V3 - 2006
The third Tamagotchi Connection was one of my personal favourites and features a selection of nice mini games such as catching falling music notes, bump, flag and heading. It had a mix of creatures from Gen 1 and Gen 2's also and came in many variants.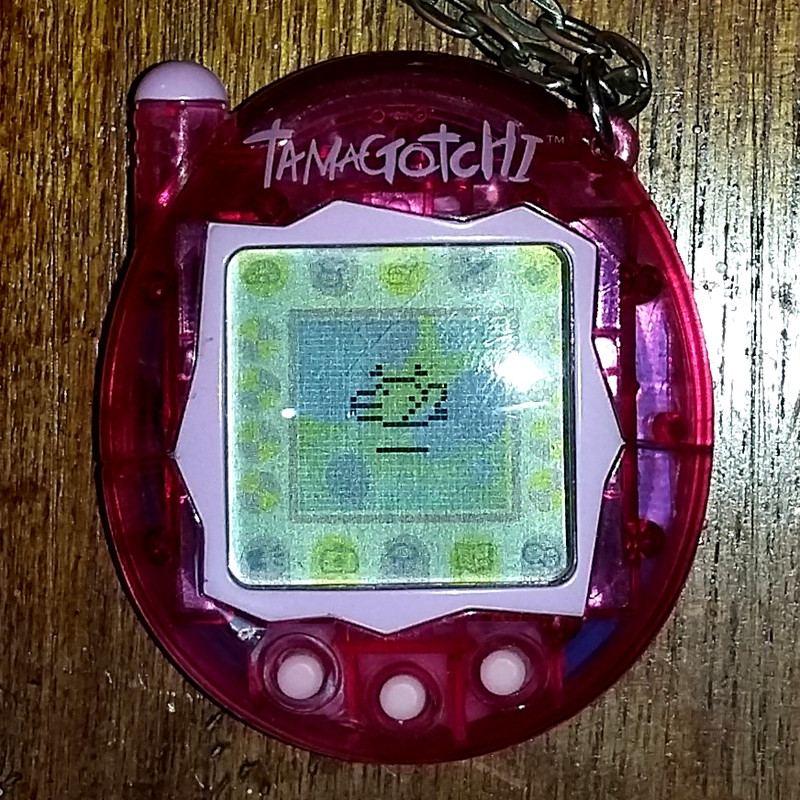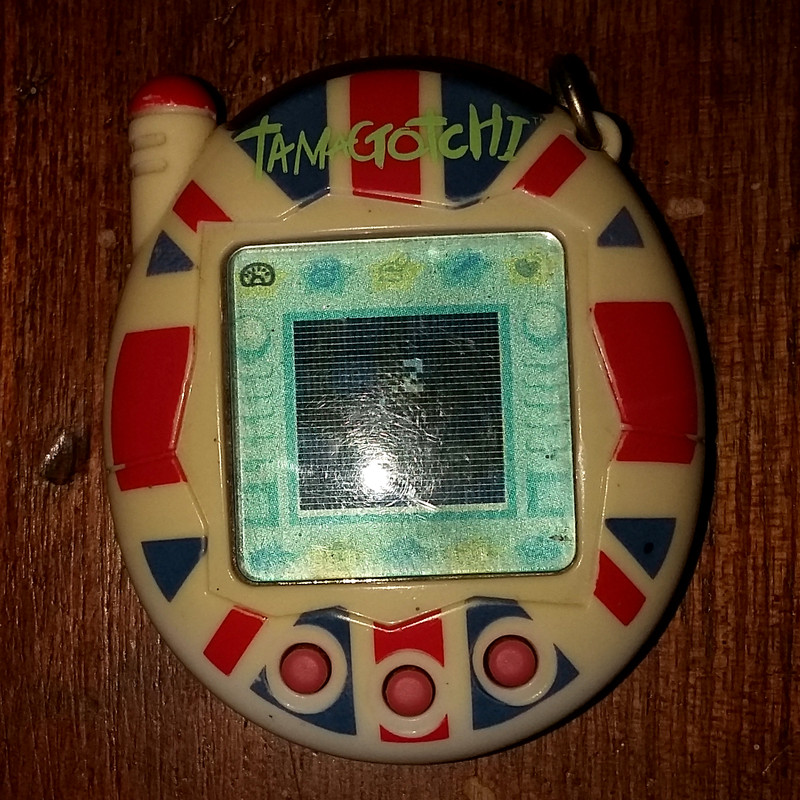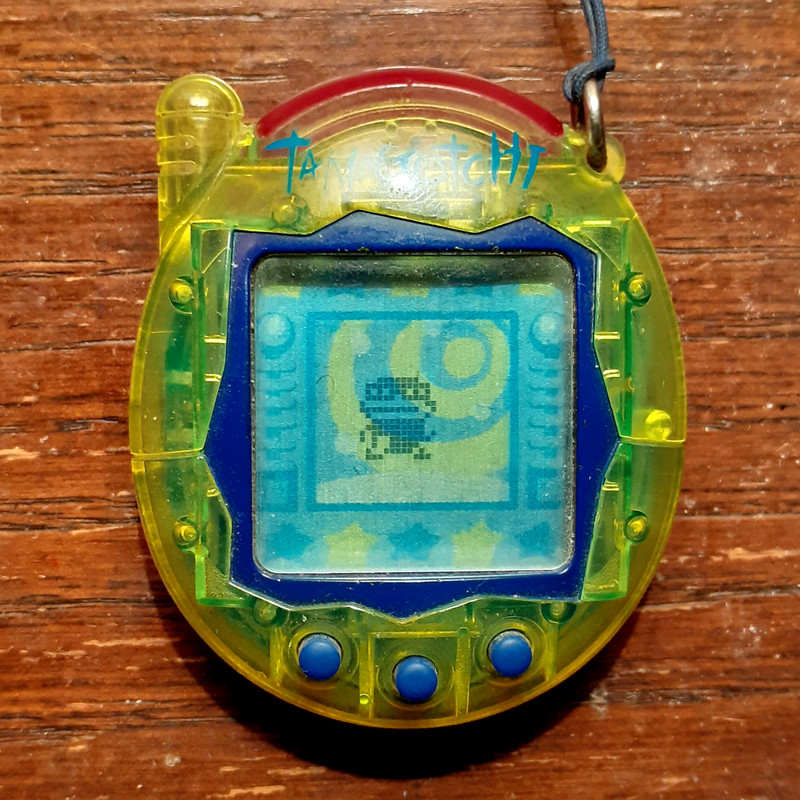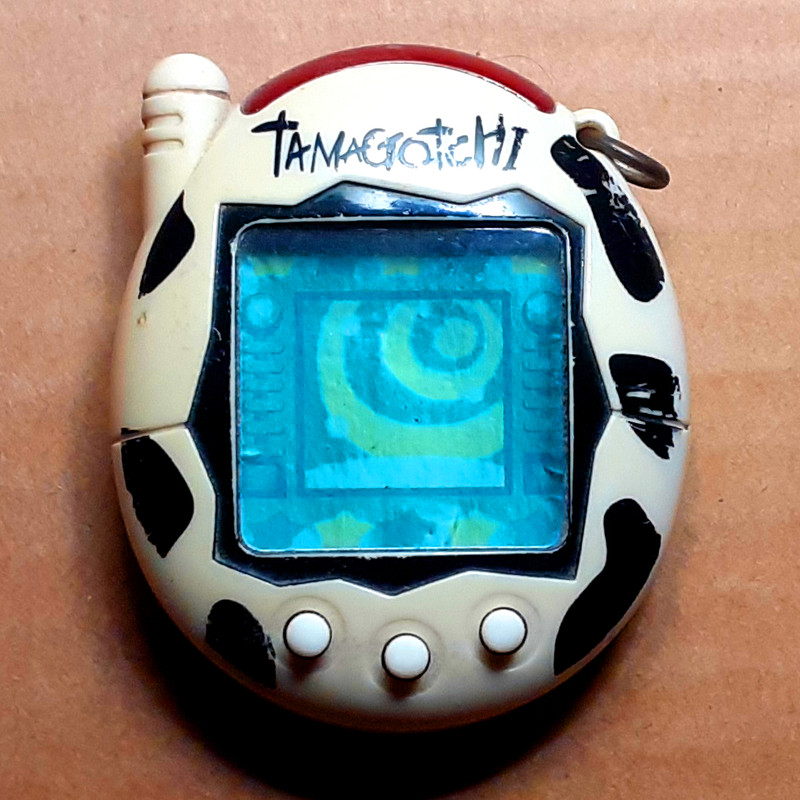 Tamagotchi Connection/Connexion: V4.5 - 2006/2007
Like the V3, the V4 version of the Connection reuses a lot of things from previous versions. It is most recognisable by the ball/sphere on the end of the little antenna.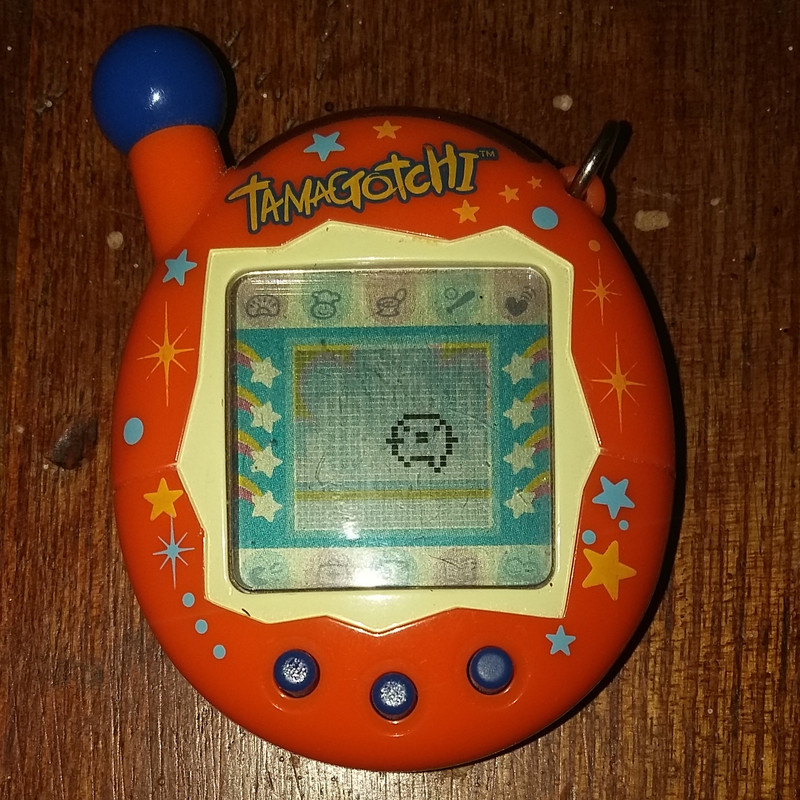 Tamagotchi Connection/Connexion: V5 (Familitchi) - 2007/2008
The V5 (also known as the Familitchi) is very different to its previous kinds because instead of a single pet, this one has you looking after three at once, an entire family. You can easily identify a V5 by the chimney on the egg-shell beside its infrared sensor. They were a very nice addition to the Connextion line.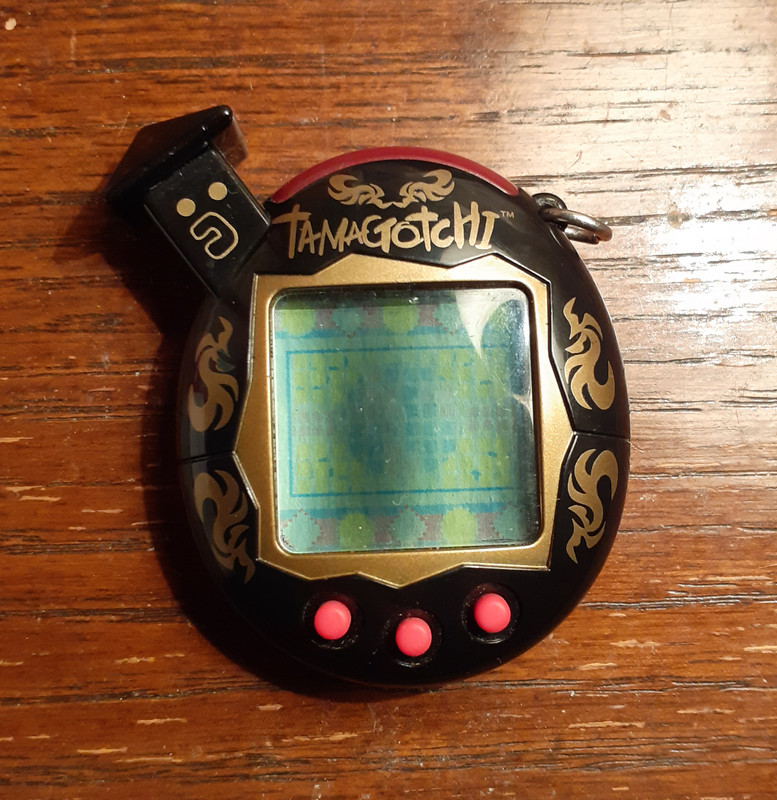 Tamagotchi Connection (FAKE) - 2004-onwards
These are very common and can be found everywhere. They use a shell similar to a Tamagotchi Connection V1, V2, V3 or V4. They first started appearing in 2004 and now they are everywhere, under many different names and brands. The chip they run on is nothing like a real Tamagotchi connection, though it does steal a few sprites from them along with Digimon sprites.They are pleasing to the eye but sadly not made very well, and also feature a reset button on the front which is easily pressed by accident. Features a 168 in 1 chip.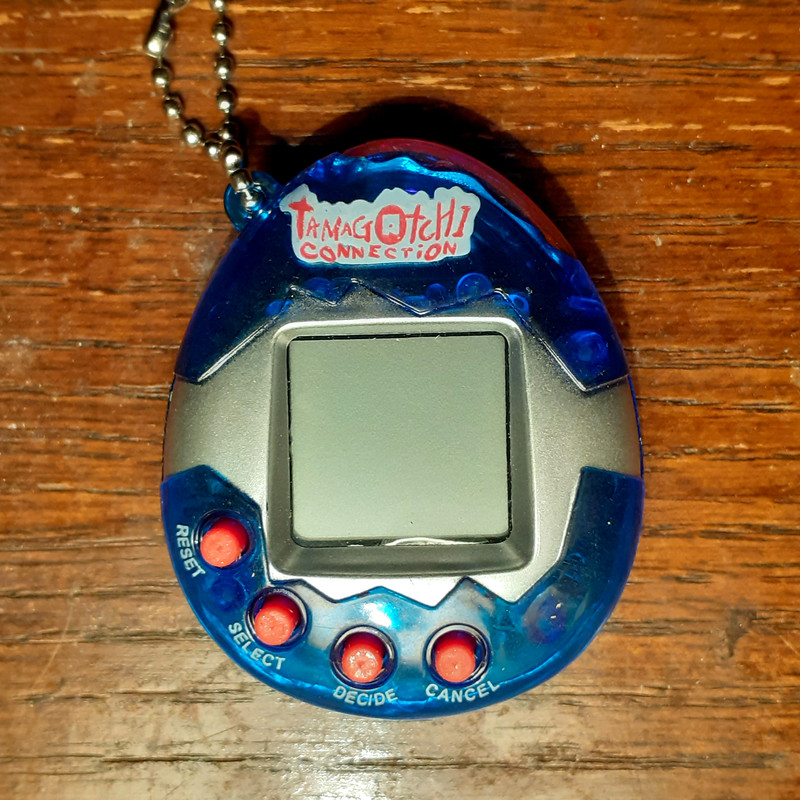 Cyber Pet: 168 in 1 - ????
These pets feature a standard rom used by the fake Tamagotchi Connections, most often referred to as "The Bunny Rom", named after many retail stores online showing a rabbit on the screen. These come in many different designs, a Penguin, Heart or an Apple. All are identical within though. These were distributed by PMS International, which is probably why these could be found for sale at South End on Sea.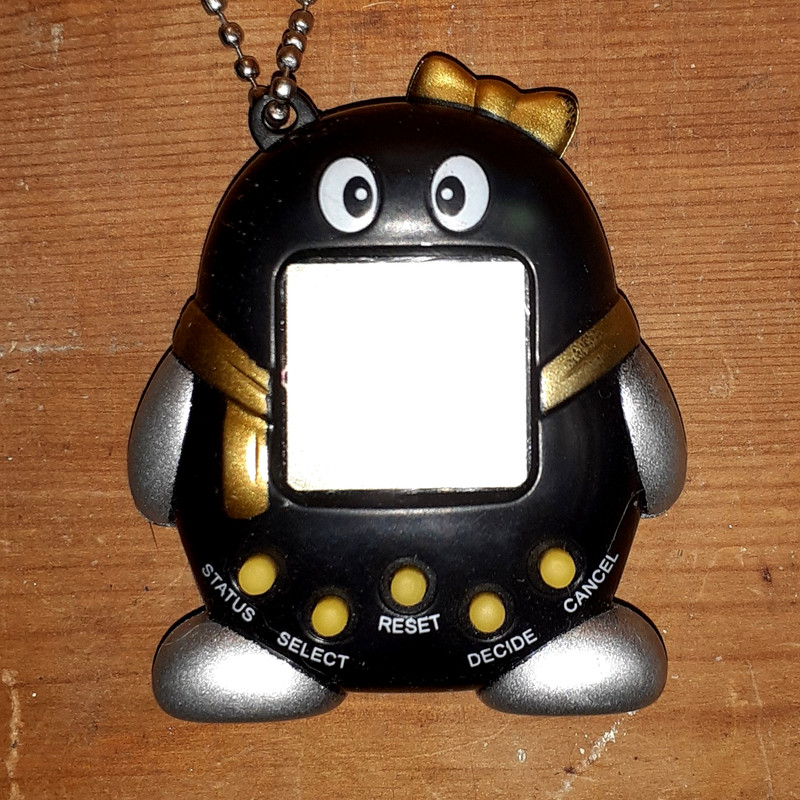 Animal Imaginado - 2009
Don't be fooled by their appearance. For a bootleg version of the Tamagotchi V4/5, these do not work very well. Or at all in some cases. This is a great shame. It was made by TS in 2009 under the brand "Digigame" in the style of the Bandai logo.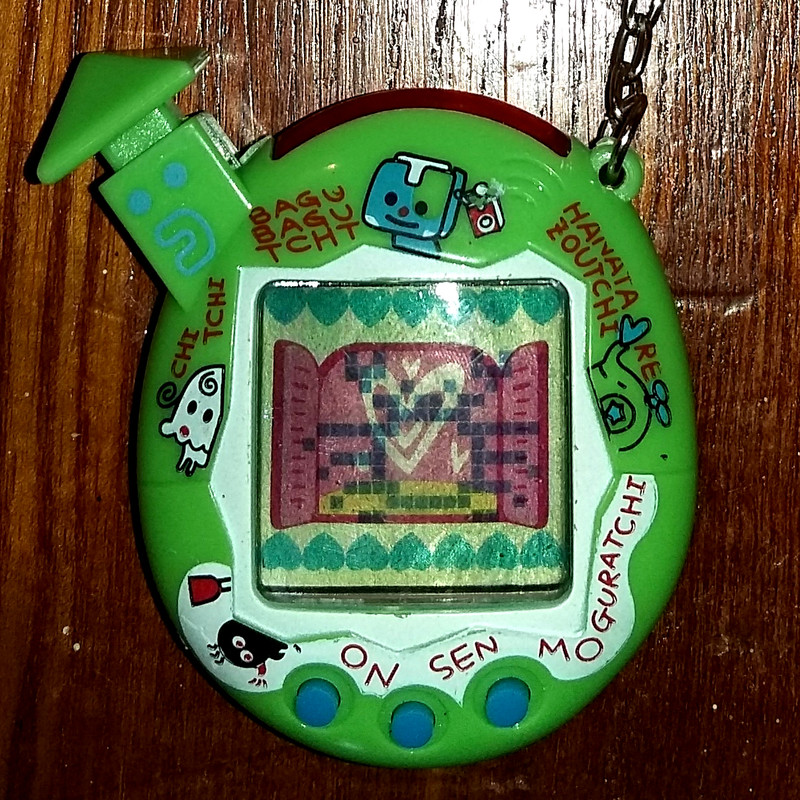 Tamagotchi Friends - 2013
It's like the Tamagotchi P but in black n white like the classics. It's interesting because it features traditional baby like characters until they reach adulthood in which they change into very cute alien-human like characters. Not like the traditional adult types. It also features the V3's falling music note game, so naturally, I love it.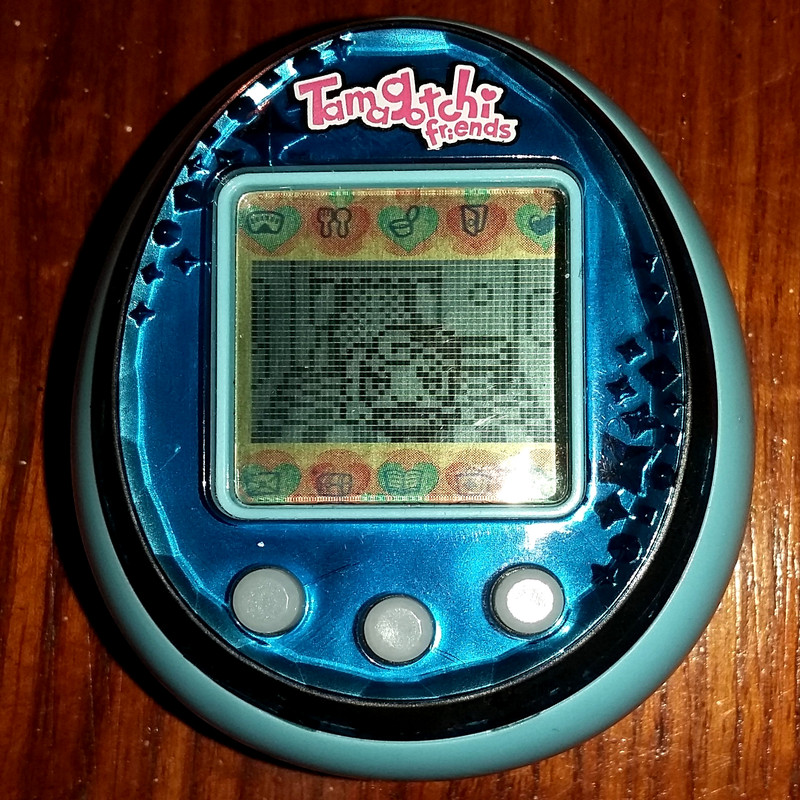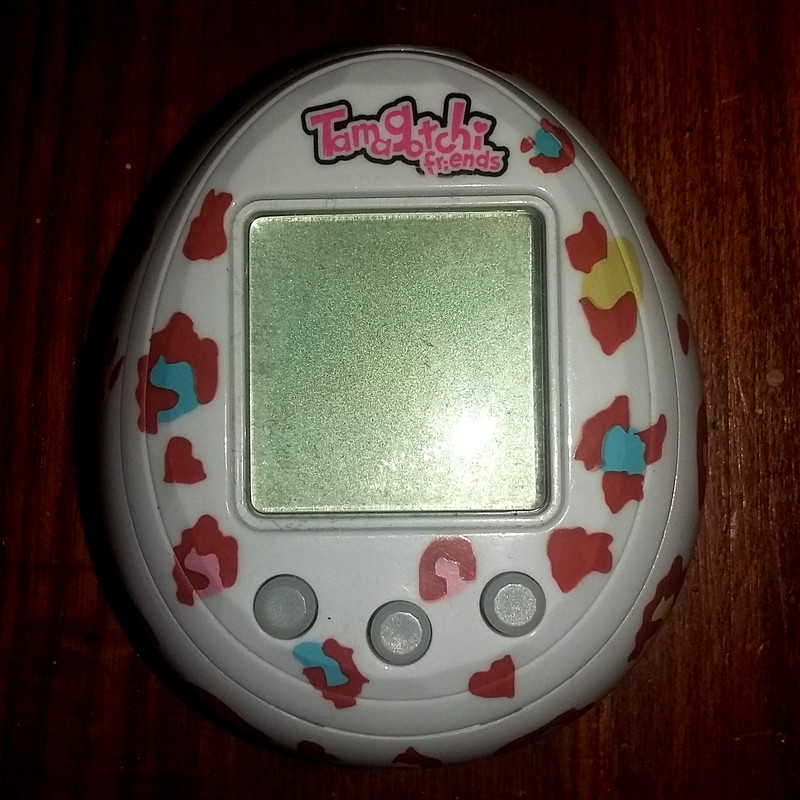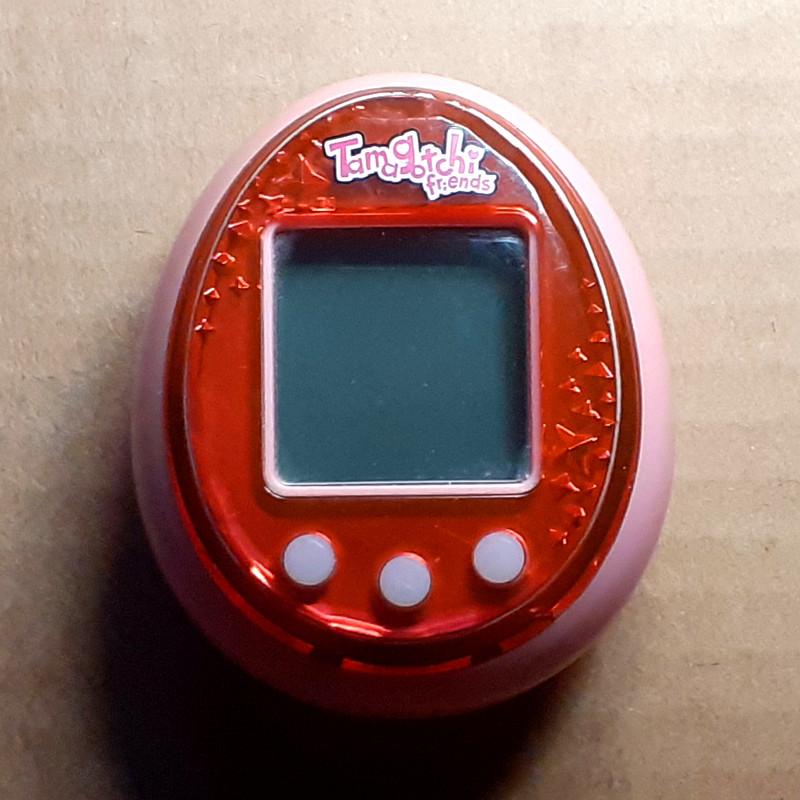 Q-Pet Quolor: 2018
It's the bootleg version of the colour Tamagotchi types, but it's actually a very very good bootleg. It features real Tamagotchi creatures and they have the ability to connect with others. Created by M&D, the Q-Pet Color is unique as it allows you to get your pet drunk on alcohol and also tells you your playing is "shitty" if you fail at a minigame. Speaking of which, there's a lot of option and features in this game. Mini games, school, cinema, park, market, autoshop (!?!?!?) just... so so much to do. Well worth a purchase for any collector.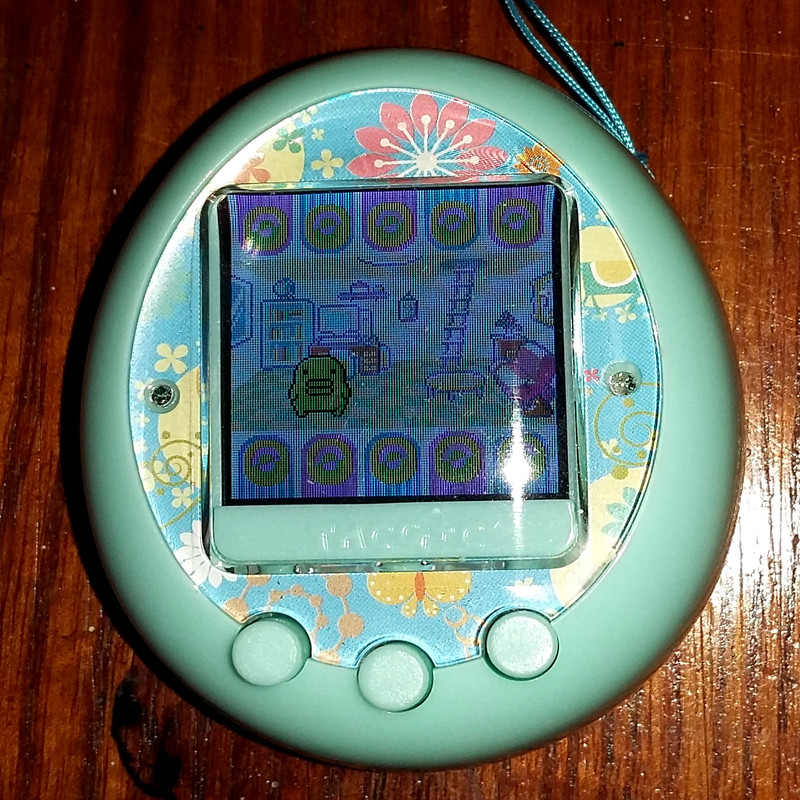 Tamagotchi Chibi - 2018
Tamagotchi released a Chibi version of their original pet with limited functionality and features. It's much smaller than a regular Tamagotchi and was released as part of the 2018 rereleases.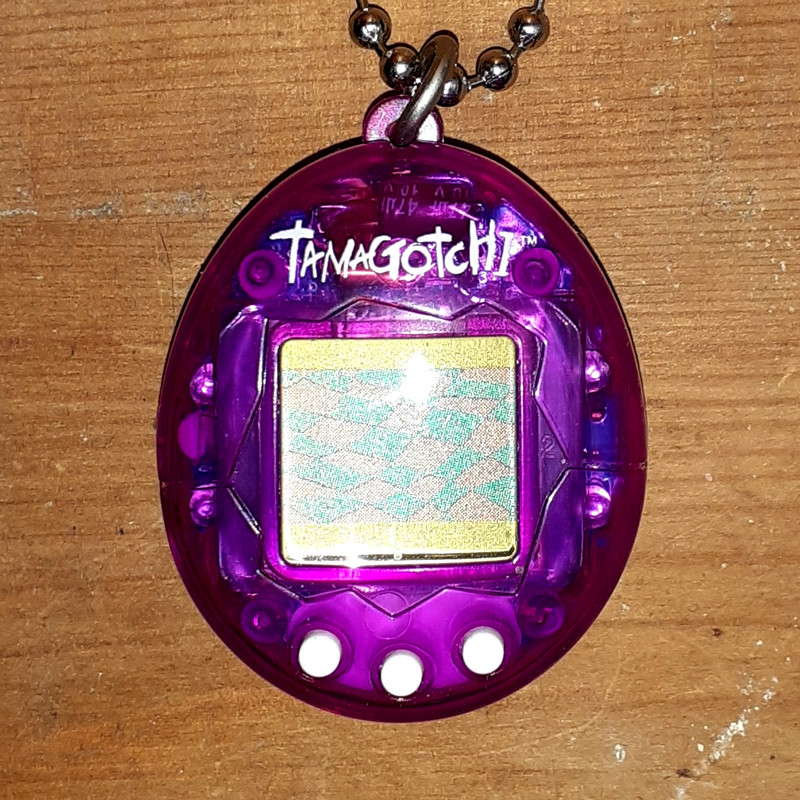 Tamagotchi: Generation 1 - 2018/2020
2018 saw an anniversary re-release of the original Generation 1 Tamagotchi from 1997, with all new shells but original programming. These are the same as the classics just with a new casing, though some of the classic casing designs were re-release along with the new designs. Biggest difference between these and the 1990's counterparts are that these ones take a single large cell battery instead of two small ones, have better (less stripable) screws in the back and also run at a faster speed, making it a lot easier to take care of them.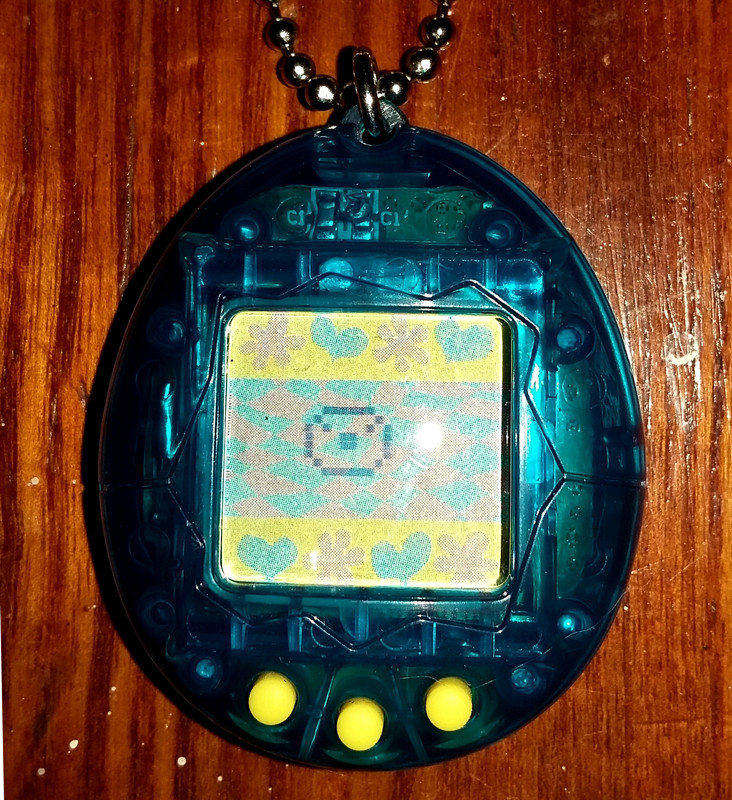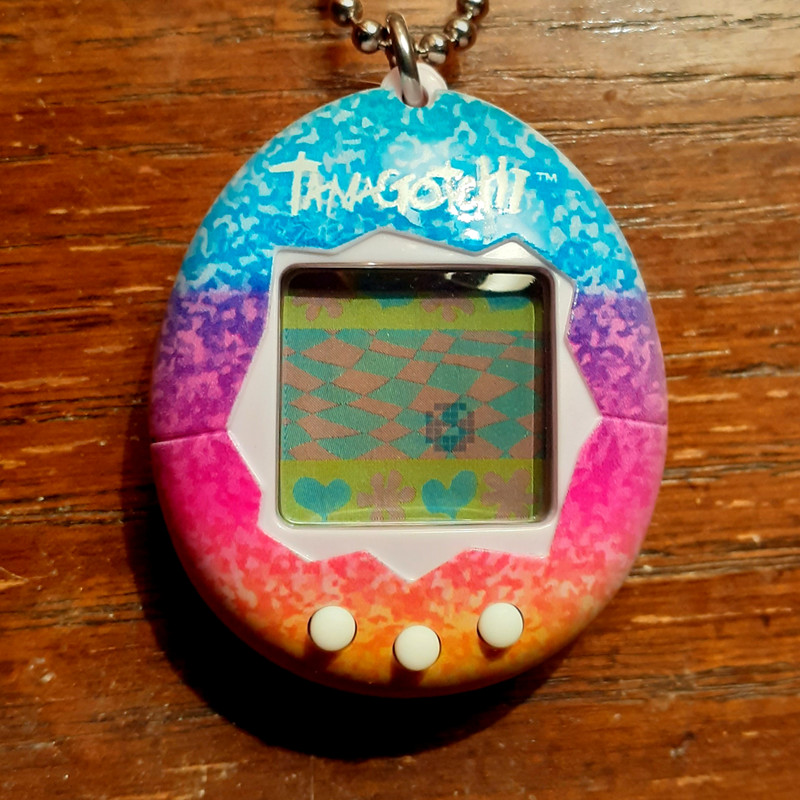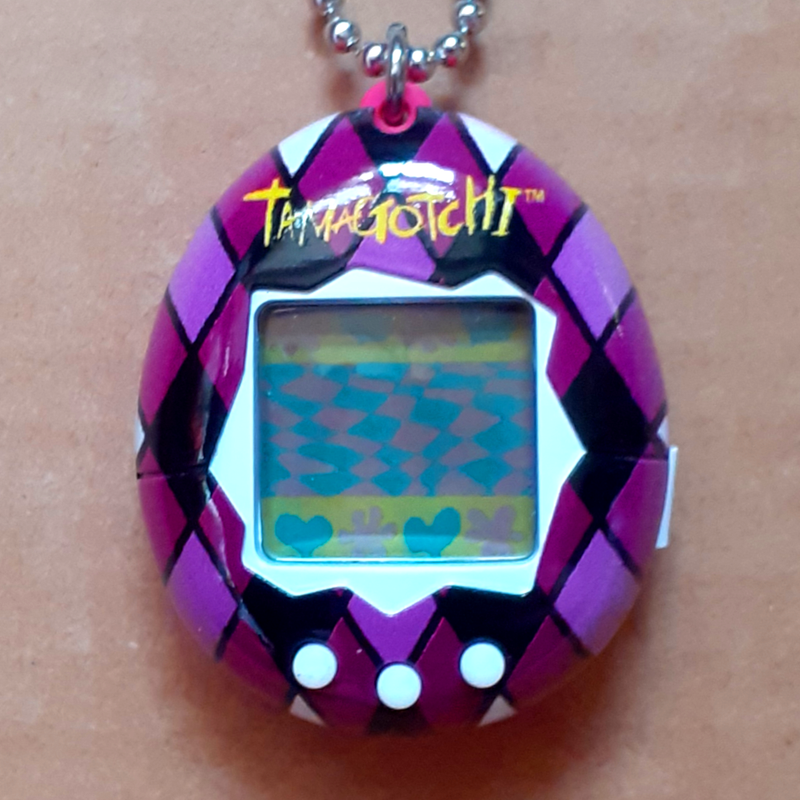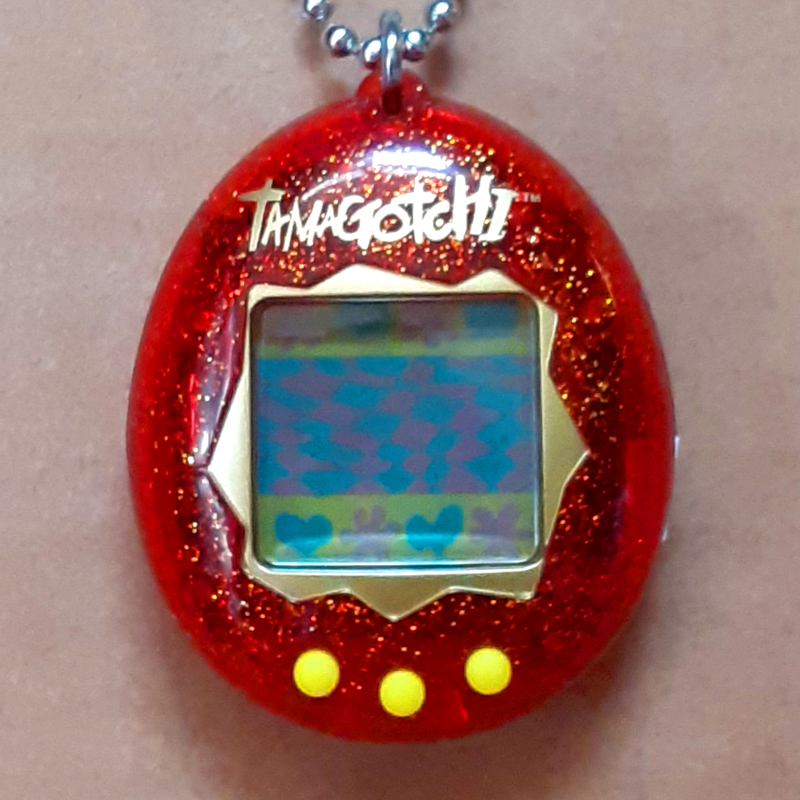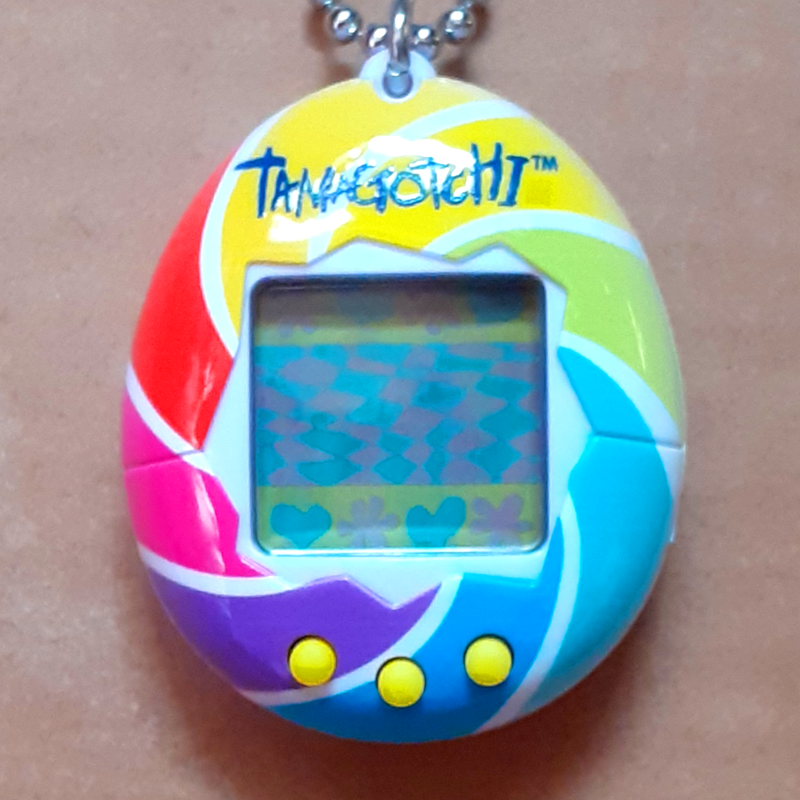 Tamagotchi: Generation 2 - 2018/2020
The Generation 2 from 1998 also got a re-release in 2018. Like the Generation 1's, the Gen 2's had some returning designs plus a bunch of all new ones for their casing.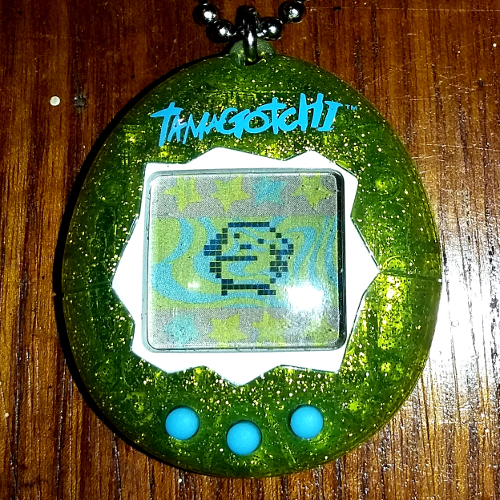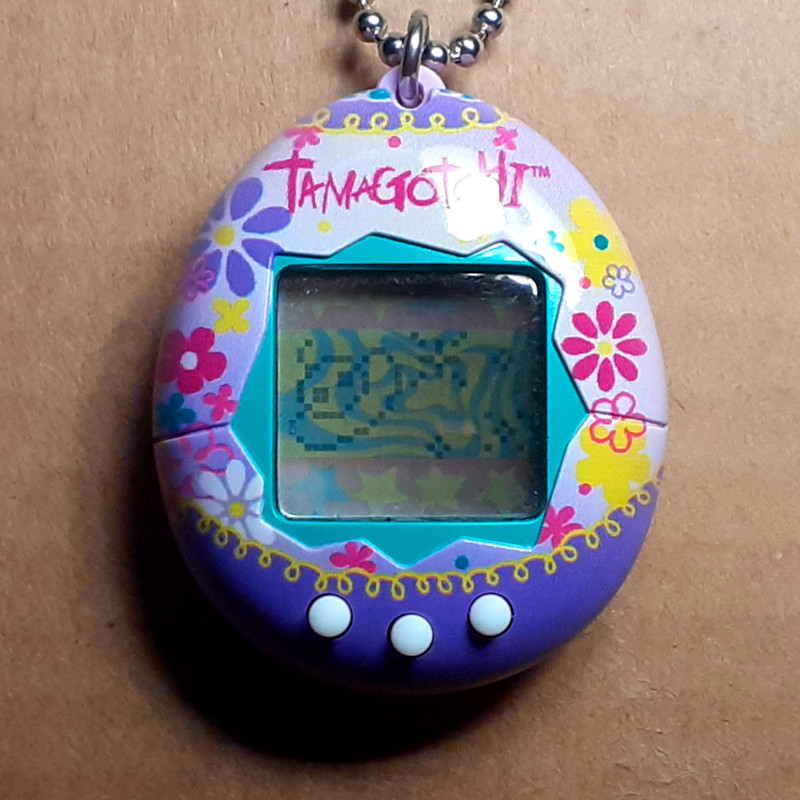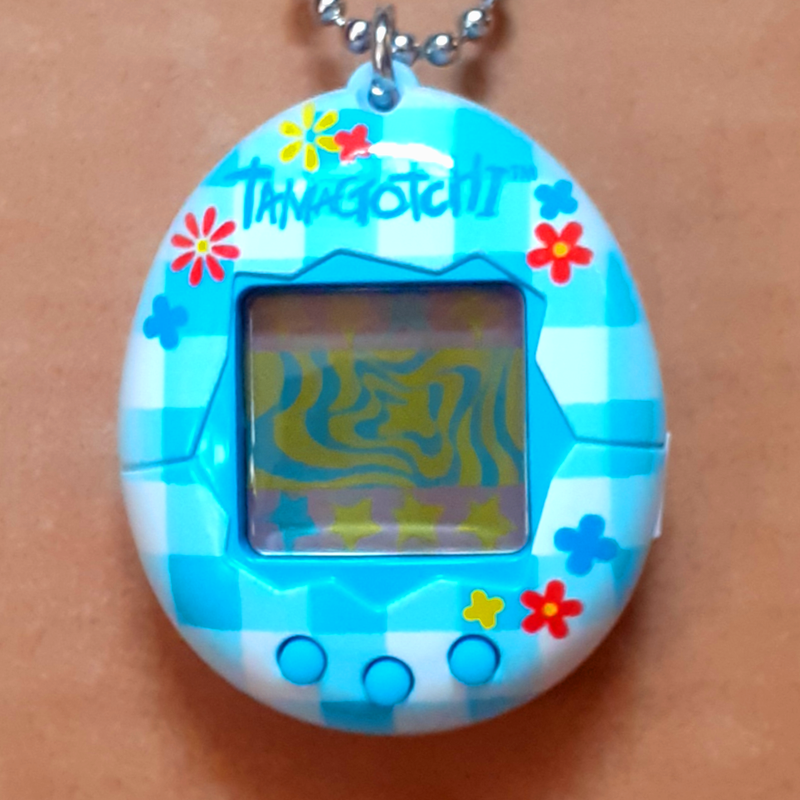 Tamagotchi: Pacman 40th Anniversary - 2020
Released in 2020 in the month of March, the Pacman Tamagotchi was released to celebrate the 40th anniversary of Pacman.You raise a regular Tamagotchi pet, but with a few quirks. Ghosts haunt your pet and pacman has to rescue him, and if he doesn't, the glitched pacman kill screen kicks in and kills your pet. You can also play pacman styled games.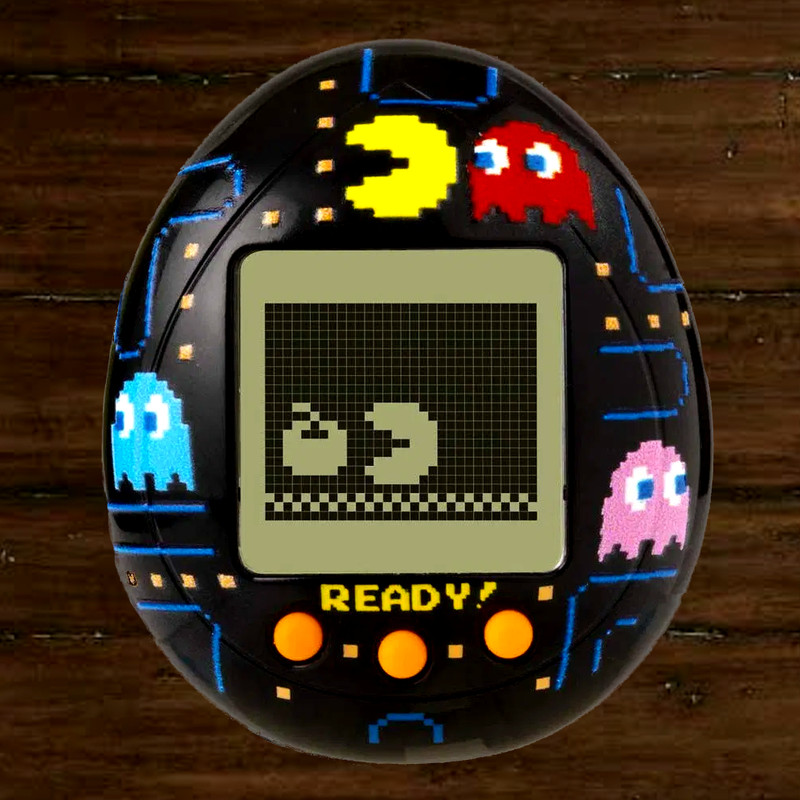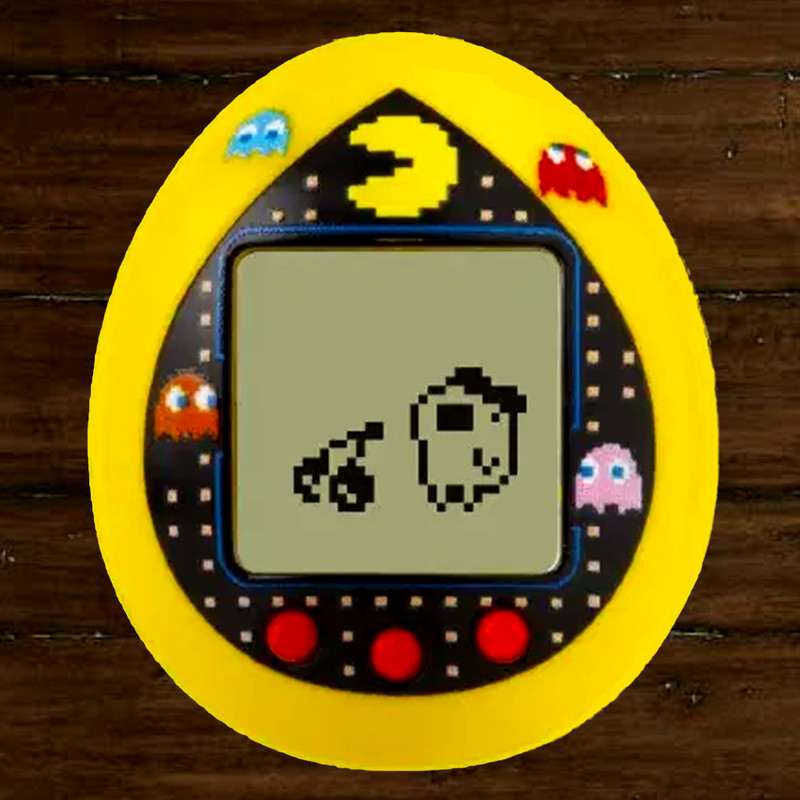 CURRENTLY UNDER CONSTRUCTION