UNDER CONSTRUCTION
Starter Guide
To get you started here is a basic run down of the game. We will go over basic plot, controls, weapons and monsters. A full walkthrough will be added at a much later date.
---
THE STORY SO FAR
---
The last thing you remember was being invited to a party after work. All your mates were going to be there. It was gonna be a night of drugs, sex and partying like all good lowlifes enjoy. Once there, you found people pissed out their nut on booze, doped up with all kinds of drugs and people just sleeping around with each other. A proper degenerate party. After a few pints, you found yourself chatting to your mates wife. Now you know that your mate loves this woman like crazy. If ever there was true love, this was it. But why would you care when you are drunk out your head and stoned? And she barely even knew where she was, she was pretty much an easy target. So being the scumbag you are, you screwed her. Realizing what you did, you stumbled into the bathroom. You mate is standing right there. Almost as if he knows where you've been and what you've been doing. But he couldn't have, could he? No.... no it's okay. Because he's offering you a joint of something. DMT? After taking a puff and laying back on the sofa in the main room, the world becomes hazy.... colours start swarming your vision... the walls break apart and reality crumbles around you..... That's when you woke up here. A world filled with evil clowns and elves that want you to die. What will you do to survive this nightmare and return back home...?
---
MONSTERS
---
Giggles The Clown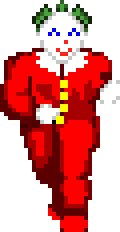 These clowns carry pop guns. But they dont just make a loud noise. The pop holes into your body! Luckily, they are pretty weak and their aim is shit. They're also quite slow. A few pops to their head will take them out nicely.
Crackpot The Clown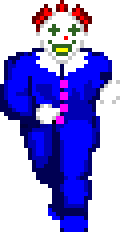 Like the Giggles ones, except these ones carry clownshots, or shotguns if you prefer. Their aim is considerably better and they are also faster than their red brothers. They are still pretty weak though. A few pops or even a single shot can take them out pretty effectively.