Tamagotchi Creatures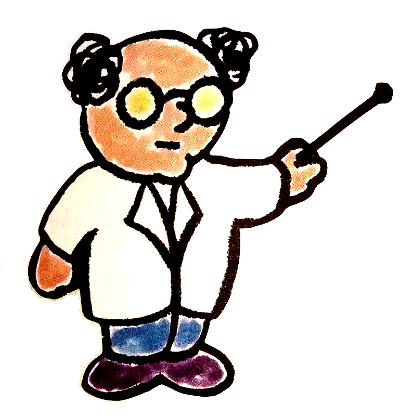 Listed here you will find a complete list of all creatures that exist in the far away galaxy of cyberspace on the planet Tamagotch. Tamagotchi's are facinating creatures and their growth patterns are equally as fascinating. Nobody is completely sure how far away planet Tamagotch actually is, but we do know that they are able to live here with human owners thanks to the revolutionary work of a great man. His name was Professor Banzo, and although not much is heard of him these days, he is the guy responsible for creating the "Egg" that these creatures live in here on Earth. His legacy has continued throughout the past 22 years with new and improved eggs being manufactured as time goes on. So let's not waste anymore time. Let's take a look at these amazing creatures from another, distant world that need our care.
---
GENERATION 1

---
BABYTCHI

This is the baby stage of your Tamagotchi - cute and adorable. And, just like all babies, it needs tons of attention and affection. Before you become a parent, it's probably a good idea to set aside a couple of hours for your new baby. Because guess what? You're going to be finding out what that good parent thing is all about. And in a big hurry!
MARUTCHI

Honey or Brat? Nice or Nasty? What you do at this stage makes a big difference in how your pet turns out. So PAY CLOSE ATTENTION. Don't forget, it's still a baby and needs food, attention and love. And lots of it. Check its health meter regularly and keep its hearts full. If you do, chances are you're on your way to having one of the nicest Tamagotchi pets on the planet.
TAMATCHI

If you've done a great job at being a parent, this is what your Tamagotchi will become. This energetic little imp has sprouted arms and legs and can get into everything. With its frisky little spirit, your Tamatchi will need lots of attention. It's worth it, though. Everyone will love your pet. Good work!
KUCHITAMATCHI

This is a rare one, indeed. It is the result of parenting that makes your pet want to be independent. You have a lot to be proud of if your baby has developed into Kuchitamatchi. It is easy-going, lovable, and a complete joy.
TARAKOTCHI

If you have been neglecting your Tamagotchi pet, it may turn out like this as an adult. It has smelly feet and a mysterious personality. Chances are, you may not have given it enough discipline and weren't too swift with cleaning up after it.
MASKTCHI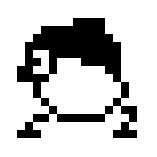 Uh oh. You may have given your pet to many snacks or spoiled it if Masktchi appears. This big-eared, funny-walking one is rare and on the quiet side. It is VERY curious and is constantly spying on everything and everyone.
GINJIROTCHI

Hooray! You have a Ginjirotchi. This lovable creature is independent and understanding. Because you have been a good parent, your pet has developed into one that is happy-go-lucky, cheerful, and sensitive.
MAMETCHI

Talk about smart. This Tamagotchi has an IQ of 250! It is very rare and shows that you've really paid a lot of attention to your pet. It plays the violin, reads and writes Latin for heaven's sake, and is a whiz at physics. Because Mametchi is so serious, it tends to be on the stiff-personality side.
NYOROTCHI

Not a good sign if Nyorotchi appears. A result of neglect, it's skinny and sickly. It's always hungry and goes bonkers when you feed it. It's also pretty listless and lives a short life. Sorry about this.
KUCHIPATCHI

You've done a pretty good job at being a parent but could have been better at handing out the discipline. What you have now is a pet that's laid-back and lovable, but not very bright. Though on the slow side, you'll probably grow to love it a lot.
BILL

This is the "secret character" and therefore the rarest to appear. Bill can live to be a ripe old age, but like all the others eventually returns to his home planet. But don't feel sad. You've tried your best to be a good parent (haven't you?), and Bill goes back with lots of nice memories.
---
GENERATION 2
---
SHIROBABYTCHI


In the new generation of Tamagotchis, Shirobabytchi is the baby and grows like a white star. Because it is so delicate, take extra special care of Shirobabytchi by giving it lots of attention. Warning: Your Shirobabytchi is a fussy eater, and especially loves strawberry shortcake.
TONMARUTCHI

Though still a baby, Tonmarutchi is developing an appretite for some pretty grown-up foods - like nachos, licorice and milk-shakes! Just like the first generation, this phase is extremely important. Your pet's brain is developing and it's up to you what happens in the next phase (Dream Pet or Dread Pet).
TONGARITCHI

This darling little bundle of energy will tug at your heartstrings. Still at the toddler stage, your Tongaritchi will run all over the place. The garden is its favourite spot, where it loves to eat veggies - especially corn.
HASHITAMATCHI

What went wrong? Perhaps you didn't give your pet enough attention because Hashitamatchi suffers from low blood pressure. Though a bit sluggish (definitely not a morning person), your pet in this phase is easy-going. Watch out for its bill, however. It can get swollen when Hashitamatchi is sick.
ZUCCITCHI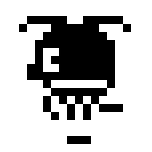 How come your pet loves cafe mocha (which maybe explains why it's a bit on the hyperactive side)? Perhaps it wasn't disciplined enough as a toddler? And though Zuccitchi looks comical, it can be mean. It also wants to be a superhero (too much caffeine?).
HASHIZOTCHI

What happens when parents are on the lazy side? Hashizotchis, that's what. All it wants to do is laze around all day, watch TV and take naps. What a drag. Hashizotchi dreams of becoming an actor someday. Fat chance. Disgusting food habit: puts tons of ketchup and mayo on EVERYTHING.
TAKOTCHI

This is one strange pet, mostly fom a lack of attention and discipline (ahem). Through the periscope-type gizmo on its head, it can see over things. Takotchi hates cold water. Things it loves, believe it or not: long, hot baths and sushi.
KUSATCHI

Uh oh. This character turned out weird because it wasn't fed properly when it was younger. That's why it makes its own chlorophyll. It has a bad habit of going to nightclubs and listening to heavy metal. So don't be surprised if it stays out all night and sleeps all day.
POCHITCHI

Amazing! Your pet has changed into a dog, a sign of excellent parenting. Yeah! It also means your pet sniffs at telephone poles and chases cats. Funny thing, though. Pochitchi does not know it's a dog, which explains why it likes to drive. Good thing it doesn't have a car.
MIMITCHI

The scholarly-looking hat on Mimitchi's head is there for a reason. Your pet is a maths wizard, which can come in very handy with homework and tax returns. Mimitchis are also charming and witty, making their appearances pretty rare.
ZATCHI
This weird looking creature is the "secret character" and is very rare. If cared for properly, Zatchi can live a long, happy life before it goes back to the home planet, taking with it all its great memories of Earth.
---
ANGEL GOTCHI
---
OBAKECHI 2
This is the "ghost" of your passed away pet. It is in the early stages of being a spirit and needs a lot of guidence if you wish him to become a beautiful angel in the future. Obakechi will require a lot of attention at this stage. Be sure to supply it for them so that they can become the best spirit they can.
MARUTEN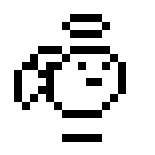 At this stage, everything you do is very important. As Maruten is still a young spirit, you're going to have to give this little angel a lot of attention and guidance. Remember, feeding treats to Angel's does not fill up their Effort Hearts. You have to play with them, so help them jump over those clouds!
TAKOTEN

Takoten is usually docile, but when it's upset or angry, it's impossible to get it to calm down. Sometimes it likes to crawl inside a pot, as it brings back memories of its previous life. This is the result of bad care, and keeping its AP at 0.